Uranium stocks are on the eve of a breathtaking climb as I see it. Needed as a fuel for reactors but incidental to the cost of running a reactor, uranium has about the least price friction of any commodity in my view. Any shortage and the price of uranium will move up sharply. It certainly did in the 2006 to 2008 timeframe when it spiked to well over $100 a pound.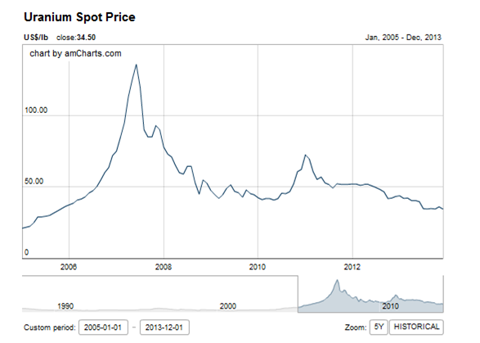 The Fukushima disaster took the steam out of uranium reminding the world that nuclear energy is not without risks. So are coal, oil and natural gas.
The 47 people who died when a train derailed in Lac Megantic and pretty well destroyed the town demonstrates just one of the risks of oil, in this case no more than its transportation. The environmental damage done by coal contributes to the smog and related health issues that plague Beijing and killed 9,900 people in 2011 according to news reports.
Risk has not stopped China from increasing coal production and I think it won't stop the growth of nuclear energy either, simply because it is necessary.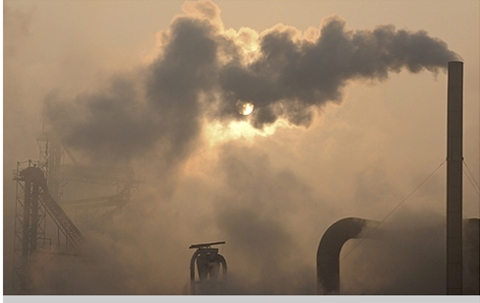 Nuclear reactors form an essential part of the energy mix in many nations.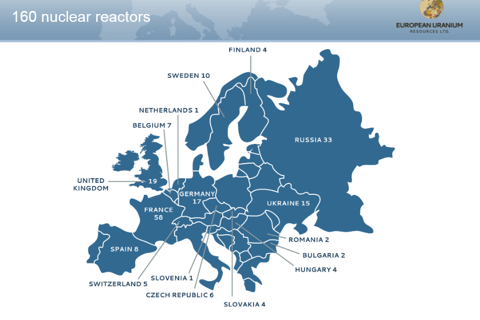 More reactors are being constructed.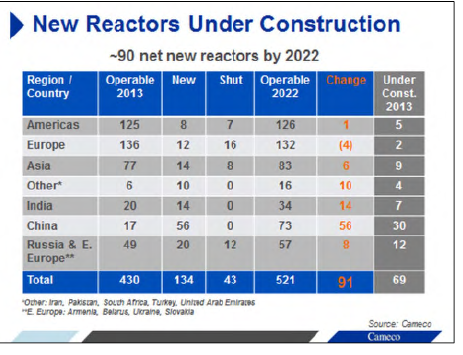 At the same time, the conversion of weapons grade uranium on the "megatons to megawatts" program is winding down, resulting in the prospect of a supply shortage since production from mines in 2014 is expected to be less than world demand.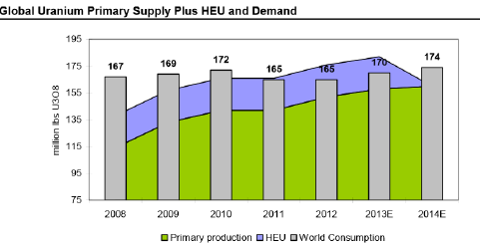 Electricity demand is growing and demand for more electric power will lead to demand for more reactors at a time when demand for uranium will exceed supply.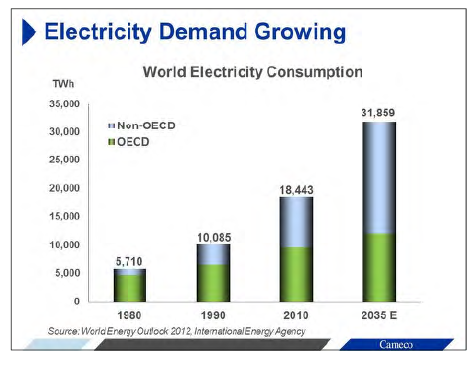 That imbalance is expected to worsen substantially over the next decade or so according to Cormark Securities.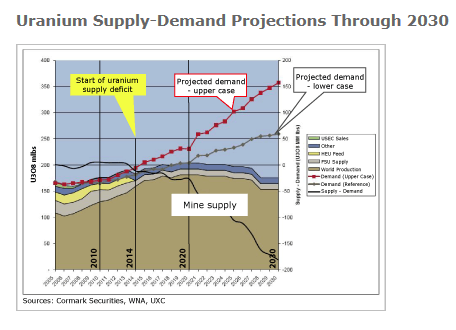 The environmental benefits of nuclear fuel seem to outweigh the risks by a wide margin. One uranium pellet weighing 7 grams displaces a ton of coal or 149 gallons of oil or 17,000 cubic feet of natural gas. For those not using the metric system, there are 454 grams in a pound.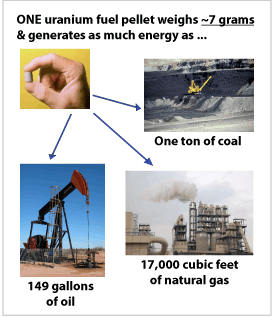 The energy value of uranium at a cost of $40 a pound more or less today equates to about $4,600 worth of natural gas (at $4.20 an Mcf) and $23,000 worth of oil at $100 a barrel.
There are 435 nuclear reactors in operation worldwide today. Another 60 are under construction with more planned. A significant part of the world in developing countries simply lack electrical power with about 1.4 billion people without electricity according to the World Bank.
Cameco (NYSE:CCJ) is my bet in the uranium space, although uranium operations are not its only business. It has a large and profitable business producing electricity and a profitable uranium fuel business. As a result, it is less risky than a pure uranium play while having excellent leverage to uranium prices.
Cameco plans to expand uranium production to 36 million pounds by 2018 from 22 in 2012.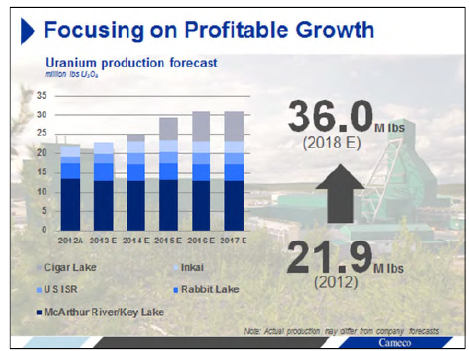 Cameco's long reserves and resources which approach 1 billion pounds give it a terrific runway to benefit from rising uranium prices over time.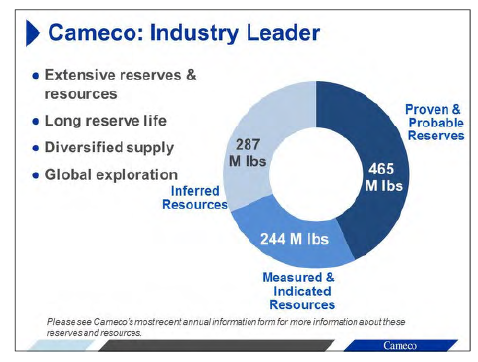 With about 400 million shares outstanding and a market capitalization of just over $8 billion, Cameco is the go-to name for uranium exposure. Cameco's reserves alone are worth more than its market capitalization based on prices paid for acquisitions of uranium properties approaching $8 per pound of resource with producer fetching $10 to $12 per pound. Add in another $2 to $3 billion for its power generation and nuclear fuel businesses and it looks comparatively cheap on an asset basis.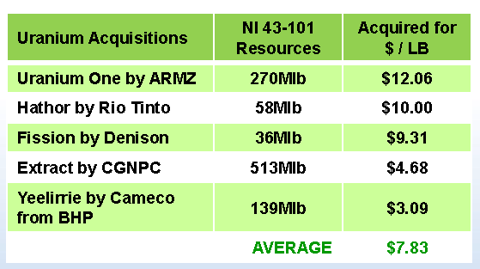 Leverage to uranium price is significant. A rise of $20 per pound in the realized price of uranium will add some $720 million to annual revenues by 2017, contributing well over $1.00 per share to net income. I expect a much greater increase in uranium prices by that time since uranium prices encounter little friction during times of shortage for the reasons I have outlined earlier.
At $22 a share and a yield of just under 2% Cameco trades at a lofty 20 times earnings today, but offers investors uranium exposure with some income and the longer-term prospect of substantial gains. I think the stock will rise on rising prices of uranium and have a small position now and will add to that position on any pullbacks. I may also write puts to lower my cost of adding or simply book the premiums if the puts expire unexercised.
I hold calls on 13,000 Cameco shares.
Disclosure: I am long CCJ, . I wrote this article myself, and it expresses my own opinions. I am not receiving compensation for it (other than from Seeking Alpha). I have no business relationship with any company whose stock is mentioned in this article.
Additional disclosure: I hold calls on Cameco.