By: Brendan Gilmartin
Goldman Sachs (NYSE:GS) is scheduled to report 4Q2013 earnings before the opening bell on Thursday, January 16. The firm indicated it would provide a press release at 7:00 a.m. EST and follow with a conference call at 8:30 a.m. Please note that, in past reporting periods, Goldman Sachs reported earnings approximately 15 minutes ahead of the scheduled release time. Goldman's results also have the potential to impact the financial sector as well as the broader market gauges, particularly the index futures, given the investment bank's influence.

Outliers & Strategy
Goldman Sachs typically provides a "clean" number that is comparable to consensus. The current Street estimate is $4.21 with a range of $3.55 to $4.70. (Source: Yahoo! Finance)
Revenues are seen coming in at $7.71 bln, a decrease of 16.5% from 4Q2012. The range is $7.18 bln to $9.24 bln.
Implied Volatility: The options markets are implying a 2.7% move one day after earnings are disseminated.
Now officially a member of the Dow Jones Industrial Average, Goldman Sachs' earnings are even more critical to the market. Following mixed reports from JP Morgan Chase (NYSE:JPM) and Wells Fargo (NYSE:WFC), Goldman results will be a key litmus test measuring the health of the U.S. financial services sector. For its part, JP Morgan reported gross investment banking revenue was a record $1.7 billion for the year, up 5% over 2012, a positive sign for Goldman, while concerns over slower capital markets activity, reduced trading revenues, and weakness in FICC are permeating through the market. With the shares now up over 17% since early October, the time is ripe to take profits, particularly if earnings fail to meet the high end of Street estimates (~$4.70).
Recent News
01/09: According to a post on StreetInsider.com, Nomura Securities reportedly initiated coverage on Goldman Sachs with a Neutral rating and a $172 price target. The firm believes weakness in fixed income, currencies and commodities (FICC) revenues.
01/08: A report on Barron's Online suggests investors should sell put options ahead of Goldman Sachs' 4Q earnings release amid forecasts for a stronger than expected release. Analysts at Susquehanna Financial Group recently hiked the price target to $206 from $185 based on strength in capital markets. The only concern facing Goldman is lower trading revenues.
01/03: Bernstein reportedly expects Goldman Sachs to deliver in-line earnings for the 4Q period, according to a report on Benzinga.com. The firm expects positive performance in investment banking to offset weakness in sales and trading. The firm lowered its 4Q EPS estimate to $4.40 to $4.17.
Technical Review
Goldman Sachs' shares have been on a tear over the past several months, reaching the highest level since 2009, and recently topping out at a 52-week high of $181.13. With that said, it will take a decidedly positive earnings release to push the shares to fresh highs. Conversely, a tepid report could drag Goldman shares toward initial support near $175, with further downside risk to the 50-Day SMA near $170. (Chart courtesy of StockCharts.com)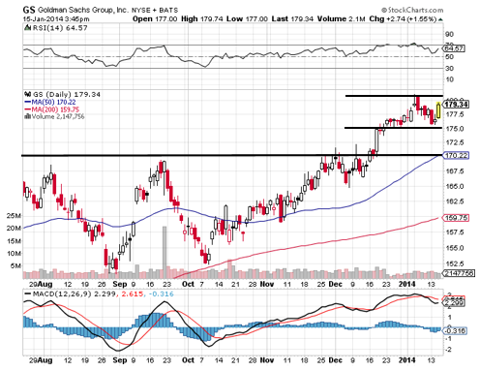 Summary
The Street continues to place high expectations on Goldman Sachs, driving up the share price to the highest level in over four years ahead of the 4Q 2013 earnings release. Despite the recent run-up, however, Goldman shares still trade at a modest 10.7x trailing earnings (Morgan Stanley (NYSE:MS) is at 18.5x) and continues to benefit from an improving investment banking climate. Also look for the broader market to respond favorably if Goldman is able to deliver a characteristically strong report relative to market expectations (the high number on the Street is $4.70), given more recent concerns over softer trading revenue, particularly in FICC.
DISCLAIMER: By using this report, you acknowledge that Selerity, Inc. is in no way liable for losses or gains arising out of commentary, analysis, and or data in this report. Your investment decisions and recommendations are made entirely at your discretion. Selerity does not own securities in companies that they write about, is not an investment adviser, and the content contained herein is not an endorsement to buy or sell any securities. No content published as part of this report constitutes a recommendation that any particular investment, security, portfolio of securities, transaction or investment strategy is suitable for any specific person.
Disclosure: I have no positions in any stocks mentioned, and no plans to initiate any positions within the next 72 hours. I wrote this article myself, and it expresses my own opinions. I am not receiving compensation for it (other than from Seeking Alpha). I have no business relationship with any company whose stock is mentioned in this article.