Every year from mid-November through the end of December Wall Street has a tendency to unjustifiably punish certain stocks during the end of year tax selling season. Last year a microcap company named Lime Energy Co. (NASDAQ:LIME) is one such company that hit our radar. As a leading national provider of energy efficiency for small business customers, Lime Energy designs and implements direct install programs for utility clients which consistently exceed program savings goals.
The stock traded as high as $6.65 on July 8, 2013, and as low as $2.75 on December 20, 2013. Over the past 10 trading days, the stock has shown some signs of life by rebounding off of its 52-week low and settling within a range of $3.30-$3.50. At its current price of $3.40, the company trades at a market capitalization of $12.22 million or approximately one-fifth of the Company's annual sales.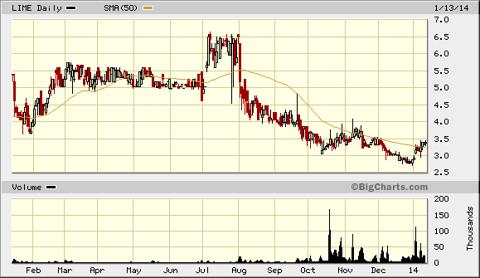 Financial Metrics:
On November 14, 2013, the Company released its three month and nine month results for the period ended September 30, 2013:
Three Months

Nine Months

Ended September 30,

Ended September 30,

2013

2012

2013

2012

Revenue

$

13,354

$

8,622

$

37,513

$

25,173

Cost of sales

9,651

6,978

27,433

19,976

Gross Profit

3,703

1,644

10,080

5,197

Selling, general and administrative

5,697

6,461

17,142

16,432

Amortization of intangibles

-

6

10

19

Operating loss

(1,994

)

(4,823

)

(7,072

)

(11,254

)
For the 3 month period, the Company's revenue from continuing operations increased $4.7 million, or 54.9%, to $13.4 million. The Company's gross profit increased $2.1 million, or 125.2%, to $3.7 million. The gross profit margin improved from 19.1% to 27.7%.
For the 9 month period, the Company's revenue from continuing operations increased $4.7 million, or 54.9%, to $13.4 million. The Company's gross profit increased $2.1 million, or 125.2%, to $3.7 million. The gross profit margin improved from 19.1% to 27.7%.
Recent Announcements:
On November 26, 2013, the Company's Board of Directors terminated the employment of John O'Rourke, the Company's Chief Executive Officer, and simultaneously promoted Adam Procell to be Chief Executive Officer. Prior to his promotion, Mr. Procell was the Company's President and Chief Operating Officer. The changing of the guard at the CEO position should bring a level of comfort and optimism to shareholders. While Mr. Rourke had been instrumental in bringing in new contracts to the Company, the stock failed perform under his tenure. Mr. Procell's background prior to joining the Company, as National Director of Energy Efficiency & Carbon Management for AECOM Technology Corporation, should be instrumental in further implementing the Company's business plan.
On November 4, 2013, Lime Energy and Green Gas Americas, Inc., announced that Green Gas has acquired Lime Energy's 2.8 MW landfill-gas-to-energy project located in Charlotte County, Florida, through the acquisition of Lime Energy's subsidiary, GES-Port Charlotte, LLC, which owns the project. Lime Energy applied the net proceeds from the sale ($3.3 million) to pay off the PNC Bank term loan used to fund the construction of the facility. The sale of LIME's subsidiary ("GES") allowed the Company to pay off its loan by PNC Bank in its entirety. Earlier in 2013, PNC bank had notified the Company that it was in default on the loan due to its default under the minimum Debt Service Coverage Ratio. On November 1, 2013, the Company repaid the loan in full.
On September 23, 2013, Lime Energy Co. entered into a Preferred Stock and Warrant Purchase Agreement with a group of investors including Mr. Richard Kiphart, the Company's Chairman and largest individual stockholder, and Mr. Christopher Capps, a member of its Board of Directors (collectively with the other investors, the "Investors"). Pursuant to the terms of the Purchase Agreement the Investors are purchasing 927,992 shares of the Company's Series A Preferred Stock at a price per Preferred Share of $10.00. The purchase price will be aid with (A) $2,500,000 in cash and (B) the exchange of $6,779,949.84 (principal amount and accrued interest) of the Company's Subordinated Secured Convertible Pay-In-Kind Note (the "Notes"), representing all of the outstanding Notes. The Preferred Shares may be converted, at any time following the approval of such conversion by the Company's common stockholders, at the election of the holder of such shares into shares of the Company's common stock at a conversion price equal to $3.78 per share (a 34% discount to its current share price).
Valuation Comparison:
LIME's chief competitors, EMCOR Group (EME) and TRC Companies trade at a Price to Sales ratio of .46 and .61, respectively. LIME trades at a depressed Price to Sales ratio of .22. By trading at a more inline Price to Sales ratio of .50-.75, LIME's price target ranges from $7.75-$11.64. In forecasting our price target of $8, we have utilized the lower range of a normalized Price to Sales ratio.
With the Company's continued increase in quarterly revenue, increase in gross profits, reduction of debt and confidence shown by the Board through the purchase of Series A shares, we view LIME's current share price as a perfect entry point with the potential for significant upside. With only 3.59 million shares outstanding, investors are forewarned about the possible fluctuations in share price to the upside and downside.
Disclosure: I am long LIME. I wrote this article myself, and it expresses my own opinions. I am not receiving compensation for it (other than from Seeking Alpha). I have no business relationship with any company whose stock is mentioned in this article.