Another year has come and gone which means another year of profits has hopefully come to pass for investors. Looking back on the market last year, investors couldn't go wrong as stocks across the board rallied for one of the best years the market has seen in a long time.
So is the rally going to continue? As much as investors would love such a run, 2014 will most likely not produce the same results. That is why choosing which stocks will produce the biggest returns will be key for investors this year.
Last April, I produced a top 10 list of technology stocks for 2013. So far that portfolio has risen by more than 92% to date. Those picks will continue to run until April, before I release my new picks for the year.
In the meantime, I've identified four small-cap stocks that I believe could produce big gains for investors in 2014. Without further ado, here they are.
WidePoint Corporation (NYSEMKT:WYY)
WidePoint Corporation provides technology-based products and solutions to government and commercial markets. It operates in three segments: Communications Management, Cybersecurity Solutions, and Consulting Services and Products.
So what's so special about WYY? Here are a couple of reasons why.
1) Growth continues to grow at a great pace
2) Big contracts have been awarded
3) Shares are on the verge of another breakout
4) WYY continues to execute on its plans
As you can see, shares have soared over the last few months and continue to make new highs. So why have shares been surging and will they continue to do so? I believe so, and here's why.
Global Master Agreement
On December 2, 2013 WYY entered into an agreement with Compass Group PLC. Compass Group is based out of England and is one of the world's largest food service companies, with annual revenues of $27 billion. While the exact dollar amounts for this announcement have not yet been disclosed, even a small amount will look relatively big considering Wall Street currently values the Company at just over 100 million.
$600 Million Blanket Purchase Agreement
Then on December 23, 2013, WYY announced that the Department of Homeland Security selected the Company's wholly owned subsidiary, iSYS LLC, as the single awardee for Cellular Wireless Managed Services. The agreement is for one year and has four optional ordering periods. The total ceiling amount is $600M. Yes, you saw that right, $600M for a Company that is currently valued at just over 100M.
Steve Komar, CEO of WidePoint talked about the award saying that it has the potential to contribute roughly $75M in incremental revenues each year when fully rolled out. So how much money are we talking? Check out the table below.
| | | | | | | |
| --- | --- | --- | --- | --- | --- | --- |
| | 2014 | 2015 | 2016 | 2017 | 2018 | Total |
| Revenues | $75M+ | $75M+ | $75M+ | $75M+ | $75M+ | =$375M |
| Share Price | $1.17* | $2.35* | $3.52* | $4.70* | $5.87* | $5.87* |
*Based on 63.8M shares outstanding
Looking at the numbers, I assume Komar has taken things such as expenses (R&D), taxes, etc., into consideration. That means that WYY, with a market capitalization of 100M, would have 75% of its value explained by one contract with Homeland Security this year. Meanwhile its software, patents, trademarks, existing contracts, etc., are currently being valued at just 25%.
Not only that, but WYY currently provides services for many other clients through existing agreements. It's been reported that the Company has $175M worth of contracted capitalization potential under those terms.
It's no wonder why the Company was upgraded to a Buy from a Hold at Craig-Hallum. The new price target for shares of WYY was raised to $2.40 from $1.00.
WidePoint Launches Cloud Service For Privileged User Access
Yesterday, WYY announced that it has teamed up with Xceedium to offer an end to end certificate-authenticated VPN solution that monitors and records the activities of privileged users across hybrid cloud environment.

"We are happy to add our newest partner, Xceedium, to the WidePoint solution environment," said Komar. "The PIVotal ID PMP marks another milestone consistent with our strategic investment in technology development and our goal of providing best-in-class Managed Mobility Services and Solutions."
For those of you that are new, this kind of protection has become necessary due to breaches such as the NSA/Edward Snowden case. That case was the latest to show that there is still risk to privileged users and the damage they can cause without the appropriate controls in place.
I feel that shares of WYY are a good pick up at this point and gives investors a great reward to risk ratio. I believe the $2.40 price target is pretty conservative and feel that shares could head higher than $3 a share in 2014, making it a double on the year.
Think about it for a moment. WYY's total market capitalization is currently sitting just over 100M. With the Company receiving $75M a year for one of its contracts, not to mention the other contracts they already have in place and in the works, the Company is undoubtedly undervalued in my opinion.
Looking at the chart we can see that WYY is breaking out. With continued momentum, shares could easily soar to $2 a share before encountering some resistance. Most of the resistance doesn't come into play until the $2.50-$3.00 range making it a very lucrative and worthwhile investment for investors.
Vringo, Inc. (VRNG)
Vringo engages in innovation, development and monetization of its technologies. The Company continues to license and monetize its intellectual property. Vringo's portfolio consists of over 500 patents and patent applications that cover a wide variety of technologies.
So what's so special about Vringo? Here are a couple of reasons why.
1) Vringo's mobile technology business is being acquired by Infomedia
2) Vringo has a lawsuit victory over Google, a settlement with Microsoft, injunctions against ZTE as well as pending litigation against several other companies
3) The Company continues to deliver and execute on its plans
Looking at the chart we can see that Vringo is breaking out with plenty of room to run. If shares can get past some resistance levels at $3.40 and $3.60, shares will be well on their way to $4 a share. With several catalysts lined up this year, Vringo has the potential to catapult to new highs.
Acquisition
Vringo opened up the 2014 year with a bang as it announced that Infomedia, a company based out of the United Kingdom, was acquiring Vringo's mobile business. In exchange, Vringo receives an 8% stake in the Company and will license certain intellectual property assets to Infomedia to support, identify and protect new intellectual property. This was a great move in my opinion as I highlighted in this article.

Global Lawsuits
Vringo was busy last year as the Company filed additional lawsuits against companies across the globe. Vringo has several lawsuits pending against ZTE and in the last two months, Vringo was awarded two injunctions against the Company. Vringo is now in great position to get ZTE to come to a global licensing agreement. Estimates have the global license to be in the hundreds of millions.
Things are turning around for Vringo in its case against Google et al. After a jury found Google liable for infringement a year and a half ago, Vringo looks like it will finally be getting paid. Judge Jackson recently ruled that Vringo is entitled to supplemental damages as well as prejudgment interest totaling more than $17M.
The big issue that everyone is waiting for is Jackson's ruling on Google's alleged "workaround." If Jackson's rules in favor of Vringo, the Company stands to receive royalties totaling close to a billion dollars. Not bad for a company Wall Street currently values around 269M.
Vringo has already come to a settlement agreement with Microsoft. Under terms of the agreement, Microsoft will pay an additional 5% of whatever amount Google pays Vringo in the separate suit, up to a certain cap. This along with many other suits Vringo has pending and in the works, should propel the stock to big gains in 2014. With short interest close to 27%, shares already have the rocket fuel needed for a huge rally.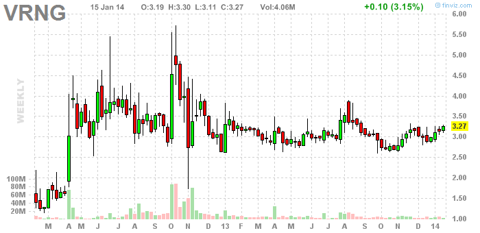 Wi-Lan Inc. (WILN)
Wi-Lan Inc., along with its subsidiaries, engages in the acquisition, development, and licensing of technology in the communications and consumer electronics markets. The Company has approximately 3,000 issued or pending patents, and 260 licensees. Wi-Lan is headquartered in Ottawa, Canada and has a market cap of around 380M.
Here are some of the reasons why I like the Company in 2014.
1) Settlements and partnerships continue to roll in
2) Insiders keep buying shares
3) It pays dividends (4.50%)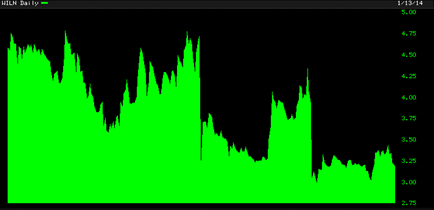 I know what you are probably saying to yourself..."this is a horrible chart, what is this guy thinking?" Yes, there is no denying that this chart isn't the prettiest to look at. However, that doesn't mean things can't turn around this year as more catalysts come Wi-Lan's way.
Shares were stuck in a downtrend last year due to patent infringement cases not going the Company's way. Of course when they do go in favor of the Company, things will have the opposite impact. James Skippen, CEO of Wi-Lan talked about the setback last year with its case against Apple.
"... We obviously disagree with this decision, and we plan to take actions to address what we consider a mistake. This case involves one patent in our portfolio over 3,200 patents in applications, and Apple has been unnoticed for infringing this and other patents for many years, potential royalties owed to Wi-Lan are not limited to this patent."
After it was announced that a jury found that Apple did not infringe on Wi-Lan's patents, investors quickly sold off the stock. I believe that shares were oversold and feel that shares are still highly undervalued.
The Company told bloomberg news that they strongly believe in its current business strategy, and its share price doesn't take into account its strong balance sheet, the value of signed license agreements, business prospects or the residual value of its broad intellectual property portfolio.
I absolutely agree with the Company and feel that shares are undervalued and do not accurately reflect what the Company currently has as well as what's on the horizon.
With a market capitalization around 380M, almost 40% of Wi-Lan's value can be explained just by its cash. Meanwhile its software, patents, trademarks, existing and future licenses, etc., are being valued at just 60%.
Of course actions speak louder than words, so what have insiders done over the last year or so? Insiders have put their money where their mouth is and have continued to purchase shares.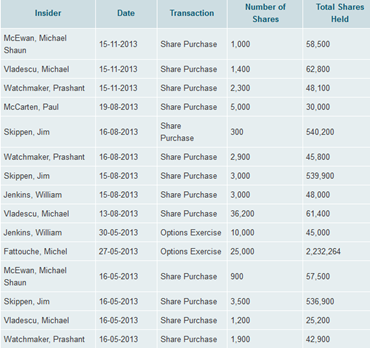 Over the last couple of months Wi-Lan has signed agreements with Panasonic, InfoSonics, HTC, Toshiba, BlackBerry (BBRY), Alcatel-Lucent (ALU) and Hewlett-Packard (NYSE:HPQ) just to name a few. The agreements will continue to provide revenue growth for the Company as the chart below shows.
*2014 full year estimates range between $96M-$98M
It is important to note that the agreements resulted in the dismissal several litigations. As a result, the cost of litigation will decline significantly and will certainly improve the top and bottom lines going forward.
With a conservative forward P/E of 15, shares of Wi-Lan should fetch a value of around $6.15 per share. I feel this is reasonable considering the fact that other IP companies have values of such without even bringing any revenues in, unlike Wi-Lan.
Trulia, Inc. (TRLA)
Trulia provides tools to buyers, sellers, and renters through Web and mobile applications. The Company enables real estate professionals to market their listings. In addition, the Company offers information on home values, schools and crime among other things.
After years of struggle, the housing market came back to life last year. The rebound looks like it will continue in 2014, but at a slower pace. According to The Fiscal Times, experts believe that 2014 will be a year of continued growth and stabilization in the housing market with rising home prices, fewer foreclosures, and greater activity among underwater homeowners.
Last week, analyst Mark Mahaney of RBC Capital Markets updated his outlook for online advertising and global online retail. Here is what he had to say about a couple of categories.
Online Advertising Continues To Grow
"For 2014, we are modeling a 6% increase in total Global Advertising... We think that SoLoMoVo (Social, Local, Mobile, and Video) continues to be a major driver of Online Advertising growth. Mobile has become especially powerful as a growth factor now that it has reached a point of materiality (i.e., 10%+ channel) for all major Internet companies. Our outlook calls for $133B of Global Online spend in 2014, up 16% Y/Y and accounting for 25% of total Global Advertising."
2014 Online Retail
"For 2013, we expect that Global Online Retail spend reached $768B, growing 25% Y/Y and accounting for 4% of total Global Retail spend. For 2014, we are modeling a 5% Y/Y increase in Global Retail spend and ~60bps of increased Online penetration. We think that the continued expedition of delivery times and the incremental impact of Mobile devices will continue to be drivers in 2014. We are forecasting Global Online Retail spend of $921B in 2014, up 20% Y/Y and accounting for 5% of total Global Retail spend."
So breaking this all down what exactly does this mean for Trulia and investors? Quite simply, it's good news for long investors and bad news for short sellers.
Mahaney goes on to say that he expects Trulia over the next couple of years to grow its top line at a very fast rate. Because of this, Mahaney upgraded shares of Trulia to an outperform rating with a $54 price target.
Mahaney's $54 price target on the Company, currently implies that shares have more than 45% in upside. This makes it one very attractive stock this year. With shares on the verge of another breakout, shares of Trulia could hit that target sooner than most think.
So how does Trulia stack up against its competitors? Let's take a look.
| | | | |
| --- | --- | --- | --- |
| | Trulia | Zillow | Move |
| Market Capitalization | 1.37B | 3.42B | 622.1M |
| PEG | 2.85 | 41.29 | N/A |
| Trailing P/E | N/A | N/A | 325.10 |
| Forward P/E | 51.03 | 182.71 | 144.82 |
| Price/Sales | 11.70 | 19.24 | 2.72 |
*The table reflects Monday's closing prices
Looking at some of the fundamentals of the companies, we can see that Trulia looks to be undervalued when compared to its peers. This is another reason why I believe that shares could continue to climb in 2014.
You don't have to take my word for it though. According to Lloyd Walmsley an analyst at Deutsche Bank, Trulia is among the cheapest internet growth stocks around.
"To get to a peer group multiple on 2015 would imply zero margin expansion for two years! ...We see Trulia shares as among the most compelling valuations relative to growth in smid-cap Internet. We view recent weakness as sentiment driven, not fundamental," Walmsley wrote. Deutsche has a price target of $55 on the stock.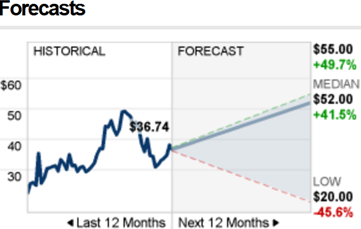 *CNNMoney 2014 Forecast For Trulia
As always, I'm providing you with my track record and other particular stocks that I like. The link provided will show you all of my picks, how they have fared, and where I think they will be going in the near future. I think you will find my track record to be very impressive and useful.
Disclaimer: I currently do not have positions in TRLA and WILN. However, I will be looking to open positions over the coming weeks. Investors are always reminded that before making any investment, you should do your own proper diligence on any stock mentioned in this article. Have a great day and as always, I look forward to hearing your thoughts or questions that you might have.
Disclosure: I am long VRNG, WYY. I wrote this article myself, and it expresses my own opinions. I am not receiving compensation for it (other than from Seeking Alpha). I have no business relationship with any company whose stock is mentioned in this article.