Investment
I am shorting Facebook (NASDAQ:FB) stock at $58 per share with the expectation that the price will fall by 50% in within 2 years.
Investing Thesis
The market overestimates Facebook's ability to grow its income over the next five years because past growth has been strong.
Income growth rates will drop quickly because user growth in rich countries has essentially halted and Facebook's ability to increase revenue per user will sharply diminish.
Facebook will not create a material new revenue stream. It will continue to earn about 90% of its revenue from advertising on its products.
Facebook's Business
Facebook has a pretty brilliant business model. It is similar to a newspaper or a magazine in the sense that it shows content to people and then runs ads alongside the content. It is different from a newspaper or magazine because it doesn't actually create any of the content. All of the content is created by users. People can upload photos, write short thoughts, post interesting links and comment on the things other people post. This is known as user generated content and Facebook earns about 90% of its revenue from placing advertisements next to this content.
One of the things that sets Facebook apart from other user generated content sites is that Facebook helps people share content with their friends and family. The beauty of that model is that it creates network effects that make users reluctant to switch to another site. If all of the people you want to share with are already on Facebook, your incentive to switch to another site is diminished.
Facebook's Expected Growth
Facebook stock is trading at about $58 right now and at that price it has a market capitalization of about $142 billion. At that valuation Facebook is trading at 21 times trailing twelve month revenue and has a PE ratio of 148.
The analysts who cover Facebook project that net income will grow by an average of 32% per year for the next 5 years, and I agree that if Facebook can do that the valuation makes sense, but I think that net income growth will be much lower.
User Growth Slowdown
This is a non-controversial point. Over the last few years user growth in the US, Canada and Europe has slowed dramatically. In its early years Facebook's user growth exploded from just a few thousand college students to hundreds of millions of users. At this point that growth rate has slowed because there are only so many internet users in rich countries. From Q3 2012 to Q3 2013 daily active users in those regions grew by only 13.7%.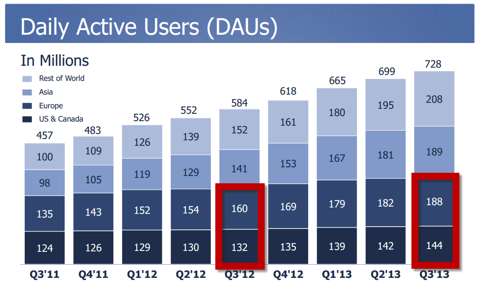 Most of Facebook's user growth is coming from poor countries in Asia and the rest of the world. Users in those countries generate much less revenue for Facebook than users in rich countries. For example the average user in the US and Canada generated $4.85 in Q3 2013 while the average user in Asia generated $0.81. The difference is driven by the fact that in countries like China and India GDP per capita is much lower and advertising spend makes up a smaller percentage of GDP.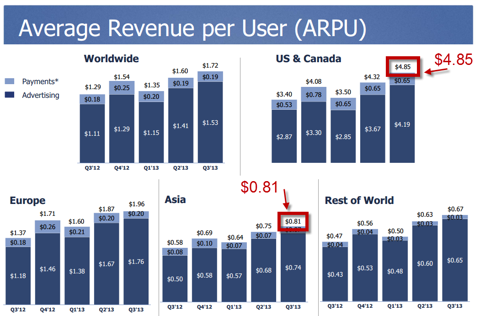 Revenue Per User Slowdown
This chart shows the percentage growth in Facebook's revenue over the last several years. Note the slowdown over the three years from 2009 until 2012. There is a pretty clear trend there, but 2013 bucked that trend. On my graph I wrote "2013 estimate" but Facebook has already released earnings for 3 of the 4 quarters so this estimate is going to be very close to the year-end total.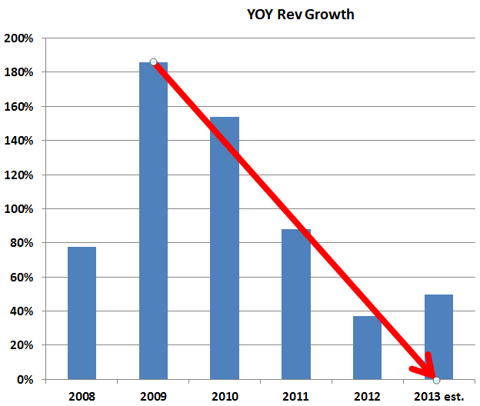 This chart makes one wonder what changed in 2013 and the answer is very simple. Facebook users spend most of their time looking at the news feed which is a page that shows all the latest updates from their friends. Prior to 2013 the news feed looked like this, there was content in the middle and a few ads off to the side.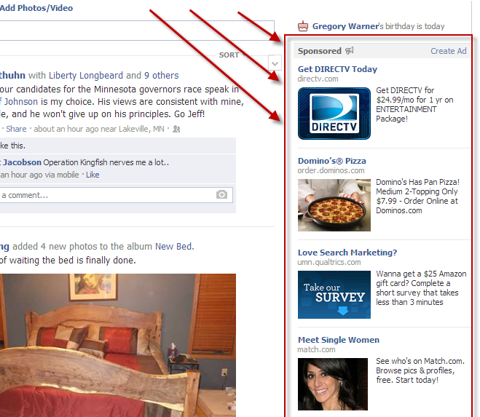 However in 2013 Facebook started to put ads like this one from Hulu in the news feed. These ads look like content, but in the fine print it is noted that they are sponsored content.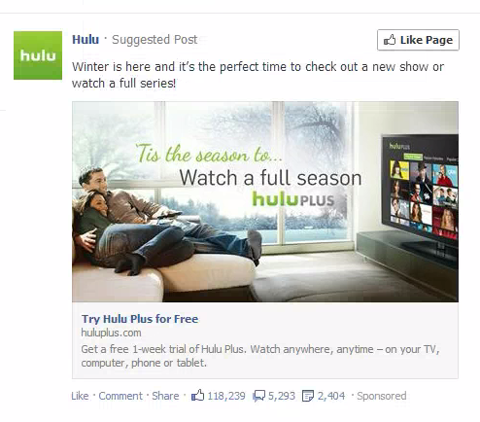 I have run a lot of ad campaigns on Facebook it is clear that the news feed ads get a lot more attention than the ads on the side rail. Users are much more likely to click on them and much more likely to engage with them by leaving comments or clicking the like button.
News feed ads are very important for Facebook's mobile product. Prior to 2013 this is what content looked like on its mobile products.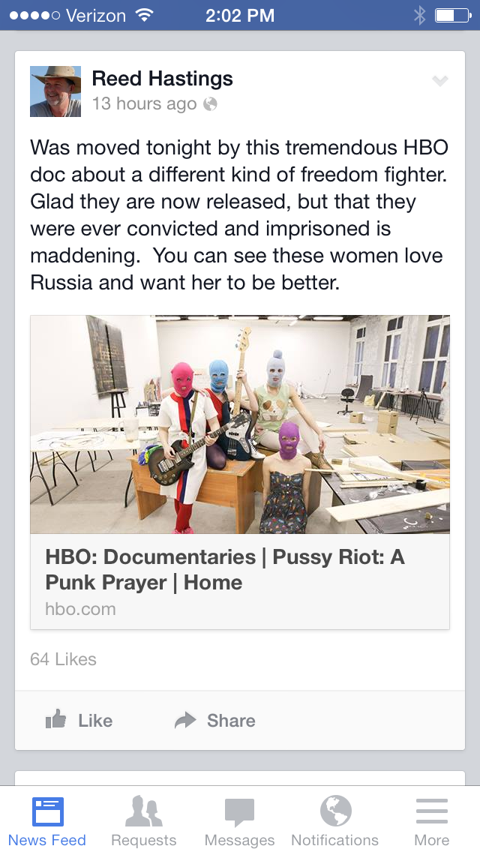 As you can see there is no room for ads on the side. In 2013 Facebook introduced news feed ads to its mobile products and as you can see they take up a lot of room on the page.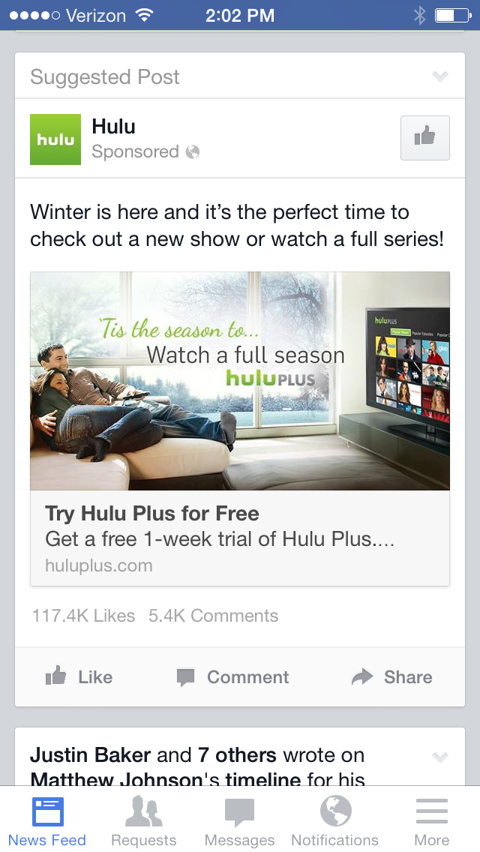 While Facebook does not say how much of its revenue comes from news feed ads vs. the old ad formats, Facebook CFO David Ebersman stated on the 2013 Q3 earnings call that the number one driver of increased revenue was news feed ads. I believe that a large majority of revenue growth in 2013 came from this new ad format. This conclusion is the crux of my investment thesis. I believe that while Facebook can continue to increase revenue by showing more ads and less content, there are diminishing returns to that strategy. This is a balancing act and at some point if you show users too many ads they won't use the service as much.
Currently newspapers and magazines are about 40-50% ads, TV shows spend about 20% of their time showing ads, but websites are more content focused with roughly 15% of the real estate on the page belonging to ads. I think online media will continue to remain more content focused because users can switch to a different website with one click, but when somebody sits down to read a newspaper or a magazine they don't have another great content source so easily accessible.
On the Q2 2013 earnings call Mark Zuckerberg stated that:
One of the things I watch most closely is the quality of our ads and people's sentiment around them. Right now, ads on average make up about 5% or 1 in 20 stories in News Feed. We haven't measured a meaningful drop in satisfaction when we asked people about their experience with Facebook.
Since then Facebook has not publicly released figures on how many news feed ads it shows, but I have noticed a significant increase of ads in my account and friends accounts, and Facebook sales reps have told me that more ads are being shown in the news feed. I think it is safe to say that Facebook has increased the ad make up on news feed to 10-15% by Q4 2013.
Analysts are estimating that Facebook's revenue will grow by an average of 32% over the next five years. That results in a 4x increase in revenue at the end of 5 years. If Facebook were to achieve that growth by showing 4x as many ads, users would reduce the time they spend on Facebook because there is a limit to how many ads they are willing to put up with. Facebook clearly understands this because CFO David Ebersman stated on the Q3 2013 conference call that:
We do not expect to significantly increase ads as a percentage of News Feed stories beyond where we were at the end of Q3. This is important because increasing ads in News Feed has been a meaningful driver of our revenue growth in 2013. So this should be factored into your expectations for next year.
My expectations
My expectation is that Facebook will continue to be a healthy growing company over the next 5 years. It has $10 billion of assets on its balance sheet and a net profit margin of 20%. It still has some room to grow internationally and it could probably get away with showing users a few more ads, but I don't think it will quadruple its revenue in the next 5 years. I think the best case scenario is that it doubles revenue over the next 5 years and then growth slows down to 3%-5% per year thereafter.
Risks
The main risk to this trade is that Facebook's growth meets or exceeds analyst expectations. Here are 4 ways Facebook could do that and why I don't think they will happen:
1. Facebook could force users to look at many more ads to get to the content they want. I don't think this will happen for previously stated reasons.
2. Facebook could get users to spend much more time on Facebook. While the company does not regularly release figures about how time-on-site metrics have changed over time, their CFO did state on the Q2 2013 earnings call that ad volume had increased 6% YOY. Since Facebook shows people more ads as they spend more time, I think it is safe to say that currently time on site is either flat or growing slowly in mature markets like the US, Canada and Europe. This is corroborated by third party measurement tools like Comscore and Neilsen net ratings. In order to get users to spend more time on the site Facebook would have to come up with a compelling new feature. In the past it has tried several things to accomplish this. Changes include:
Facebook Home - This optional feature would basically turn an android phone or tablet into a Facebook centric device that incorporated Facebook into the basic functionality of the device. This effort was later abandoned because very few people used it.
Facebook Interests - This was one of Facebook's efforts to get people to share more news on Facebook and get news updates from public figures much like people do on Twitter. Few users liked the product so it got pushed to an area on the site where it gets little attention.
Lists for Friends - This was a feature that the company launched in response to the positive reception that Google + enjoyed when it first came out. It lets people create lists of Facebook friends so they can share with specific groups or people or see updates from specific groups of people. While many people still use this feature, it never became a huge hit because most people don't want the complexity.
Adding games - Games were a great addition to Facebook when they were first introduced years ago, but usage has declined as people spend more time playing games on their Apple or Android devices.
My point is that Facebook has already tried many things to get people to spend more time on Facebook. Few of those ideas have worked, and they have not announced any major features that will change that.
3. Facebook could start an ad network. This idea has been mentioned by many people in the online ad industry, but Facebook has never stated any plans to create an ad network. Basically and ad network would be Facebook showing the ads that currently run on Facebook.com on other sites like CNN.com. Facebook would then get a percentage of all the dollars spent on ads that run through its network that get shown on CNN. This idea is popular because Google (NASDAQ:GOOG) has had an ad network for over ten years now that it calls AdSense. The idea is simple. Advertisers are already buying ads on Google.com so Google shows some of those ads on other sites. An example is MortgageCalculator.org. These text ads right here are ads that are coming from Google's ad network. This is a fairly straightforward business model and it works well. There are three main problems with this idea for Facebook:
Most of the revenue goes to the publisher. When Google or another ad network places an advertisement on a website the person who owns the website gets about 70% of the revenue and the ad network gets about 30% of the revenue. The ad network still needs to cover its cost of doing business with that 30% share before it can turn a profit. Google makes about 29% of its revenue from its ad network so while there is precedent for the idea that an ad network can be a healthy revenue boost, there is no large company that has gotten the 3x or 4x revenue increase that Facebook needs simply from creating an ad network.
It's hard to get websites to sign up for a new ad network. There are significant costs to switching ad networks so nobody wants to do it unless they think there is a strong chance they will make significantly more money with the new network.
Facebook's competitive advantage is uncertain. The existing ad networks have been perfecting their business for 10 or more years at this point and have gotten very good at what they do. Facebook would be starting from zero against these competitors. The main advantage Facebook has is that it knows who your friends are so they could show you ads that basically say your friend Suzy likes MasterCard. While this clearly has some appeal, and I think it could be successful, my professional opinion as a person who has worked with online ad networks for the last 6 years is that it is not going to be the kind of game-changing business that will bring in the 10 billion dollars a year in revenue that Facebook needs to justify its valuation.
4. Facebook can build a search engine. This idea gets mentioned a lot because it is an appealing story. The pitch basically goes like this - Facebook knows who your friends are and what they like so they can show you more relevant search results. For example if you did a search for "pizza delivery" Facebook can show you a search result that says your best friend Tom likes Domino's Pizza and so you should buy a pizza from them. I can see that working well in some sectors like bars, restaurants, or some consumer goods, but outside of that I don't think the kinds of friend recommendation data Facebook has available is very valuable. For example if I want to search for a plumber in my neighborhood or I want to know who played Elaine Benes on Seinfeld, Facebook doesn't have friend data that can offer me information superior to what Google or Yahoo (YHOO) can already show me. While my friend Jeff could tell me that Elaine Benes was played by Julia Louis-Dreyfus, Facebook doesn't know that he knows that because people don't enter that kind of information into Facebook. People just post pictures and silly messages on Facebook. More importantly, Microsoft's (NASDAQ:MSFT) search engine Bing is already incorporating social data from Facebook and Twitter into its search results and users are not exactly leaving Google to search Bing.com in droves.
Conclusion
In conclusion Facebook is a great company that will continue to grow much faster than the average company over the coming years. I like the product and the business model, but the stock is overvalued. I am shorting Facebook at $58 per share with the expectation that the stock price will fall by 50% in the next 2-3 years.
Disclosure: I am short FB. I wrote this article myself, and it expresses my own opinions. I am not receiving compensation for it (other than from Seeking Alpha). I have no business relationship with any company whose stock is mentioned in this article.