Many people tend to associate value investing with contrarian investing, or buying declining stocks which are expected to undergo sizable price reversals. Contrary to popular belief, value investing has nothing to do with the recent direction of stock prices. Buying a stock in a downward trend is certainly not a requirement for buying value, and it actually puts investors at a disadvantage. The far superior alternative is buying fast-growing stocks, which are undervalued in spite of the healthy growth in their stock prices. If the momentum is already there, then it will be less likely that initial losses are incurred, and more likely that the stock price approaches its fair value within a feasible time period.
Having posted 2013 gains of 34% and 46%, respectively, DirecTV (NYSE:DTV) and Whirlpool (NYSE:WHR) are two prime examples of value-based investments featuring the added bonus of strong upward price momentum.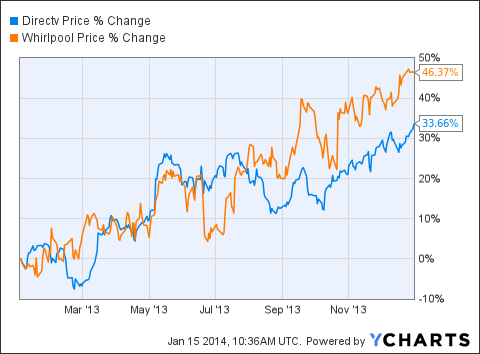 DirecTV
Lets rewind back to August. Making an appearance on CNBC, Oakmark Fund's Bill Bygren shared a perfectly reasonable observation regarding the state of the market:
"One of the things we think investors have gone a little excessive on is bidding up companies that pay high [dividend] yields, good income generators. And we think it's interesting that companies that have been large share re-purchasers -- effectively, it should be the same to an investor whether that money comes back as money or share repurchases -- but those stocks aren't as expensive, so we like the big share re-purchasers."
Fast forward to the present, and things really haven't changed much. Investors are showing a strong preference for dividend paying stocks -- many of which are trading at hefty premiums over fair value -- as the prices of "big share re-purchasers" remain depressed. These share repurchasing companies don't mind the undervaluation, as they'd prefer to buy back their shares as cheaply as possible. Add in the fact that interest rates are historically low, and it seems like there's never been a better time for companies to take the share repurchasing route.
Trading at a share price of $71.02, DirecTV has pooled more money into its stock buyback program than just about any company in the market. Since it began repurchasing stock in 2006, DirecTV's shares outstanding have shrunk by a whopping 62% (see chart below). Having already repurchased $3.2B worth of stock during the first 3 quarters of FY'13, DTV has allocated an additional $800M on buybacks during the final quarter of the year (source: Yahoo! Finance). Based on this information, the program's anti-dilutive effect on Q4 EPS will be in the 2-2.5% range.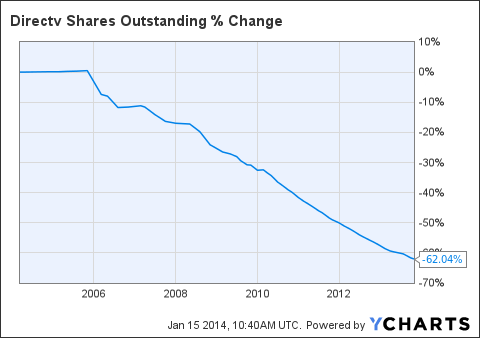 DTV Shares Outstanding data by YCharts
Some may look at this chart and make the assumption that it's the sole purpose for DirecTV's fast-climbing EPS, but those people would be absolutely wrong. Over the last 10 years, DirecTV's net income -- a figure that's unaffected by share repurchases -- has grown by 790%. That being said, the massive share buyback program has certainly had a large effect on EPS, which grew at a 2,000% rate during the same 10-year clip. Considering how gigantic those rates are, the 416% 10-year return on DTV's stock seems largely insufficient. Theoretically, those returns should be a lot closer to the EPS growth rate.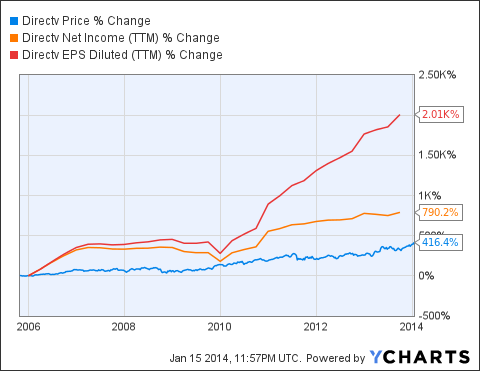 Looking at the chart, it's fairly obvious that EPS growth has largely outpaced the growth in DTV's stock price, especially in the latter half of the decade. This is evident by the more pronounced divergence of the two lines represented by EPS growth (red line) and price growth (blue line) on the right side of the chart. Although the stock's returns have been relatively strong through the years, the chart offers some depth as to why I believe they are due for an acceleration. Underlying market inefficiencies have a tendency to correct themselves in the long run, especially when the stock in question is that of a large, well-known company.
In an interview with Forbes, Tim Ericksen of Ericksen Capital Management shared his bullish expectations on the effect of the buyback program on DTV's long-term share price. Although the interview occurred in 2012, the stock continues to be an excellent value play, and so what he had to say remains every bit as relevant today:
"The way I see it, if the stock stays down they continue to buy back stock at a great price and I make more money later. If the stock goes up I make money now. It is a win/win situation."
Of course, DTV's past growth doesn't hold much significance unless the company continues growing in the future. With that said, DirecTV's earnings are estimated to grow 10.6% annually through the next 5 years. With a TTM PE of 13.9, the stock has a very reasonable PEG ratio of just 1.3. Furthermore, the stock is trading at quite an attractive entry point, considering its PE ratio recently bounced off a 5-year low (see chart below).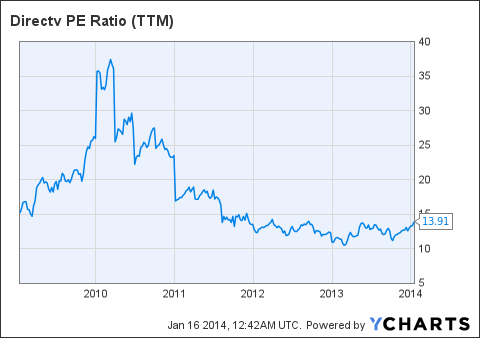 DTV PE Ratio (NYSE:TTM) data by YCharts
Whirlpool Corp.
"We continue to see positive trends in U.S. housing, the normal replacement cycle of appliances and a return of discretionary purchases to the market."

-Whirlpool CEO Jeff Fettig, Q3 post-earnings conference call
As the world's leading manufacturer of home appliances, Whirlpool has been benefiting handsomely from the U.S. housing recovery. The slew of newly built homes, along with rising consumer confidence, have led to a sizable spike in home appliance purchases across the country. This is what CEO Jeff Fettig referred to as "the normal replacement cycle of appliances", and it's been at the foundation of the current "home appliance boom", an event that typically lags the birth of a housing recovery by 1-2 years.
Having noticed these trends, Whirlpool's management has opted to double down on the large macroeconomic boost to its bottom lines, having shifted its focus towards margin expansion through cost-cutting maneuvers. Not only has it shifted chunks of its production to lower-cost facilities abroad, but Whirlpool has also managed to lower the input costs of some of its products, through its newfound ability of using identical parts to manufacture multiple types of appliances (Source: Reuters).
These factors have culminated into what's been an enormously successful year for the company. Having already matched its FY'12 EPS through the first 3 quarters of FY'13, Whirlpool is expected to announce on January 27th that its full-year earnings have grown more than 40% YOY. Not bad for a company whose EPS had actually contracted by an annual rate of 9% in the 5 years prior.
With earnings growth projected at a robust annual rate of 29.8% through the next 5 years, Whirlpool stock seems like a great buy at its current price of $157.60. Trading at a PE of 16.6, the stock's PEG ratio is just 0.6. Assuming its forecasts are even fairly accurate, I expect WHR to generate remarkable returns over the next 12 months.
Always Keep An Eye On The Risks
As is the case with any investment, there are risks associated with both DirecTV and Whirlpool. Regardless, I believe the attractiveness of each stock translates into a high probability of achieving excess returns, so much so that I'd consider the potential reward to outweigh the risks I'm about to mention. However, since every investor has a different level of risk aversion, I feel it's important to lay out the most significant risks of a potential investment.
Starting with DTV, a lingering cause of concern has been the uncertainty as to how much longer it can continue buying back shares. The company has been able to finance the program for 7 years despite having negative equity since 2010, and that figure has dropped to negative $6.6B as of FY'13 Q3. With a current ratio of just 0.94, it's unclear how much more money the company can borrow before creditors become uncomfortable with its capital structure. The last mention of the buyback occurred in DirecTV's Q3 conference call, during which it said that the program would continue through at least FY'14 Q1.
Considering the unclear future of its share repurchase program, the stability of DirecTV's net income growth gains an even higher significance than it previously had. Over the last few years, the growth of cable subscriptions has slowed in the U.S., due to both market saturation and the increasing amount of users switching to online-based media. Therefore, DirecTV has largely relied on emerging market growth, specifically from the largely unsaturated Latin American market. DTV's biggest risk in Latin America is the devaluation of the Venezuelan currency, which last February was cited to have "an ongoing unfavorable financial impact to DirecTV's Latin America revenues, earnings and cash flow growth related to the translation of the local currency financial statements to the new official exchange rate" (source: Reuters). Last year, this risk was offset by the effect of the share buyback program. Going forward, if the stock buyback either deccelerates or comes to a halt, then DirecTV will need to find another way to hedge this risk, assuming the problem still exists at that point in the future.
Moving on to Whirlpool, the stock's biggest risk is its high correlation with the economy. Obviously, current economic conditions have been incredibly favorable for the company, and all predictions are pointing to a continuation of current conditions for at least a few more years. However, economic swings are not always predictable, so anyone holding onto the stock for the long run should be wary of the potential effect of a downturn. Whirlpool, in particular, has had trouble finding a way to mitigate the effects of economic down swings, as evidenced by the chart below.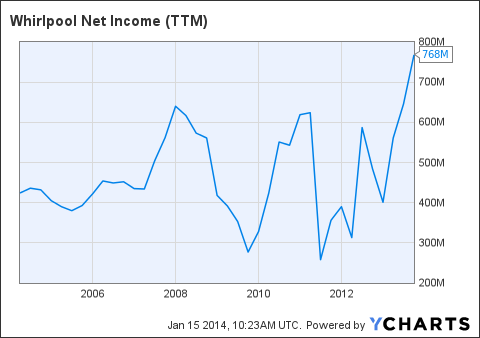 WHR Net Income (TTM) data by YCharts
Notice how volatile Whirlpool's net income has been over the last 10 years. Since 2008, there has been but one TTM earnings contraction which wouldn't be considered significant; the remainder of earnings pullbacks range from "significant" to "disastrous". Making this more problematic is the fact that 91% of Whirlpool shares are institutionally owned, due to the large price drops associated with fund managers unloading many shares at a time. Together, these two factors form the risk of "holding the bag" in the event something unforeseen goes wrong.
Conclusion
Given the attractive combination of value and growth displayed in both DirecTV and Whirlpool, I expect their stock prices to not only carry last year's strong performance into this year, but I also believe those returns will accelerate in 2014. Given the high profile of both companies, it's rare to see them trading on the cheap while their bottom lines have been expanding rather quickly. As always, it's important to keep an eye on the associated risks, to weigh them against the potential rewards, and to remember that no investment comes without risk. However, unless those risks become realities, I believe that DTV and WHR will be among the strongest performers of the new year.
Disclosure: The author has no positions in any stocks mentioned, and no plans to initiate any positions within the next 72 hours. The author wrote this article themselves, and it expresses their own opinions. The author is not receiving compensation for it (other than from Seeking Alpha). The author has no business relationship with any company whose stock is mentioned in this article.