The question of whether or not the stock market is "overvalued" or "undervalued" attempts to simplify the issues of portfolio allocation and security selection. The truth of the matter is that the stock market's valuation as a whole is a grey area in which there are both good stocks and bad stocks.
This thought seems obvious, and it is; however, it does have implications for investors in 2014. While the market rode the bull to huge gains in 2013, most analysts, even if they have high hope for the market's performance, don't necessarily expect to see the same kind of performance out of the market this year. This is particularly true for index funds that essentially replicate the performance of their benchmark index (for example, IVV with the S&P 5000).
If your investment horizon is long-term than ETFs that benchmark the S&P 500 should still be a key part of your portfolio because of their low expense ratios and the amount of broad diversification which they provide with ease and simplicity. However, 2014 could shape up to be a favorable year for stock pickers. Even if the market as a whole loses some of its steam compared to last year there are still plenty of fairly valued and undervalued stocks out there selling at a discount.
This year, I'm looking at stocks that are priced fairly compared to the market as a whole, but more importantly trading at a relatively low P/E compared to their industry peers that not only pay a healthy dividend but have shown a history of increasing the dividend to investors and that have strong EPS and cash flow growth.
I ran a screen with the following criteria: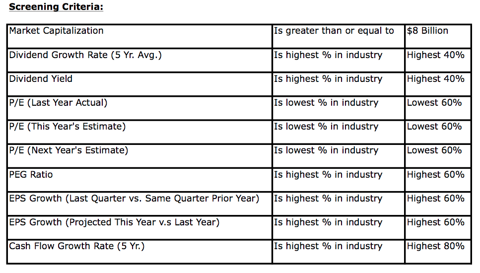 The results produced a list of 17 companies that are listed in alphabetical order:
(AAPL) Apple Inc.
(ADI) Analog Devices Inc.
(BAX) Baxter International Inc.
(COV) Covidien PLC
(CSX) CSX Corp.
(F) Ford Motor Company
(GIS) General Mills Inc.
(HP) Helmrich & Payne Inc.
(IP) International Paper Co.
(LLL) L-3 Communications Holdings
(LMT) Lockheed Martin
(MAT) Mattel Inc.
(NSC) Northfolk Southern Corp.
(ROK) Rockwell Automation
(SJM) J.M. Smuckers Co.
(TRV) The Travelers Co.
(UNP) Union Pacific Corp.

These are all companies with solid fundamentals that are poised to provide investors with long-term investing horizons with great returns by bolstering the investors' total number of shares by reinvesting dividends as well as through capital appreciation of the share price.
Disclosure: I have no positions in any stocks mentioned, and no plans to initiate any positions within the next 72 hours. I wrote this article myself, and it expresses my own opinions. I am not receiving compensation for it (other than from Seeking Alpha). I have no business relationship with any company whose stock is mentioned in this article.