"Oh, you left out a bunch of stuff!"- Thornton Mellon
While we are grateful for an 8-k actually acknowledging that everything we published was factually accurate, (Btw - Nice knee-jerk note Pacific Crest! We think you smashed the time record for a bullish sell-side underwriter analyst being shot down with a contradictory 8-k from the company he covers), we'd like to know, if Genentech was no longer a customer as of July 31st, 2013, then why was no 8-k put out in response to all these articles?
CNBC 10/16/2013 - "Veeva Systems IPO Shows Updraft in Cloud Business"
Same Article On Veeva Website Under Media - Yes, we know you probably can't believe that this is STILL UP ON VEEVA'S WEBSITE and clearly contradicts its 8-k disclosure from yesterday. But yes, it is in fact true and we have time-stamped this, so please go ahead and take it down.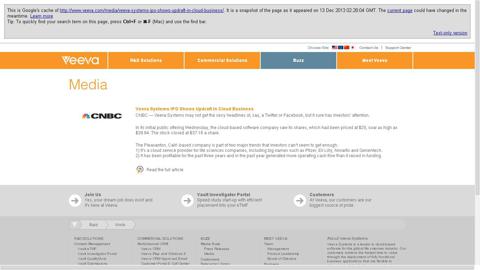 Also, doesn't one wonder, with Genentech only accounting for 2k seats, why was it repeatedly highlighted in IPO press as the other big customer name next to disclosed 2012 10% revenue customers Eli Lilly (NYSE:LLY) and Novartis (NYSE:NVS)? We will tell you why - because its brand equity as far as innovation and being the first mover (it was Veeva's (NYSE:VEEV) first big name customer) to the cloud is so strong, and Veeva wanted to milk that. This is just another example of excessive promotion/distortion around an IPO. Veeva knew this customer was gone, but felt fine claiming that it still had the customer throughout the entire quarter which covered its IPO. Then, only when we point this out after discovering it during honest field research does the company actually come out and provide the requisite disclosure.
Better questions….
Why did we not get an 8k on the Marketline report that is clearly inaccurately cited by Veeva in its S-1? Is a 50% overstatement between what the industry report actually states was life sciences industry revenue and what Veeva attributes it as stating in their S-1 irrelevant?
Why have we not gotten an 8k on the CRM TAM data or broader Veeva TAM data overstatements?
Why has all the material inaccurate sell-side data which factored into the TAM calculations in underwriter initiation reports regarding publicly traded Cegedim not been corrected?
Ahh, so many questions, so few answers.
What is one to do?
Well, you can start by reading the recently filed (Jan 2nd) IMS Health (NYSE:IMS) prospectus.
In its S-1 it discloses that it has,
"over 10 petabytes of proprietary data sourced from over 100,000 data suppliers covering over 780,000 data feeds globally, we have one of the largest and most comprehensive collections of healthcare information in the world, which includes 85% of the world's prescriptions by sales revenue and approximately 400 million comprehensive, longitudinal anonymous patient records."
Note that IMS Health has been around for 60 years. There is probably not a single legitimate commercially-focused life sciences company that does not do some sort of business with them. The same goes for regulators, academic institutions, consultants, and financial related players in the life sciences industry. The company is effectively the gold standard in this space when it comes to data.
From the S-1:
"The average length of our relationships with our top 25 clients is over 25 years and our retention rate for our top 1,000 clients in 2012 was approximately 99%."
Pretty impressive. wouldn't you say?
Now, they also disclose that they have 5,000 customers worldwide.
Compare this against Veeva, which in their S-1 just a few months earlier disclosed:
"The life sciences industry is one of the largest industries in the world, with over 23,000 life sciences companies of record in 2012."
IMS, which has been around for 60 years and has 85% of the world's prescription data by sales revenue, has only 5000 customers. Are we supposed to believe that 80% of the Life Sciences Industry does ZERO business with them?
Our due diligence indicates that is utterly impossible. In fact, it is a near certainty that anyone who is the least bit reputable in life sciences does some sort of data subscription business with IMS Health. This means Veeva managed to overstate the size of its 'addressable customer' segment by at least 300%.
And the huge inconsistencies continue when you move on to industry size…
Veeva management has repeatedly stated that life sciences is a $1.6 trillion industry.
We have shown where this glaring data mistake comes from in their S-1, but the management continues to reiterate this number in every interview we have seen.
Like here, for example.
Veeva's VC investors also have made this statement when trying to highlight that their vertical market is "huge", except it's not $1.6 trillion in revenue but instead is $1.6 trillion in IT spending and other expenses.
"The typical scenario on vertical companies is that they are kind of niches they are small areas. The LS space and healthcare space in general is enormous. Life Sciences companies alone spend about $1.6 trillion every year on IT and expenses" - Emergence Capital Co-Founder Gordon Ritter, Bloomberg Interview
This statement is a bit crazy when you consider global life sciences IT spending is 2.7% of that number. This statement also implies that the life sciences industry lost somewhere between $500-$600 billion last year, and operates at a -50% margin. That, obviously, is not the case. We'd equate such a statement to an NYC hot dog street vendor saying that the United States produced $15.6 trillion worth of hot dogs and other stuff in 2012 when questioned about his addressable market. Normally, we'd chalk all this up to a simple TV interview error, but that is not what is going on here. As we have show over the course of the past two months, whenever an opportunity arises to make Veeva's vertical market look bigger than it is, it is seized by all parties who stand to benefit, no matter how far from the truth it may be.
Now, look at how the leading global data provider to the life sciences industry with 85% of all global prescription data sizes its market in its prospectus.
From the IMS S-1:
"The life sciences industry is a large and critical part of the global healthcare system, generating approximately $1 trillion in annual revenue. According to our research, revenue growth in the life sciences industry globally is expected to accelerate from 2.5% in 2013 to approximately 6% in 2017."
Wouldn't you say a 60% discrepancy between two S-1s that have come out a few months apart is just a little bit too much to ignore? Are we talking about Tesla Model S sales here or global pharmaceutical sales? Is $600 billion a rounding error these days?
And speaking of IMS' S-1, has anyone taken a close look at what this company has been buying over the last year?
We'd like to think so, but our faith in investor due diligence is about as weak as it has ever been.
Here are IMS' notable acquisitions over the last year:
360 Vantage- Cloud-based multi-channel CRM and CLM SAAS provider built on the Force.com platform. (Hmm, who else does this?)
Appature- Cloud-based relationship marketing platform.
Semantelli- Social medial analytics company that offers cloud-based tools which automate the collection of healthcare-specific social media content.
Vedere Group- Pharmaceutical industry-focused provider of software and services that help improve sales and marketing performance.
Incential Software- Life sciences-focused SAAS that provides technology and services that, "integrate incentive compensation, data management and business intelligence applications for more effective, results-driven sales operations."
Diversinet- Healthcare industry-focused publishing platform provider which supports rapid deployment of secure and HIPAA-compliant Web-to-mobile applications.
Any clue what they are building here? Can you see where IMS One is heading? Who do you think makes more sense as a Salesforce.com (NYSE:CRM) partner down the road, the company with more proprietary life sciences data than the IRS has financial records or the one that built an iPAD CRM app? Sorry, we forgot competitive threats are irrelevant here. This is why not a single Veeva sell-side initiation report mentioned IMS One or the existence of other life sciences CRM ISV's on the Force.com platform.
Honestly, we are starting to wonder whether or not there is any point to doing real analytical work or field-level research. If the WFC analyst who put out what is arguably the worst bottom-up market sizing we have ever seen can say buy the dip without the slightest mea culpa, let alone a retraction, what is the point? If Pacific Crest can put out a note saying they are skeptical that Veeva lost the Genentech business without even making a phone call, and then a few hours later Veeva acknowledges this is in fact the case, why should we even bother?
Where is the SEC? Where is FINRA? Where have all the hard-hitting investigative financial journalists gone? Investing in these markets is becoming a total joke.
Disclosure: I am short VEEV. I wrote this article myself, and it expresses my own opinions. I am not receiving compensation for it (other than from Seeking Alpha). I have no business relationship with any company whose stock is mentioned in this article.