Coach, Inc. (COH) offers a range of modern, fashionable handbags and accessories for women and men. Its product offerings include women's and men's bags, accessories, footwear, wearable, jewelry, travel bags, sun wear, watches and fragrance. The company operates in two segments: North America, which includes sales to North American consumers through company-operated stores, including the Internet, and sales to wholesale customers and distributors and International, which includes sales to consumers through company-operated stores in Japan and mainland China, including the Internet, Hong Kong, Macau, Singapore, Taiwan, Malaysia and Korea and sales to wholesale customers and distributors globally.
Over the past 10 years Coach has grown revenues yearly by 18.2%; operating income rose by 20.1% and net income grew by 21.6%, capturing market share of more than 38% in the luxury handbag market. Revenue growth accelerated after the financial crisis of 2008. Increased cost of goods, higher marketing expenses and distribution expenses led to the decline in gross margins that Coach enjoyed from 2004 to 2007. The company improved its gross margins after the financial crisis but never reached levels it enjoyed earlier. Figure1 shows the revenue for the company since 2004.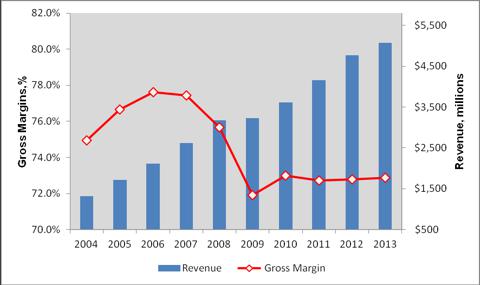 Figure 1 Revenue and Gross Margins since 2004 (Source: Morningstar)
Figure 2 displays selling, general and administrative expenses rising faster than the cost of goods, depressing operating and the net profit margins for the company.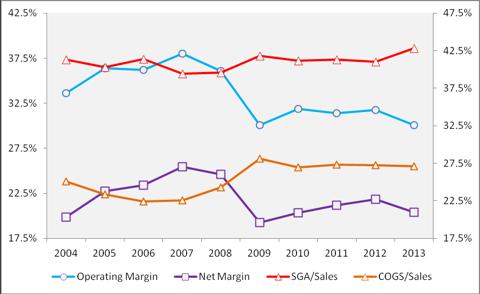 Figure 2 Operating & Net margins
Currently Coach operates 548 stores in North America (including factory stores), 196 stores in Japan and 226 stores in emerging markets. Since 2009, the company has been expanding aggressively in emerging markets to seize the growth opportunity created by the rising upper middle class. Figure 2 highlights the store distributions in the markets where Coach operates. We can see from the chart that Coach has aggressively expanded its store base in China and reducing the store base in Japan and North America.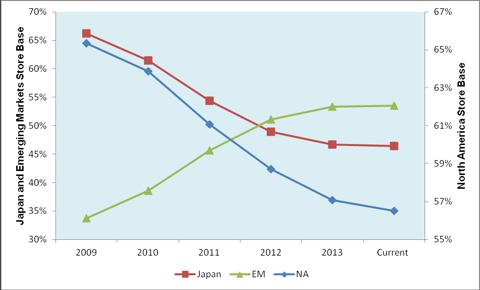 Figure 3 Coach Store Distribution by region. (Source: 10-K)
For the last twelve months, the company reported sales of $5.06 billion, generating $1.51 billion in operating profit and $1.03 billion in net profit. Even though revenue increased by 3.94%, operating income and net income declined by -0.46% and -1.25% respectively from the previous period. Figure 4 highlights declining quarterly gross, operating and profit margins for the company since Q4 of FY2011. Net sales declined in Japan due to a weaker yen, but sales in China rose over 35% from the prior year fueled by distribution and double-digit same-store sales.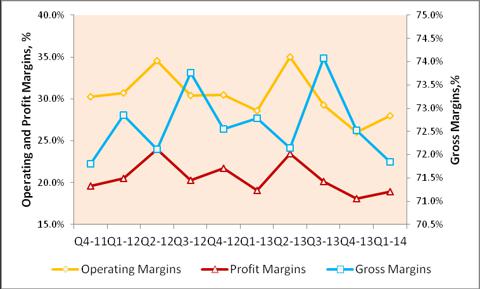 Figure 4 Quarterly Gross, Operating & Profit Margins since Q4-FY11
Analysts attribute this decline in profitability for the company to lost market share and younger shoppers to the likes of Michael Kors (NYSE:KORS) and Kate Spade (FNP), both of which have posted continued sales gains for past two years. Even with sharply declining same store sales in the North American market, the company continues to see significant growth in China and international markets.
Current State of Luxury Goods Market
The luxury goods market is becoming extremely competitive, forcing brands to adapt by bringing in the detailed consumer insight to drive growth. After 08's financial crisis, consumers emerged as well-informed and price conscious, seeking higher exclusivity from the brands. This shift in consumer behavior has challenged the brands in finding innovative ways to engage consumers and promote product superiority and value. Luxury brands need to expand their product portfolios and channelize the efforts to engage consumers through e-commerce and social media as well.
Personal experience as well as association with aspirational class drives brand loyalty and the emotional bond between the consumer and brand. This emotional relationship is difficult to replace and luxury brands are doing whatever it takes to preserve it. Much of luxury's allure comes with the opportunity to share in the rich cultural heritage associated with the brand. Many leading brands are promoting their history and craftsmanship.
The rising upper middle class in emerging markets has led to segmentation of the luxury goods industry from the classes to the masses. To promote brand visibility, companies are focusing on strengthening the business vertically across different categories or across price segments. Also, brands are leveraging technology to improve consumer experience, reinvigorating product assortment and integrating personalized as well as digitized marketing campaigns.
In the future, the success of luxury brands will be shaped by exclusive product assortment, brand heritage and customer experience.
Business Initiatives
Coach's management is focused on transforming the company from a leading international accessories brand to a global lifestyle brand, anchored in accessories. The company is focusing on men, especially in China where the luxury market is concentrated in menswear. Management is targeting about $700 million in sales in FY14 for men's business. To grow the business in under-penetrated markets, the company continues to infuse more emotion to promote brand awareness and build market share. To enhance the consumer experience, company is remodeling stores, broadening product assortment and leveraging technology to engage customer from tablet and mobile devices. The company is expanding investments to sustain growth within their global business. Figure 5 displays recent reversal in reinvestment rate to create incremental revenue.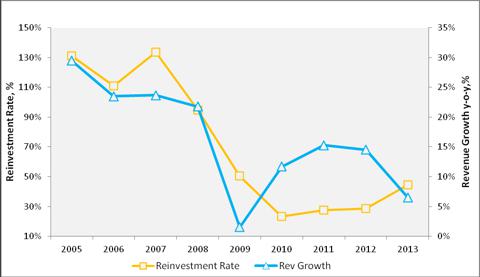 Figure 5 Reinvestment rate and year over year Revenue growth
Valuation
A reverse DCF model can help in finding what market inferred growth rate is. Isolating the value of existing assets from the market price yields growth premium built in the stock price. Using a cost of capital of 11.07%, we estimate the value of assets in place, and the price we are paying for future growth.
| | |
| --- | --- |
| Value of existing assets | $ 33.05 |
| Price you are paying for growth | $ 20.85 |
Growth premium stated with price earnings ratio is the difference between ttm P/E and P/E ratio for existing assets. Current trailing twelve month price earnings ratio for Coach is 14.75.
PE for existing assets = 9.5
Growth Premium = Actual P/E- P/E for existing assets = 14.75-9.50 = 5.25
At current price levels, Coach needs compounded growth rate of 13.5% in operating income for the next 5 years. On the other hand, competitors such as Michael Kors need to grow their operating income by 63% annually for the next 5 years to justify current market price.
A strong brand name, global footprint, and leading market position have enabled the company to earn excess returns on capital invested. Median return on invested capital for Coach since 2004 is 57.3% against a cost of capital of 11.1%. These returns show quality growth created and value creation for shareholders. With slower growth in American and Japanese markets, higher capital investment demands, and depression of operating margins for short term factored in; my fair value estimate for Coach is $67.0.
At current market price, investors are paying a fair amount for value, which growth adds to the business. At the estimated stock price, investors will only pay 60% of the price for the value, which growth adds in.
Disclosure: I have no positions in any stocks mentioned, but may initiate a long position in COH, over the next 72 hours. I wrote this article myself, and it expresses my own opinions. I am not receiving compensation for it. I have no business relationship with any company whose stock is mentioned in this article.