In the first 10 days of trading, shares of Ballard Power (BLDP) have soared 56.3% to $2.36, from $1.51 at the close of 2013. And volume in 2014 is up sharply, too, reaching an average of 7.1 million shares traded, from an average of 1.3 million for the fourth quarter of 2013.
Why the Sudden Spike in the Stock?
Following news on Jan. 2 of Plug Power's (NASDAQ:PLUG) success with meeting a company goal of booking between $30M and $40M in new orders ($32M, actual) for the fourth quarter, tepid and unconvinced investors of the expectations of a bright 2014 for the fuel cell sector jumped in with both feet to scoop up any ticker operating within this space.
The reoccurring pattern of thinking on Wall Street goes: If one company in the industry scores a series of contracts, others in the sector will eventually score as well.
So, if Plug Power is scoring contracts, BLDP will most likely score some contracts soon, as potential "me-too" customers follow the lead of commitments made by Plug's big-boy customers, Wal-Mart (NYSE:WMT), Kroger (NYSE:KR), Mercedes and BMW.
And on Jan. 7, Plug Power announced another deal, this time with FedEx (NYSE:FDX). Under the terms of the agreement, Plug will develop hydrogen fuel cell extenders for 20 of FedEx's electric delivery trucks. Now, FedEx has been added to the impressive list of endorsements for fuel cell technology, in general.
It appears that, after approximately two decades of hope, frustration, despair, and huge investor losses, fuel cell technology may be finally making some serious headway within the commercial marketplace, the logical place of first to adoption.
Visionary 'Nuts' Vs. Newcomer Geniuses
More than a decade ago, investors jumped to buy BLDP at as much as $150 per share during the hope, hype, promise and cult phase of the fuel cell technology craze-a technology, as it turns out, to be too soon for the industry's (and investors') own good.
There's an old adage that may apply to Ballard, Plug and the like, "If you're one step ahead of the crowd, you're a genius. But, if you're two steps ahead, you're a nut." Those investors who bought into BLDP's billion-dollar-plus valuation back in the early 2000's are the nuts, in this case; they were way ahead of the marketplace. But today, investors who buy into BLDP's business could very well be the geniuses, the ones to make the score (see chart, below).


Ballard on Track to Profitability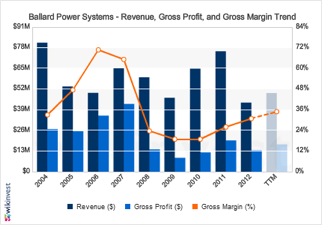 Though already known, Ballard's sharp rebound from the financial meltdown deserves review, because it's my thesis that Ballard is poised to profit from a confluence of positive trends toward an embracing of cost-cutting capex spending sweeping throughout large multinationals as it relates to energy and operational efficiencies.
Trends in revenue, gross profit, gross margin, EBITDA, operating income and accounts receivable suggest profitability in late 2014, or early 2015, for Ballard-which appears to be consistent with, and indicative of growing commitments to fuel cell technology made by large commercial enterprises in transportation, warehousing and communications, among others.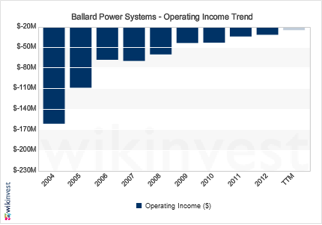 For the first three quarters of 2013, Ballard posted $43.9 million of revenue, a remarkable rebound of 61% from $27.3 million reported for the same period of 2012.
For the third quarter ending Sept. 30, gross margin improved to 28%, a rise of 16 basis points from the same quarter last year. And, as can be gleaned from the chart, titled "Ballard Power Systems - Revenue, Gross Profit and Gross Margin Trend", Ballard projects gross margin to increase further to well above 30%.
For the first three quarters, the company's gross margin has steadily increased to 25% in 2013, from 17% in 2012, and 13% in 2011.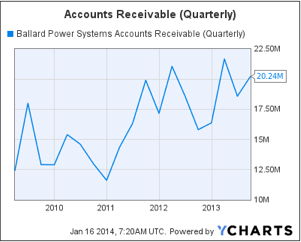 And Ballard's operating losses continue to shrink., as well. According to the company's income statements for the past 10 years (except for the year 2007), Ballard has made progress shrinking its cash-burn (see chart, titled Ballard Power Systems - "Operating Income Trend").
Finally, and quite consistent with the Ballard's improving financial metrics is the company's accounts receivable, which has soared 79.1% from 2011, to approximately $20.2 million.
Ballard's Guidance Suggests Profitability By 2015
Full-year guidance for 2013 included expectations for a revenue growth rate of 30% from 2012's total, as well as a narrowing of EBITDA losses of 50%.
Given the recent news from Plug that suggests an industry poised to explode higher, a repeat of Ballard's success on the revenue front in 2013 could take Ballard's revenue to approximately $76 million-a revenue level that could be enough to push Ballard into profitability, mostly stemming from its presence and focus on the Asia market (see Jan. 9 news release regarding the M-Field Energy, Limited deal in Taiwan).
That projection of profitability assumes, among other things, a stable to reasonably higher gross margin. A quick back-of-the-napkin calculation suggests that Ballard could squeak out a black bottom line by the first quarter of 2015, or maybe as early as the fourth quarter of 2014.
Conclusion
Though investors who've been burned by the initial slew of fuel cell IPO's 15 to 20 years ago gave the sector a 'loser' image after the industry crash, investors who've come along to pick up the carnage could be taking a well-thought out calculated gamble on BLDP and its brethren at the most opportune time.
It's not the first time that companies and sectors, which have been left for dead, some day make a comeback as the vision initially embraced among the 'nuts' of long ago turns into a reality for the 'geniuses' who were fortunately spared from the long and painful marathon to eventual adoption of a technology whose time has finally come.
Disclosure: I have no positions in any stocks mentioned, but may initiate a long position in BLDP, PLUG over the next 72 hours. I wrote this article myself, and it expresses my own opinions. I am not receiving compensation for it (other than from Seeking Alpha). I have no business relationship with any company whose stock is mentioned in this article.