Best Buy (NYSE:BBY) cut estimates this morning and is currently trading down 30% in the pre-market. Talk about a rough morning.
Best Buy was one of the top performing stocks in the US in 2013, but this 30% haircut will put a huge dent in its gains. While the stock will still be up 130% from where it started 2013 when it opens down $11 this morning, it will have lost 40% from its late-2013 highs.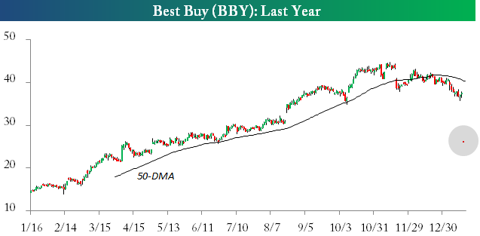 In Best Buy's history, today's open is set to be its second worst gap down ever. As shown below, the worst open it had was back on November 9th, 2000 when it gapped down 33.17%. On that day, it continued lower by 8.39% from where it opened to where it closed for a full-day decline of 38.78%.
In the table below, we show all BBY gaps down of 10% or more in its history. Of the 12 prior times this has happened, it has continued lower from the open to the close 7 times, and it has reversed and traded higher from the open to the close 5 times.