The Marcellus Shale does not cease to amaze with the sheer scale of its resource and unstoppable growth momentum. Three months ago, in its quarterly Drilling Productivity Report, EIA estimated November 2013 natural gas production from the Marcellus Region at ~12 Bcf/d (the estimate includes legacy conventional production of ~2.0 Bcf/d). Just few years back, the figure would be almost unthinkable even to an optimistic forecaster. This week, the Report's newly released January 2014 update shows the current production from the region at ~14 Bcf/d, a staggering 2 Bcf/d increase in just three months.
EIA January 2014 Report: Marcellus Production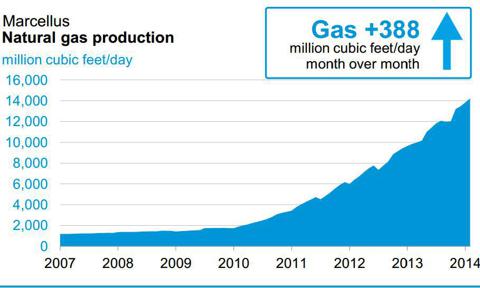 EIA October 2013 Report: Marcellus Production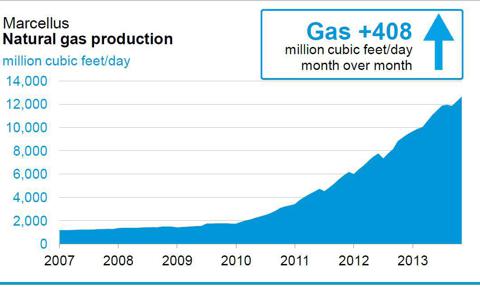 (Source: EIA, October 2013 and January 2014)
One would think that the break-neck growth of natural gas production in the Northeast region cannot continue forever and should at some point hit a wall of difficult to resolve take-away constraints. Indeed, many well established forecasts have suggested imminent saturation in the production growth curve from the Marcellus, as illustrated, for example, by an outlook put out by Wood MacKenzie in the energy consultancy's Spring 2013 Forecast. The Forecast was widely quoted in the industry and was highlighted in presentations by Dominion Resources (NYSE:D) and Boardwalk Pipeline Partners (NYSE:BWP) as recently as a month ago. As evident from Dominion's slide shown below, the Forecast suggested that the Marcellus volumes (the light-blue area on the graph) would assume a much flatter growth trajectory already in 2014 (compared to the prior several years of straight-line growth), with an additional slowdown in 2015. According to the graph, the Marcellus was expected to reach production of ~14 Bcf/d by 2020 and ~16.5 Bcf/d by 2025 (the figures do not include legacy production).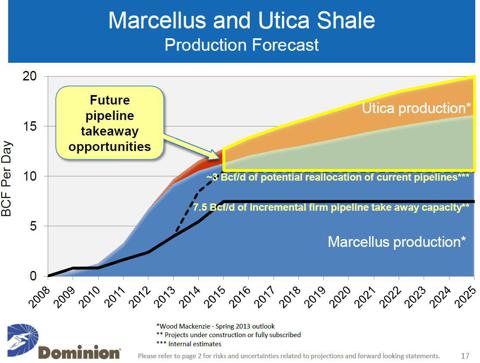 (Source: Dominion Resources' December Investor Presentation)
Forecasts may yet again prove to be hopelessly behind the actual growth curve. The Marcellus may surpass 14 Bcf/d production level (ex-legacy) already during the second half of this year. Moreover, a case can be made that the Northeast Region may sustain its very steep, essentially straight-line growth trajectory for another several years, adding 2.5-3.0 Bcf/d of incremental production every year.
With the take-away capacity being the primary constraint, the trajectory of growth will be defined largely by the pace of infrastructure build-out. In a recent investor presentation, Range Resources (NYSE:RRC) highlighted approximately 7 Bcf/d of new take-away capacity from the Marcellus that will likely become available by the end of 2016, with additional projects possibly added to that total in the near future. If Range's estimate proves accurate, the Northeast Region may be producing over 20 Bcf/d of natural gas already within three-four years from now. Clearly, such an enormous amount of incremental production cannot be accommodated without continued re-balancing of inter-regional natural gas flows and additional back-haul reversals on key interstate mainlines, the process that has been on-going for the past few years.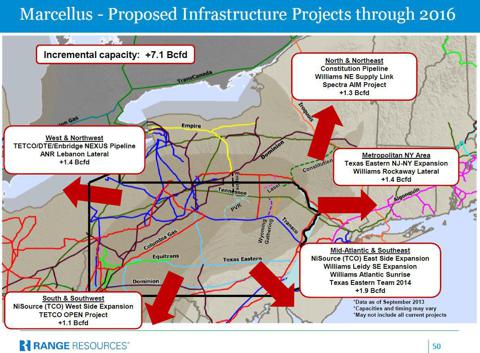 (Source: Range Resources' January 2014 Investor Presentation)
To anticipate the trajectory of growth in the Marcellus, it may be instructive to review and aggregate recent production guidance provided by the largest individual producers in the play. It is quite amazing to discover that among significant operators in the play, very few are planning to grow their production volumes at less than 30% during 2014. In some cases, projected growth rates are substantially higher than 30%.
A review of operating plans indicates that resource availability and drilling economics are not a constraint for those operators who have access to acreage in the play's two key (very large) sweet spots: the dry gas sweet spot in Northeast Pennsylvania and wet gas sweet spot in Southwest Pennsylvania and Northern West Virginia. Operators' forecasts confirm that growth momentum in the play will likely continue unabated for some time, with drilling programs planed "to pipeline capacity."
The following sections summarize production guidance by several significant Marcellus operators.
Cabot Oil & Gas (COG)
Cabot is one of the top two producers in the Marcellus in terms of volumes, alongside Chesapeake-Statoil Joint Venture. This year, Cabot may establish itself as the field's #1 producer. The company recently reported a new production milestone: 1.5 Bcf/d gross in the Marcellus. Cabot also updated its production growth guidance for 2014 which is expected to be in the 30%-50% range and implies a 2014 exit rate in the Marcellus of ~1.85-2.1 Bcf/d gross. My analysis of the company's recent well performance indicates that the budgeted 2014 new well count is more than sufficient to ramp up production to the high end of the guidance range (and possibly above), should Cabot find sufficient take-away options for its produced volumes.
Cabot has added a sixth rig to its drilling program in August and has announced the addition of a seventh rig in early 2014. The company expects to drill 130 to 140 net wells in the Marcellus in 2014.
Chesapeake Energy (CHK) / Statoil (STO)
The Chesapeake / Statoil Joint Venture (67.5% CHK, 32.5% STO) was producing over 1.4 Bcf/d at the end of the third quarter of 2013. Chesapeake and Statoil were expected to add over 800 MMcf/d of combined new firm transportation capacity in November of 2013 as two major pipeline expansions were put in service by Tennessee Gas. While it would be incorrect to equate that capacity to the JV's production growth in 2014 (firm contracted transportation may simply substitute some of the temporary take-away arrangements currently in place), it would be logical to anticipate a strong step up in the JV's volumes in 2014. Chesapeake has not yet provided its operating guidance for the next year. While Chesapeake, the JV's operator, is currently running only five rigs in the play, the joint venture has an estimated nine-month backlog of wells waiting on pipeline or ready to be completed that should enable a near-term growth acceleration from the 15%-20% annualized growth rate seen recently.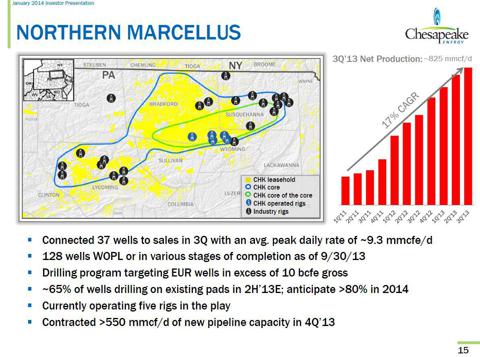 (Source: Chesapeake Energy's January 2014 Investor Presentation)
EQT Corporation (EQT)
The production growth graph from EQT's most recent investor presentation (below) suggests that the company exited 2013 with a gross production in the Marcellus of close to 1 Bcf/d. The graph also indicates that the company's gross production may increase by an additional 300-400 MMcf/d by the end of 2014.
EQT plans to spend approximately $1.1 billion on Marcellus well development in 2014, drilling 186 Marcellus wells. The Company also plans to spend approximately $155 million to drill 30 Upper Devonian wells in 2014 (the Upper Devonian shale formation sits above the Marcellus zone across a substantial portion of EQT's existing acreage position; to minimize development costs, all Upper Devonian wells drilled in 2014 will share a pad with Marcellus wells). EQT Production owns approximately 170,000 net acres in the Upper Devonian that the Company believes can be developed as a separate zone.
Including Upper Devonian volumes, EQT estimates that its production in the region will average ~1 Bcf/d net during 2014. The company's press release also implies that Marcellus volumes will grow by an additional ~30% year-on-year in 2015. The forecast is based on 7-9 operated rigs in the Marcellus, Upper Devonian and Utica in 2014.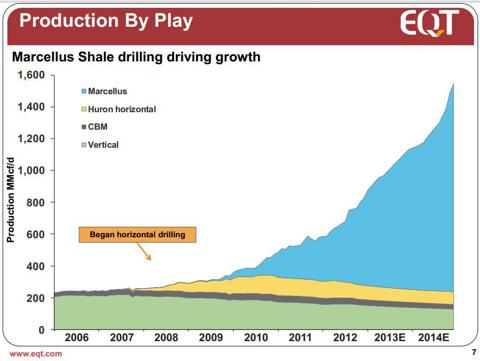 (Source: EQT Corporation's December 2013 Investor Presentation)
Range Resources
Range's Marcellus production for the third quarter 2013 averaged approximately 900 Mmcfe per day gross (756 MMcfe/d net). While Range is yet to provide detailed production forecasts for 2014, the company has guided that its production volumes would grow at a 20%-25% annual rate. Given the nine-rig program that Range is currently running in the Marcellus region and the very strong improvement in the company's well productivity, the estimate for 2014 may in fact prove conservative.
Range has announced that its firm transportation contracts in the Marcellus will be increasing from approximately 1.0 Bcf per day currently in place to 1.5 Bcf per day by 2015. The term of these contracts is generally for 10 years, the majority of which are renewable. Range expects to layer in additional firm commitments to "match the Company's increasing production volumes." Range has already contracted for an additional 200 Mmcf per day of capacity for 2017 and is in discussions for additional firm capacity on several large takeaway systems. Given that Range's primary operating focus is on areas with rich and super-rich gas, the company's production growth will be constrained by the processing capacity availability rather than dry gas take-away capacity. Still, the transportation capacity contracted by the company may provide an indirect indication of the type of growth rates that management is expecting.
Southwestern Energy (NYSE:SWN)
Southwestern was producing 611 MMcf/d in the Marcellus as of September 30, 2013. In 2014, the company expects its total net production in the Marcellus to grow by over 60% year-on-year, to 244-249 Bcf. Based on my more detailed analysis of Southwestern's volume projections, this equates to a 2014 exit rate of approximately 825 MMcf/d gross. Southwestern plans to drill a total of 75 net development wells in 2014 and will operate four rigs.
At current drilling pace, assuming Southwestern finds adequate take-away solutions for its production volumes, the company may reach the 1 Bcf/d milestone for its gross operated production in about 18 months from now.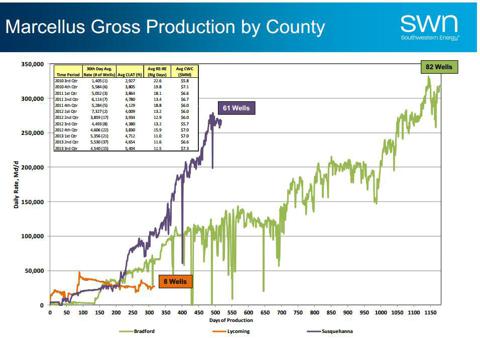 (Source: Southwestern Energy's January 2014 Investor Presentation)
Antero Resources (NYSE:AR)
In the past twelve months, Antero has been adding production in the Marcellus at a rate of over 100 MMcf/d (gross) per quarter and exited 2013 with an estimated Marcellus production rate of 675-750 MMcf/d gross (my estimate). The company is now the most active driller in the Marcellus with a total of 15 operated rigs. As a result, Antero's production growth rate may in fact accelerate in the near term.
Antero is yet to provide its 2014 production guidance. However, the company has indicated that its total contracted marketing capacity (consisting of firm transportation and firm sales agreements) should increase to over 1.4 Bcf/d by early 2015 (this figure includes both Marcellus and Utica). This implies potential addition of 0.5+ Bcf/d of natural gas production during 2014.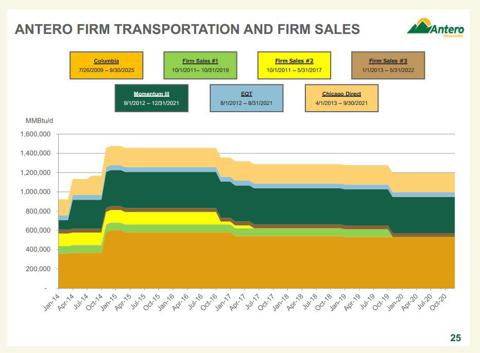 (Source: Antero Resources' January 2014 Investor Presentation)
Consol Energy (NYSE:CNX) / Noble Energy (NYSE:NBL) Joint Venture
Consol and Noble, 50/50 partners in a southern Marcellus joint venture, have also guided to a rapid build-up in their production volumes. Most recently, the two companies expected to achieve combined 2013 exit rate of above 0.5 Bcf/d (gross) and approach the 1 Bcf/d (gross) production milestone towards the end of 2014.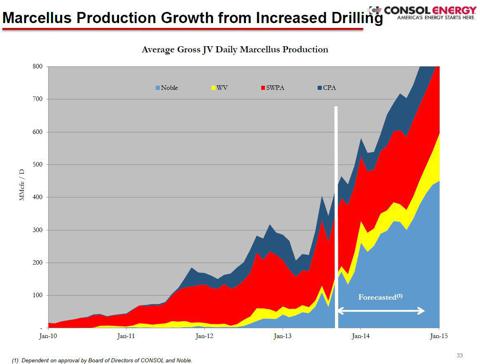 (Source: Consol Energy's December 2013 Investor Presentation)
National Fuel Gas (NYSE:NFG)
Seneca Resources, the E&P arm of National Fuel Gas, is guiding to a 25%-40% annual growth in its Appalachia volumes over the next two years. At the midpoint of the guidance, the company's gross production from the Marcellus Region should exceed 0.5 Bcf/d by the end of 2015.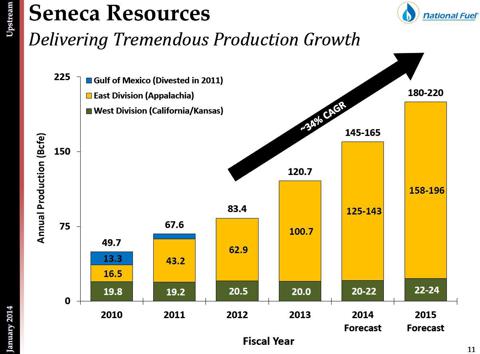 (Source: National Fuel Gas' January 2014 Investor Presentation)
Anadarko Petroleum (NYSE:APC)
Anadarko may be one of few operators who may see its Marcellus production growth rate slow down in 2014 as the company does not have operated acreage within the play's sweet spots and may see its capital better utilized in other, higher return areas within its vast portfolio. Nonetheless, the company's may still see its volumes increase over the 2013 levels when the company's average gross production exceeded 0.5 Bcf/d.
(Source: Anadarko Petroleum's January 2014 Investor Presentation)
Conclusions
A review of key operators' drilling plans and production guidance indicates that 2014 will be another very strong year of production growth in the Marcellus region, with West Virginia Marcellus and Ohio Utica quickly emerging as powerful growth engines alongside the better established sweet spots in Northeast and Southwest Pennsylvania.
The Marcellus region may continue to surprise skeptics with its unabated pace of growth for several more years. The backlog of proposed take-away project indicates that the region may be producing as much as 20 Bcf/d of natural gas already within three-four years.
The newly established Northeast Producing Region is not only characterized by the exceptional productivity of its sweet spots and low development costs, but also has the proximity advantage relative to the destination markets in the Northeast/New England, Mid-Atlantic, Midwest, and East Canada.
Pipeline operators have already demonstrated their ability to adapt to the new inter-regional supply balance by quickly reversing flows on certain trunk pipeline segments and addressing bottlenecks. The trend will without doubt continue. In fact, the Northeast's newly found self sufficiency in natural gas has effectively created spare capacity on the national pipeline network, which puts pressure on pipeline operators to offer value-added transportation solutions so that the utility (and profitability) of the legacy transportation system is maximized in the new environment.
As the Northeast increasingly plays the role of natural gas exporting region, a negative differential to other regional price points must develop. The differential may experience sharp spikes during the transition period. However, once pipeline flows find a new inter-regional equilibrium, the differential is unlikely to stay wide: the availability of several major underutilized trunk pipelines that can provide low-cost transportation solutions for the Marcellus and Utica gas should ultimately translate into fairly uniform pricing across the nation's key pricing points.
Disclaimer: Opinions expressed herein by the author are not an investment recommendation and are not meant to be relied upon in investment decisions. The author is not acting in an investment adviser capacity. This is not an investment research report. The author's opinions expressed herein address only select aspects of potential investment in securities of the companies mentioned and cannot be a substitute for comprehensive investment analysis. Any analysis presented herein is illustrative in nature, limited in scope, based on an incomplete set of information, and has limitations to its accuracy. The author recommends that potential and existing investors conduct thorough investment research of their own, including detailed review of the companies' SEC filings, and consult a qualified investment adviser. The information upon which this material is based was obtained from sources believed to be reliable, but has not been independently verified. Therefore, the author cannot guarantee its accuracy. Any opinions or estimates constitute the author's best judgment as of the date of publication, and are subject to change without notice.
Disclosure: I have no positions in any stocks mentioned, and no plans to initiate any positions within the next 72 hours. I wrote this article myself, and it expresses my own opinions. I am not receiving compensation for it (other than from Seeking Alpha). I have no business relationship with any company whose stock is mentioned in this article.