I recently started "4 Stocks to Double In 2014" in late November and followed it up with "4 Stocks to Double in 2014 Part II" in mid December. There has been a noticeable move to the upside on 7 out of the 8 stocks I picked (please review the chart below). Today, I have isolated another 4 new stocks to double. I have been following these stocks for quite some time; two of the companies have been overlooked by the market, while the other two seem under market accumulation. All 4 stocks have major catalysts coming in 2014 and sit at discounts to what I believe they could be trading at in 2014. Like all investments, the higher the expected return the higher the risk to your money. I'll put the stocks in order from the biggest potential return to the lowest potential return.
Origin Agritech Limited (NASDAQ:SEED)
Founded in 1997 and headquartered in Beijing, Origin Agritech is China's leading agricultural biotechnology company, specializing in crop seed breeding and genetic improvement, seed production, processing, distribution, and related technical services. Leading the development of crop seed biotechnologies, Origin Agritech's phytase corn was the first transgenic corn to receive the Bio-Safety Certificate from China's Ministry of Agriculture. Over the years, Origin has established a robust biotechnology seed pipeline including products with glyphosate tolerance and pest resistance traits. Origin operates production centers, processing centers and breeding stations nationwide with sales centers located in key crop-planting regions. Product lines are vertically integrated for corn, rice and canola seeds.
Reasons to be Bullish on Origin Agritech Limited:
1. Valuation: Origin Agritech has a $43 million market capitalization and trades at 0.62 times sales. It traded at 4 times revenues in 2010-2011.
2. Buyback: The company implemented a $5 million dollar buyback and has accumulated approximately 365,000 shares to date. I believe that in the quarter ending December 31, 2013 the company could have doubled that number as the shares traded at the $1.50 level for most of the quarter which seemed like the executing price of the first 365,000 shares.
3. Accumulation: The company has only 22.9 million shares outstanding and approximately 14.23 million shares in the float. The recent trading activity saw over 15 million shares traded in one week which could mean that some large institutions may have accumulated a good size position. In 2010 when Origin Agritech hit $15 on tremendous volume, Fidelity accumulated 3 million shares (13% of the company) prior to the move.
4. US Companies Entering China: Origin Agritech's phytase corn was the first transgenic corn to receive the Bio-Safety Certificate from China's Ministry of Agriculture. The company has a stronghold in China which bodes well when large US companies like Monsanto or Mosaic wants to expand throughout China.
Catalysts to look forward to in 2014:
1. Chinese Government Approval: Four commercial hybrids with phytase traits have completed the variety production test and are pending the variety approval from the Chinese government. If any one of these four hybrids gets final approval the shares would more than triple from the $2 level it trades at today, we saw similar action in 2010 when it hit $15 per share.
2. Phase 5 Safety Certification: One GM glyphosate tolerance event (the unique DNA recombination event that took place in one plant cell) passed Phase 4 - Production Test and is waiting for the Phase 5 Safety Certificate. Phase 5 is the final stage and this approval would have the same effect as the first catalyst.
3. Institutional Buying: I see the large volume as a sign that a large fund could be in the process of buying over 10% of the company, this could create a buying frenzy from both institutional and retail investors following smart money.
4. China Back In Favor: I believe that Chinese stocks have come back en vogue creating a tsunami of funds that could come into the shares of Origin Agritech. This could provide a technical explosion to the shares at any moment or on significant news.
5. Sell Side Coverage: We could see sell side coverage on Origin Agritech as Chinese stocks and agricultural names come back into mainstream trader's hands.
Chart: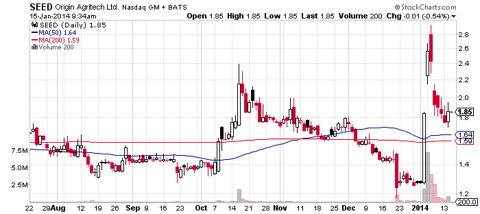 Origin Agritech made a low at $1.20 in December and then proceeded to break out on big volume. It has since pulled back and I believe that it is consolidating here setting itself up for another move higher. The next move should take it to $2.80 and the next stop after that would be $4.00.
Vision-Sciences (NASDAQ:VSCI)
Vision-Sciences, Inc. designs, develops, manufactures and markets products for flexible endoscopy. The Company's unique product lines feature a streamlined visualization system and proprietary sterile disposable microbial barrier, known as EndoSheath technology, providing users with efficient and cost effective endoscope turnover while enhancing patient safety.
Reasons to be Bullish on Vision-Sciences:
1. Highly Patented: Vision-Sciences has a highly patented Sheath that covers an endoscope without vision blurriness or surgical interference. It only takes 5 minutes to change a sheath on an endoscope as opposed to the 45 minutes it takes to manually clean it (and as we've seen from the news, there is still a chance after cleaning that it can pass on bacteria). It's a game changer when given the opportunity to see it in person.
2. "Nightmare Bacteria": Last week, it was reported that an Illinois hospital had 44 newly reported cases of "Nightmare Bacteria" or "Super Bug" come from endoscope type procedures despite correct cleaning (the FDA has done check-ups on hospitals endoscopes, giving them two week's notice, and approximately 25% still showed traces of bacteria) of the endoscopes. This news reported by the Wall Street Journal has got to make all healthcare officials and medical device players all ears when it comes to Vision-Sciences Sheath technology.
3. Partnership: Stryker (NYSE:SYK), the $28 billion medical device company has been a partner of Vision-Sciences since September 2010. I believe the partnership started off slowly even though Stryker placed a $5 million pre order at the onset, but it looks like it could be developing further.
4. New CEO: Three months ago, the company hired Howard Zauberman, an ex Henry Schein (NASDAQ:HSIC) executive as CEO in order to turn the company around. Henry Schein is one of the fastest growing medical companies in the US and I believe his background and contacts will bring a winning cultural to Vision-Sciences in very short order.
5. Insider Buying: We have seen insider buying at Vision-Sciences as Chairman Lewis Pell has put his after tax dollars to work. Since February 2012, he has purchased 1,046,000 shares between $1.83 and $0.89 per share. Mr. Pell is also an entrepreneur who has had a number of handsome exits in the medical/healthcare field.
6. Technically: The 50 day moving average crossed over the 200 day moving average which is known as the Golden Cross which is a very bullish buy signal to technical traders. This could be our natural support through earnings.
Catalysts to look forward to in 2014:
1. Earnings: A solid earnings report that shows increased sales both sequentially and year over year with a positive outlook on new territories and distributors.
2. Media Attention: More media attention on the "Nightmare Bacteria" cases from endoscopic procedures from outpatient facilities and/or hospitals will bring more attention to Vision-Sciences.
3. Stryker Partnership/Acquisition: Vision-Sciences' partnership with Stryker has an expiration date of March 31 2014, only 2 months away. The companies will have to renegotiate the contract or walk away from one another. I believe Vision-Sciences' Sheath is a high barrier to entry technology/product that cannot be overlooked or passed on by Stryker executives, especially in the light of recent "Nightmare Bacteria" news. They will not want this technology to be partnered with other endoscope players or purchased outright by another competitor. Stryker could make a big move here by strengthening the partnership or with a complete takeover, making this an easy double or triple.
4. Accumulation: The company attended its first Wall Street conference in early November when they attended the Robert Baird conference. The stock went from $1.00 to $1.50 in one day, four or five days after the meetings. Someone sees the value proposition in the sheath technology which means that it will probably find absolute value in the hands of one or more medical device companies in the not too distant future.
Chart: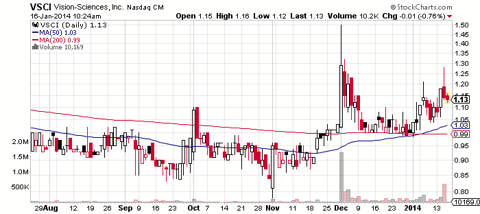 Vision-Sciences made a recent short term bottom at $0.99 that was confirmed with a Golden Cross as the 50 day moving average crossed above the 200 day moving average. Vision-Sciences next resistance would be the recent high of $1.50 and once it trades through here the next target would be $2.80 - $3.00.
Oplink Communication, Inc. (NASDAQ:OPLK)
Oplink Communications designs, manufactures and sells optical networking components and systems worldwide. It also manufactures plug-and-play broadband home security systems that are available at retail locations.
Reasons to be Bullish on Oplink Communications:
1. Large Cash Pile: Oplink sits on $8.90 per share in cash or approximately $170 million. This equates to half the market capitalization of the company.
2. Valuation: With EPS estimates of $0.65 for FY14 (June) and $1.00 for FY15 (June) it is trading at a very cheap multiple less its cash.
3. New Products: At the recent CES show, Oplink released its new cloud based security system. It accompanied the release with news that two new retailers Amazon and Frye's electronics will sell the systems.
4. Stock Buyback: With approximately 20 million left on a $40 million stock repurchase program, it is a natural supporter of the shares when weakness comes into the shares.
Catalysts to look forward to in 2014:
1. Box Retailers: Oplink could sign more box retailers in 2014 such as Best Buy, Wal-Mart, Costco, Target and others.
2. Security Deals: It could announce security deals with mobile operators such as T-Mobile, AT&T, Verizon, Orange, China Mobile, Sprint, and Virgin Mobile.
3. Optical Components Business: Oplink's core optical components business could see a comeback in the 2nd half of CY2014 helping throw off more cash for its aggressive stock buyback.
4. Acquisitions: We could see more accretive acquisitions in the home security space.
5. Sell Side Coverage: As the company delivers successfully in its security business, we could see more sell side coverage and upgrades.
Chart: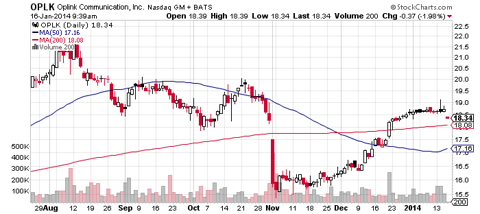 Oplink made a bottom in November, 2013 at $15.50 and has since moved up to resistance at $18.50 - $19.00 range. It is currently working through this resistance as it trades sideways. Once Oplink breaks through $19.00 to the upside, it should make an initial run to $24.50 followed by a further run to the mid $30's.
Glu Mobile Inc. (NASDAQ:GLUU)
Glu Mobile is a leading global developer and publisher of freemium games for Smartphone and tablet devices. Glu is focused on creating compelling original IP games such as Deer Hunter, Frontline Commando and Eternity Warriors. The games are available on a wide range of platforms including iOS, Android™, Windows Phone, Google Chrome, and Mac OS.
Reasons to be Bullish on Glu Mobile:
1. Best Seller: Glu had its first Smartphone blockbuster with Deer Hunter 2014 which it released on September 17, 2013. It now has ability to leverage that success by continually adding content and by releasing sequels further down the line.
2. Strong Game Pipeline: Number of game releases expected to double from the 17 in 2013 to 28-34 in 2014.
3. Strong Cash Position: $27.7m in cash and no debt.
4. Mobile Gaming: With Smartphone revenue expected to be $100m in 2013 and Glu seeing 50 million downloads of its games every quarter. It is well placed to see further gains as Smartphone use increases.
5. Analyst Upgrade: Craig-Hallum recently upgraded Glu mobile from a Hold to a Buy and raised its price target from $3.50 to $5.00.
Catalysts to look forward to in 2014:
1. Return to Profitability: Glu mobile could return to profitability on the back of revenues from Deer Hunter 2014.
2. Analyst Upgrades: The analyst at B. Riley recently downgraded Glu Mobile from Buy to Neutral on valuation only. With a revision of his numbers especially if Glu reports a good quarter, he could reverse course and upgrade. Benchmark initiated coverage of Glu with a Hold on August 16th, 2013. The analyst recently raised his price target from $3.07 to $3.26; I think the next report could go see an upgrade to a Buy.
3. Upcoming Game Releases: There is always the potential of a blockbuster game which will increase revenues dramatically. RoboCop was released last week ahead of the movie release on February 12th. Upcoming Glu game releases the company is excited about are "Defenders and Dragons" "Motocross Meltdown" and "Frontline Commando 2".
4. Acquisitions: According to Eric Ludwig, Glu's CFO, Glu Mobile "is the only pure play Nasdaq listed company doing mobile games, social mobile games, only". This puts Glu in a position of strength as it can use its equity in making accretive acquisitions.
Chart: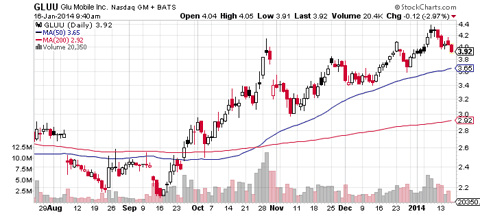 Glu Mobile is currently in trading in a rising channel. A break above $4.40 should see a quick run to $6.00. Some consolidation would be expected before it makes a further run to $8-$9.
Stocks to Double in 2014:

Disclosure: I am long GLUU, SEED, OPLK, VSCI, . I wrote this article myself, and it expresses my own opinions. I am not receiving compensation for it. I have no business relationship with any company whose stock is mentioned in this article.