In July of 2012, I recommended that investors sell their AT&T shares and replace them with shares of Sprint. The trade worked out well -- with Sprint's shares much more than doubling while AT&T's share price declined slightly despite the tailwinds of a bull market (the S&P 500 advanced more than 30% over the period). I mention this trade to highlight another investment which I believe has some similar dynamics (albeit, not as extreme of an undervaluation as was the case with Sprint).
The rationale for buying Sprint (NYSE:S) and selling AT&T (NYSE:T) was based on the strong growth prospects for Sprint (both on an earnings and revenue perspective) and the fact that the two mobile operators offered very similar goods and services, which should help allow for the size and value of the companies to converge somewhat over time. These are the types of investments that I love. Investments where you are able to invest in a smaller operator, with a commensurately smaller market valuation -- but one with the product, services, and culture/management to become a much larger and more powerful competitor. In other words, a smaller operator that is smaller for reasons that are likely to change with growth prospects supported by strong management and a strong competitive offering.
I believe that television programmer AMC Networks (NASDAQ:AMCX) -- which operates the AMC, We tv, IFC, and the Sundance channels domestically with a smaller international operation, recently boosted by the acquisition of Chello Media -- has these qualities. In fact, there are actually many reasons why I am bullish on AMC.
First of all, one reason I don't offer an offsetting industry "sell" for this trade (as I did with Sprint and AT&T) is because I am bullish on program content providers, in general. Considerable technological innovations over the past ten years have resulted in the proliferation of digital video recorders, increased video-on-demand offerings, and the massive popularity of streaming video services like Netflix (NASDAQ:NFLX) and Amazon Prime (NASDAQ:AMZN). While it remains unclear which technology will ultimately win the most eyeballs of television viewers, going forward, strong overall competition for programming should support overall demand for popular content. This dynamic should benefit content providers and their industry, as a whole -- with disproportionate benefits to those that can continue to develop the programming content that's most in demand.
AMC has proven to be a very savvy developer of programming, with a string of massive hits on a wide range of subject matter -- from 1960s advertising executives in "Mad Men", to a high-school chemistry teacher turned "meth" dealer in "Breaking Bad", to the zombies of "Walking Dead". While AMC does not produce and own the content to some of their most popular shows (e.g. "Breaking Bad" and "Mad Men"), they directly benefit from the success of these programs through development partnerships and long-term licensing agreements (which are often multi-season with rights of first refusal). Furthermore AMC does self-produce its most popular current series, "The Walking Dead", and the company stated in its 2012 annual report that it intends to focus more on content ownership, going forward.
The critical and commercial success of AMC's shows has been astounding. Breaking Bad won the Emmy for best drama series and the ratings for the final series were up over 100%, versus the prior year in key demographics. The Walking Dead's Season 4 premier, on the other hand, attracted 16 million views and was the most watched episode ever for a drama series on basic cable (outperforming all broadcast television including Monday night football).
I view AMC's historic programming successes as indicative of a strong management and creative culture for a (still) small company that is poised to grow. Because AMC operates within an industry with limited barriers to growth, the moat of protection for the big players (e.g. Viacom (NYSE:VIA), Discovery (NASDAQ:DISCA), Time Warner (NYSE:TWX), etc.) is not insurmountable and the success of all industry players highly dependent on their ability to produce popular quality programming. With popular quality content being a primary impetus for future growth and with AMC's proven investment and development savvy in that area, I feel that AMC is well positioned to increase revenues and profits (and, thus, increase value for shareholders).
Furthermore, I believe that the historic success of AMC's programs provides a platform for further success, resulting from the improved brand equity of the company's channels. This can make industry talent more eager to collaborate and it also makes viewers more likely to try AMC's new programs. In addition, there are synergistic benefits from program spin-offs (e.g. a spin-off about "Breaking Bad" lawyer, Saul Goodman, is currently in development), cross-marketing, and international distribution deals.
I also believe that AMC has been smart about how they are offering their programs, by using a number of different distribution channels -- generating interest for their series by offering older episodes on Netflix while offering more current episodes on their cable channels, video-on-demand, and streaming through their own website. AMC's willingness and ability to embrace these different distribution channels should help ensure that they will be able to best optimize their distribution mix, going forward, if/when consumption habits change.
Finally, I believe that merger and acquisition potential provides the icing on the cake for what is already an attractive investment opportunity. AMC's strong brand, reputation and programming library could make for an attractive acquisition target for the larger players in the industry (e.g. Discovery, Viacom, Time Warner).
Financial Trends: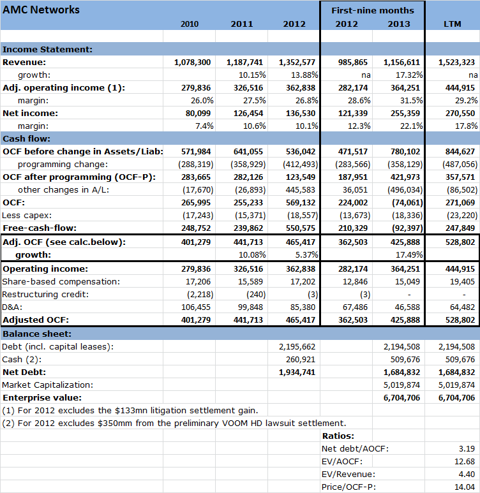 For the nine-months ending September 20, 2013, both revenues and AOCF (aka adj. EBITDA) for AMC increased by over 17% on a year-over year basis (19% and 25%, respectively for the three-month period). The third quarter results benefited from relative softness in Q3 2012, resulting from litigation with DISH over AMC's ZOOM HD business and resultant temporary discontinuation of carriage with DISH (both the litigation and carriage issues were settled in 2013).
While the impact of the DISH litigation for the quarter wasn't quantified, it should be noted that the company also grew considerably in the first half of the year (with 16% and 14% growth for revenue and AOCF, respectively). Going forward, revenue growth estimates for 2013 and 2014 are 17% and 9%, respectively, with a forward 2014 P/E estimate of 17.8x (all estimates per Yahoo Finance).
Leverage, as measured by Net Debt/AOCF, decreased to 3.2x from 3.5x in the year ago period. Management estimates that the recently announced acquisition of Chello Media from Liberty Global (for Euro 750mn) will increase leverage by about a turn (to 4.2x if using existing leverage as the starting point).
Valuation: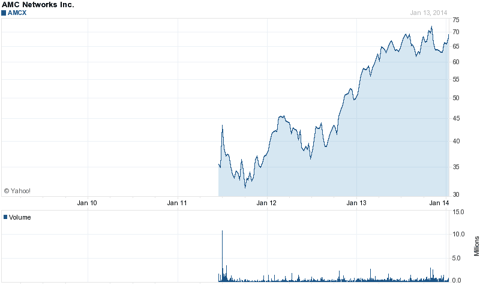 As of the market close on Tuesday, AMC's shares are trading at $69.46/share, giving the company a market capitalization of $5.02bn and an enterprise value of $6.7bn. This translates into a trailing EV/revenue ratio of 4.4x and an EV/EBITDA ratio of 12.7x.
While these headline valuation ratios may not appear bargain basement, at first glance, there are mitigating factors to consider. First of all, EBITDA for a company like AMC is much closer to cash flow -- when compared to more capital intensive companies -- given very low capital expenditure requirements (CAPEX for AMC amounted to c. 1.5% of revenues on a TTM basis). It should also be mentioned that programming amortization (a considerable expense for a content providers), unlike other D&A expenses, is not excluded from EBITDA.
For content providers like AMC, programming assets go directly onto the balance sheet and are later amortized through the income statement over time. As such, there is a substantial cash outflow on the cash flow statement each quarter for changes in programming assets. This actual cash outflow for programming may be materially higher than the accounting amortization expensed through the income statement (particularly for a growing company like AMC). Therefore, I believe that it's better to use actual programming cash outflows for ratio calculations. Also, while these programming cash outflows are normal on-going expenditures, that should be treated as such, other working capital and asset/liabilities cash flow movements can fluctuate considerably between quarters and are not necessarily representative of the company's on-going free cash flow generating capacity.
As a result of the above factors, I believe that the most useful cash flow metric for a company like AMC is operating cash flow after programming expenditures but before working capital and other balance sheet movements (OCF-P). Using this metric, the company is valued at 14x OCF-P, providing a 7.1% adjusted cash flow yield. I believe this is an attractive cash flow yield and valuation when considering the company's solid long-term growth prospects.
Risks:
When investing in any content provider, there are considerable risks and uncertainties and AMC is no different. To begin with, the end of "Breaking Bad" and going into the final seasons of "Mad Men" results in the loss and looming loss of two of AMC's greatest successes.
The ability to replicate these hits won't be easy, given the inherent difficulty in predicting what programs in development will actually become future programming hits. Furthermore, it should be pointed out that not everything AMC has touched has "turned to gold". In fact, ratings for AMC's recent series "Low Winter Sun" were very disappointing.
Finally, as mentioned before, it should be made clear and repeated that AMC doesn't outright own the rights to some of its most successful programs, so the on-going revenue stream from these popular programs, after the series ends, is limited.
Conclusion:
The above risks are all legitimate concerns which shouldn't be ignored and they obviously haven't been ignored by the market. In fact, the amazing successes of AMC's shows have been both good and bad for the company's shares. While these hit shows have made AMC a much more well-known and profitable company, the incredible popularity of the shows seems to also have created a "this is as good as it gets" attitude from some investors.
I feel that such a bearish read of the situation is unwarranted. As with other movie and television content developers, it is true that AMC's long-term earnings visibility is somewhat limited and subject to the vagaries of consumer taste. Nonetheless, I believe that AMC's growth prospects remain strong and the company's current valuation fails to adequately incorporate i.) the strong management and creative culture of AMC (which allowed for its string of hits), ii.) a powerful programming platform resulting from the long-term reputational and synergistic benefits of the company's existing and historic programming successes, iii.) meaningful M&A upside possibilities, and iv.) an attractively small market capitalization (c. $5.02bn) which affords considerable scope for growth.
Thankfully, this is not one of these companies where the massive popularity of its products has resulted in euphoria for the shares with resultant massive growth expectation. As such, I believe that AMC's shares are very attractive on a risk/reward basis, offering considerable upside potential with more limited downside possibilities.
Disclosure: I am long AMCX, S, VIA. I wrote this article myself, and it expresses my own opinions. I am not receiving compensation for it (other than from Seeking Alpha). I have no business relationship with any company whose stock is mentioned in this article.