Interest in emerging markets investing has been on the rise over the last year, as developing economies have become an increasingly important component of the global economy. The conventional wisdom that called for significant allocations to U.S. markets and no more than 5% or 10% to emerging markets is being challenged, both by individual investors and big financial institutions.
Hartford Financial executives are now advising clients to put as much as 54% of their stock allocations to foreign markets."We're in the second inning, not the ninth inning, of this new order here," said Bob Froelich, senior managing director at The Hartford Mutual Funds. "It's a game-changer and that's where you're really going to make money in 2010, in those emerging markets." For asset allocation strategies this year, Froelich is recommending 32% of a portfolio in emerging markets equities.
This bullish take on emerging markets is due in large part to Hartford's belief in the rising middle class in many emerging economies such as Brazil, China, and India. The idea is that growth in this demographic will lead to increased consumer discretionary spending, which will further increase development and trade with the developed world and spur investment for years to come. "I do think this is a long-term secular theme," said Karen Grimes, portfolio manager with The Hartford Value Fund. "You are going to see a rising standard of living. The middle class is being created. That will take years to happen."
Three Emerging Markets ETF Options
While we like Hartford's rationale for encouraging investors to increase emerging markets exposure, we'll have to respectfully disagree on the most efficient means of doing so. Some Hartford Mutual Funds that focus on international investments, such as the Hartford International Growth Fund or the Hartford Global Growth Fund, can charge investors expense ratios as high as 2.35%. This fee compares unfavorably to a sampling of Emerging Market ETFs, which have an average expense ratio is 0.69% (or about one-fourth of the cost of their mutual fund counterparts). While this might not seem like a lot, an expense ratio difference of 160 basis points can turn into a significant sum for investors with a long-term time horizon or substantial portfolios.
For investors who agree with Hartford's theory on increasing emerging markets exposure but are hesitant to shell out more than 200 basis points a year on management fees, we highlight potentially interesting ETF options below.
Vanguard Emerging Markets ETF (NYSEARCA:VWO)
Offering investors access to over 830 securities, VWO is certainly a viable choice for those seeking allocations to a wide variety of emerging market stocks. The fund has large weightings in traditional emerging markets such as Brazil (18.9%) and China (15.1%), and it also offers access to borderline developed countries such as Taiwan (12.1%) and South Korea (11.4%). In addition, VWO offers investors a rock-bottom expense ratio of 0.27%, the lowest in the category. The fund is up less than 1% in 2010 but has gained close to 80% over the past 52 weeks.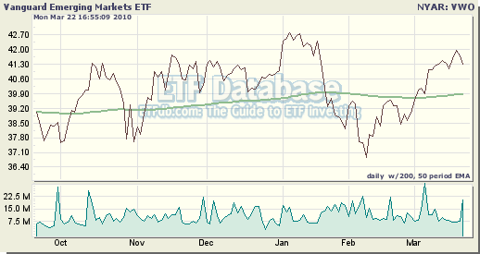 Dow Jones Emerging Markets Composite Titans Index Fund (EEG)
For investors looking for more "pure play" exposure to emerging markets, EEG offers an interesting alternative to VWO. This fund includes no exposure to South Korea, Taiwan, or Israel (these three economies make up about 25% of VWO). In lieu of these economies, EEG tilts its exposure towards BRIC economies. At 0.75%, EEG's expense ratio is quite a bit higher than VWO, but still well below the fees charged by many emerging markets mutual funds.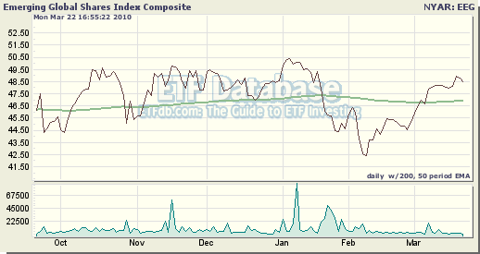 SPDR S&P Emerging Markets Small Cap ETF (NYSEARCA:EWX)
For investors looking to make an allocation to small cap securities in emerging markets, EWX could be an interesting choice. The fund offers investors access to over 300 small cap stocks and has an average market capitalization of just over $1.3 billion. EWX is heavily weighted towards Taiwan (30%) and China (12%), with South Africa also contributing about 10%. By sectors, the fund allocates close to 20% of its assets to information technology and close to 19% in industrials. The fund is up about 2% in 2010 and has gained close to 100% over the past 52 weeks.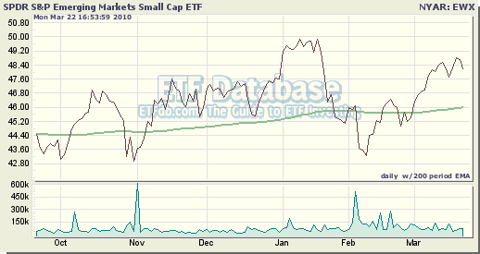 Disclosure: Author is long VWO.