In my last article (click here to view it), I discussed the utility sector's performance for 2013 and capital spending outlook for 2014. In this write-up, I will be further discussing the utility sector outlook for 2014. The utility sector was affected by several challenges last year, some of which I believe will continue to impact the sector's performance in 2014. I believe 2014 will also prove to be a challenging year for utilities as economic conditions will improve and investors will move into risky sectors. Also, rising interest rates will put pressure on the sector's multiples, and the business environment for competitive power producers will stay difficult because of weak forward power prices. However, infrastructure development spending will bode well for the sector, which is likely to fuel earnings growth. I believe the sector will offer total returns of 7%-9%, including the industry average dividend yield of 4% and EPS growth of 3%-5%.
Rising Interest Rates
A thirst for high dividend yields in a low interest rate environment benefited utility stocks post the 2007-08 market crash, resulting in valuation premiums for the utility sector. However, lately, a rising interest rate environment and investors' rotation into risky cyclical sectors have negatively affected the utility sector and have pressurized sector multiplies, which I believe will continue in 2014. Analysts are projecting 10-year Treasury Yields to continue rising in 2014. Rising interest rates will negatively affect the sector in two ways. Firstly we might observe stock price pullbacks to keep utility stock yields competitive to treasury yields, and secondly, rising interest rates may increase interest cost and negatively affect earnings growth. The graph below shows the recent rising interest rates trend.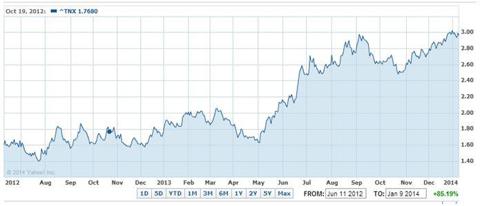 Source: Yahoo Finance
However, rising interest rates might benefit the industry in one way, as allowed ROE might increase because of higher rates. Historically, a positive relationship has been observed between interest rates and allowed ROE. Regulatory authorities may allow higher ROE's on companies' requests, which will have a positive impact on the industry's earnings. The graphs below show the positive relationship between interest rates and allowed ROE.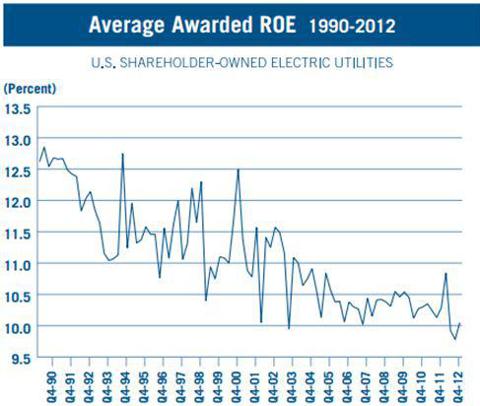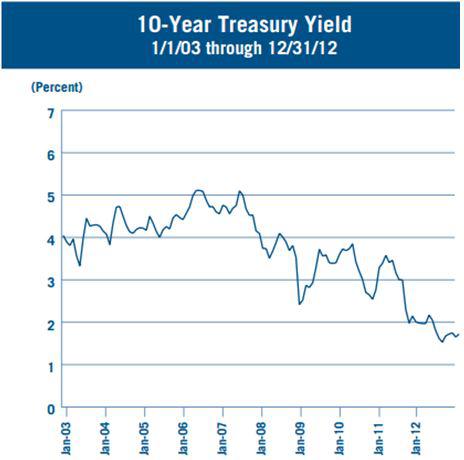 Source: eei.gov
Merger And Acquisition and Sales Growth
Merger and acquisition (M&A) would not be the main theme of 2014, however, few transactions are possible within the industry. I believe the sale of competitive power assets may remain high as forward power prices remain weak and companies are planning to lower their exposure to competitive power markets. Duke Energy (NYSE:DUK), Exelon (NYSE:EXC), PPL Corp. (NYSE:PPL), FirstEnergy (NYSE:FE) and Entergy (NYSE:ETR) are the likely candidates to sell off and retire their competitive assets in 2014. EXC and FE both have significant exposure to competitive power markets, will prefer assets sale and to retire assets to improve profitability, and may opt for M&A as a last option in the current year 2014.
Energy efficiency improvement has affected electricity consumption growth in the U.S. The EIA expects a decline in electricity sales to residential and commercial customers by 1.1% and 0.5%, respectively, in 2014. Whereas improving economic conditions are likely to translate into a 2.2% increase in industrial sales in 2014. Because of improved energy efficiency, sales growth is likely to remain weak in upcoming years.
Another Tough Year Ahead for Competitive Power Producers
I do not foresee a significant improvement in power prices in 2014 and may have to wait for 2015 to realize the impact of coal plant retirement and improvement in forward power prices. Forward power prices remain weak due to lower natural gas prices and excess power supply, especially in PJM markets. Utility companies have indicated that they will scale down their competitive power business and increase exposure to regulated operations. Because of weak power prices, EXC last year announced a dividend cut, and in 2014 I believe FE remains a candidate of dividend cuts as power prices stay weak.
Regulatory Environment
Because of high capital spending for the industry, regulatory risk increases slightly as utilities will request for revenue and ROE increases in the future. Regulatory authorities will look to lessen impact rate increase on final consumers and may not allow an increase in revenues and ROEs as requested by companies.
Final Words
Factors that affected the performance of the utility sector in 2013 are likely to prevail in 2014. A rising interest rate environment, weak power prices, soft electricity demand growth and investor rotation into cyclical sectors will pressure industry multiplies in 2014. However, attractive capital spending for infrastructure development will offer earnings growth. I believe that including the industry's average dividend yield of 4% and possible earnings growth of 3%-5%, the utility sector would offer a total return of 7%-9% in 2014. The following table shows dividend yields and EPS growth rates for some of the utility companies.
| | | |
| --- | --- | --- |
| Companies | Dividend Yield | 5 Year Growth Estimate |
| American Electric Power (NYSE:AEP) | 4.3% | 4% |
| ITC Holdings (ITC) | 1.8% | 14% |
| DUK | 4.6% | 3.3% |
| ALLETE, Inc (NYSE:ALE) | 4% | 6% |
| Southern Company (NYSE:SO) | 5% | 3.3% |
| EXC | 4.6% | (7%) |
| Alliant Energy Corporation (NYSE:LNT) | 3.5% | 5% |
| PPL | 5% | (2%) |
| FE | 6.9% | 0.5% |
Source: Yahoo Finance
Disclosure: I have no positions in any stocks mentioned, and no plans to initiate any positions within the next 72 hours. I wrote this article myself, and it expresses my own opinions. I am not receiving compensation for it (other than from Seeking Alpha). I have no business relationship with any company whose stock is mentioned in this article.