PPL Corporation (NYSE:PPL) is an energy and utility holding company that does business in the United States and the United Kingdom. The company has over 10 million customers, generates 19,000 megawatts of electricity, has 200,000 miles of electric lines and has 18,000 full-time employees. The company is divided into 4 major business segments, Kentucky Regulated, U.K. Regulated, Pennsylvania Regulated and Supply.
Kentucky Regulated consists of Louisville Gas & Electric Co. and Kentucky Utilities Co. It serves approximately 1.3 million customers with electricity and natural gas in parts of Kentucky, Tennessee and Virginia. U.K. Regulated delivers power to 7.8 million customers in Southwest and Central England as well as South Wales. Pennsylvania Regulated delivers electricity to 1.4 million customers in eastern and central Pennsylvania. Supply generates about 11,000 megawatts of electricity in Pennsylvania and Montana to sell on the competitive energy markets.
From 2000 to 2012 PPL increased its dividend 11 times. Over that same period the dividend increased by 177 percent. PPL has been steadily growing and looks to continue that growth path for the next several years. One can see the growth of the company over the past 5 years below: (Taken from TD Ameritrade)

The company forecasted in its 2012 annual report that its rate-regulated businesses would continue to increase in earnings while the Supply business would decrease because of low prices in wholesale electricity. These forecasts that management offered in the annual report for 2012 have been sound based upon the numbers reported in the 3rd quarter. You can see them below: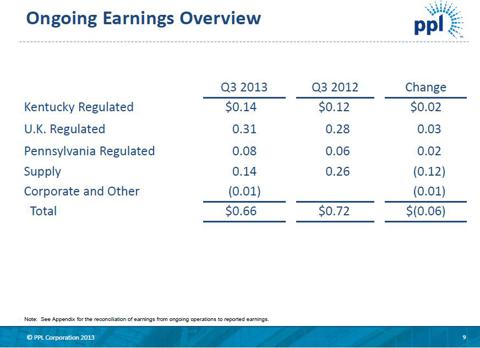 PPL management also projected the company's regulated rate base growth for the next 5 years in its 3rd quarter report as well. You can see these projections below: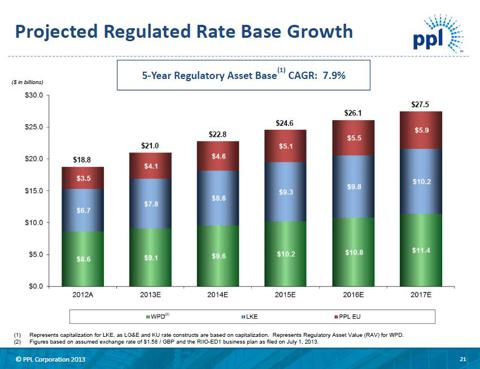 The projected growth rate is almost 8% which is very good for a large regulated utility company. On the other hand the predicted amount of capital spending for the company is declining. These projections can be seen below: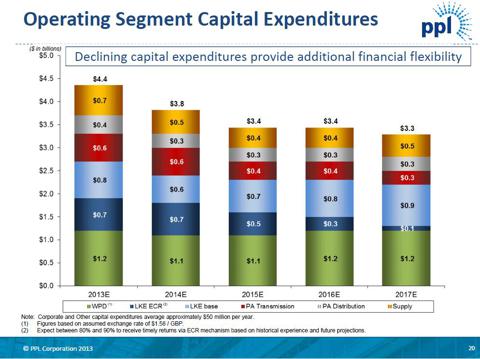 Increasing income coupled with decreasing capital spending should allow the company a great deal of flexibility with its finances and permit the company to continue increasing the dividend it gives shareholders.
PPL currently pays $1.47 annually to yield just short of 5% at the stock's current price of about $30.00 per share. It has a PE of 12 which is much lower than the industry average of 17.85. Its operating margin is one of the strongest in the industry. Its gross profit margin is 35% compared to 23% for the industry. Its operating margin is 25% whereas the industry average is 19%. Its net profit margin is 3% higher than the industry average.
These higher margins lead to much a higher ROE, ROA and ROI than the industry averages. PPL's returns are about 75% higher than the industry averages; ROE of 13.35% vs. 8.44%, ROA of 3.6% vs. 2.5%, and ROI of 4% vs. 2.75%.
PPL does have a much higher rate of debt to capital when compared to the rest of the industry; 62% compared to an industry average of 54%. However, considering its much high profit margins, it should have little trouble paying interest and repaying the debt. Furthermore, PPL has agreed to sell NorthWestern Energy (NYSE:NWE) 11 hydroelectric generating facilities for $900 million this past December. If the authorities approve the sale, it would immediately generate almost $1 billion to reduce PPL's debt.
Various rating companies have just rated PPL a buy. Barclays and Citigroup have just upgraded PPL to a buy this month. S&P has a 4 star rating on the company, which indicates a moderate buy. The Street also rates it a buy. Credit Suisse and Ford Equity Research rate it a hold.
There are several concerns one must consider about this company. The first is the lack of inside ownership. While the company does have stock ownership options for management, when these options are exercised, the shares are usually sold immediately. The other concerns revolve around various suits being brought against the company by environmental groups and agencies. PPL has several coal generating plants and there are multiple suits that being bandied about the courts over issues such as ash, mercury and carbon dioxide. The company has been relatively successful in managing these concerns and has been working on reducing pollution and its reliance upon coal.
Conclusion:
PPL offers a good dividend which has been consistently growing over the past 5 years. Furthermore the company appears to be in an excellent position to continue growing the dividend over the next 5 years as well. There also appears to be plenty of room for the price of the stock to grow as PPL's PE expands to the industry average. If the PE were to expand to 15, the stock price would approach 40. Even with a PE of 15, it would still be lower than the industry average. This looks to be an excellent dividend growth stock over the next several years.
Disclosure: I am long PPL, . I wrote this article myself, and it expresses my own opinions. I am not receiving compensation for it (other than from Seeking Alpha). I have no business relationship with any company whose stock is mentioned in this article.