You have already heard all about the fantastic new endeavors GE has undertaken and you well-understand its business, but have you followed EPS estimate trends and are you aware of the whisper number for GE? This is what our "By the Numbers" review focuses on to complete your perspective of General Electric (NYSE:GE) ahead of its earnings report. We complement that analysis with our own perspective of the company's operational trends of late and its valuation and outlook, and are reconfirming our long-term favor of GE as a result. We note though that it has come under early pressure in 2014, we believe, due to capital flows, which continue leave it vulnerable in the short-term. Therefore, we believe it must perform at its earnings.
GE reports its fourth quarter EPS on Friday January 17, 2014 and has a webcast scheduled for 8:30 AM ET. Analysts currently expect GE to earn $0.53 per share in Q4, which would mark an impressive 20% increase over the prior year period production of $0.44 per share. Eleven analysts surveyed by Yahoo Finance data providers indicate an average expectation for quarterly revenues of $40.22 billion, representing top line growth of roughly 2.3%. For the full year ended in December, analysts see earnings of $1.64 per share, representing 7.9% growth.
The set up for the quarter is mixed. GE has a strong recent track record, beating the consensus estimate each of the last four quarters. EPS results have beaten estimates by a penny for three out of four of those reports, and by four cents in the March quarter. This would seem to show that GE's guidance to analysts is accurate and conservative, which sets up well for the current quarter.
However, the estimate for this quarter has trended lower, dropping from $0.54 to $0.53 over the last 90 days. I would not read too much into this though, given that the decrease happened right after last quarter's report. That would seem to reflect corporate guidance and adjustments based on the third quarter data. As a result, my expectation for a better than consensus figure is actually strengthened by the now well-aged decrease in the estimate, and I would look for a penny to two cent beat this quarter based on this information in isolation. Obviously, important operational factors should not be left out of a broader analysis, but you should have those from the analysts' coverage. I'll be picking up closer coverage of GE, and plan to develop my own earnings model, so you are welcomed to follow along here as well.
The whisper number is said to be $0.54 for the quarter. In my view, that is purely based on the fact that GE has beaten by a penny 3 out of the last 4 times it has reported. I also view the $0.54 whisper as a positive, because it provides a number I think the company can easily strike, if not beat.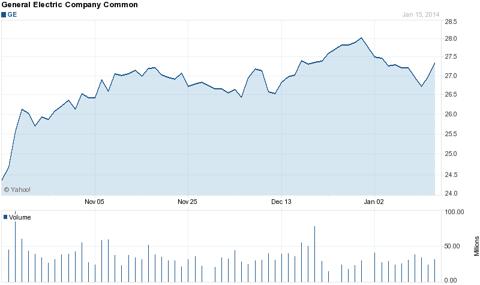 3-Month Chart at Yahoo Finance
GE's share price action over the last three months has been strong. You can tell by the gain at the start of this chart that the stock benefited from its last EPS report. You can see in the chart that GE was especially active around its last quarterly report. The stock jumped 3.5% on the day of its third quarter report, matching against a 0.7% gain in the SPDR S&P 500 (NYSEARCA:SPY) that day; GE climbed another 2.3% on the following business day. The company benefited from strong order growth and a backlog that set it up well for 2014.
Expectations have been built up heading into this report, so GE had better produce a solid result or the shares may face a penalty. This is probably why the weakness in today's trading, with GE down about 0.8% through 1:00 PM ET. I would not read more into it than that though.
The stock trades at 15.9X the $1.71 EPS estimate analysts have for it for 2014. Long-term growth is estimated at 9.0% and the stock pays a dividend of 3.3%. So, the KPEG or PEG-KYA is 1.3X, which is not especially pricey in my view, especially not for a global provider of industrial goods at this point in the global economic cycle. The stock's beta coefficient sits at 1.2, signifying that it should outperform the market during the good times. Historically, the market grows in the low double digits; last year it grew by a significantly larger margin than that, which is likewise reflective of the point in the economic cycle. While there have been some economic questions raised of late, especially by the latest monthly Employment Situation Report, I think GE's order growth last quarter, which was lifted in the U.S. and Europe significantly, shows strength in both the economy and GE's offerings. So, I would hold onto GE shares here, and add to holdings if the stock drops (as it settled), assuming the long-term picture remains intact.
Disclosure: I have no positions in any stocks mentioned, and no plans to initiate any positions within the next 72 hours. I wrote this article myself, and it expresses my own opinions. I am not receiving compensation for it (other than from Seeking Alpha). I have no business relationship with any company whose stock is mentioned in this article.