By Carla Fried
Here's what two years of strong market gains does to valuations: In January 2012 Morningstar's index of the 20 most compelling stocks deemed to have wide competitive moats, included 17 stocks trading at discounts of at least 25% to Morningstar's estimate of fair value. At the latest quarterly reconstitution of the index just three of the 20 stocks in the index -- Weight Watchers International (NYSE:WTW), Exelon (NYSE:EXC), and Western Union (NYSE:WU) -- trade at a discount to fair value of at least 25%.
(Full disclosure: Morningstar (NASDAQ:MORN) is an investor in YCharts.)
That said, wide moat stocks aren't any more expensive than the overall market. Morningstar pegs the price-to-fair value for all stocks it covers at 104% today, with the wide moaters on average coming in at 102%. While none of that screams bargain, at this juncture in the market, the fact that you don't have to pay up for companies deemed to have staying power is intriguing. These aren't the sort of stocks that lead in uber bullish markets. The Market Vectors Wide Moat ETF (NYSEARCA:MOAT) ETF that tracks the index has slightly lagged the market over the past year: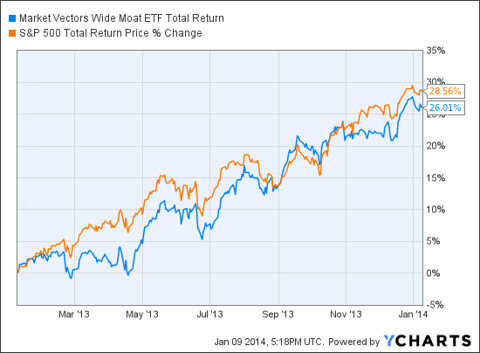 MOAT Total Return Price data by YCharts
But toss in some down stretches and you see the appeal of focusing on market leaders: Over the past 10 years Morningstar's Wide Moat Focus index has an annualized return of 13% compared to 7.2% for the S&P 500. Just saying. The ETF was launched in the spring of 2012; current assets recently stretched past $500 million.
As previously covered at YCharts, just 10% or so of the companies followed by Morningstar analysts are deemed to have one or more competitive advantages that merit a wide moat label.
The index and the ETF are reconstituted quarterly to include the 20 wide moats with the biggest discounts to fair value. For the first quarter of 2014 the five stocks with the widest discount are the aforementioned WeightWatchers International at a 35% discount, Exelon at a 24% discount and Western Union at 26%, as well as Express Scripts (NASDAQ:ESRX) which traded at a 25% discount when the index was reconstituted and Berkshire Hathaway (NYSE:BRK.B) at a 20% discount to Morningstar's estimate of fair value.
As YCharts' Dee Gill recently explained, WeightWatchers International has been hit hard by competition from online dieting tools and apps, many of them free.
There's a new CEO at the helm and in November the company laid out a strategy for addressing the free app onslaught. So if you're looking for a moaty turnaround play, Weight Watchers is a stock worthy of more financial research. That said, patience is required as the company is on the record that sales could be hit with a low double-digit decline in 2014 before the new strategy has time to gain traction. Ycharts currently has a WeightWatchers Rating of Neutral; its value and valuation scores are attractive, with its fundamentals garnering a neutral rating.
Berkshire Hathaway is under no such operational duress.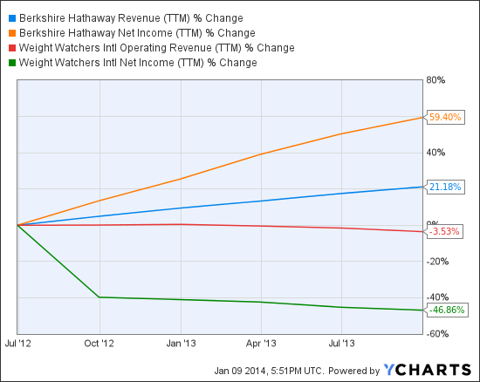 BRK.B Revenue (TTM) data by YCharts
Moreover, Berkshire Hathaway remains one of the top holdings among some of the best value managers around. It is a top-five position for standout mutual funds including BBH Core Select, Weitz Value, Wintergreen and RiverPark/Wedgewood. YCharts has a Berkshire Hathaway Neutral rating, based on in-line readings of value and fundamental metrics. In terms of valuation, it currently trades at a 10% discount to its historic valuation.
One of Berkshire's biggest stock investments, IBM (NYSE:IBM) was among the eight new stocks added to the Wide Moat index for this quarter. At the time of the index reconstitution, IBM traded at a 17% discount to Morningstar's estimate of fair value.
According to Morningstar's estimate of fair value, IBM is slightly cheaper than Oracle (NYSE:ORCL), which recently traded at a 13% discount to Morningstar's proprietary valuation analysis. IBM and Oracle are the only pure techs in the Wide Moat index this quarter. Both struggling techs have compelling operating earnings yields, and Oracle's free cash flow yield is well above IBM's.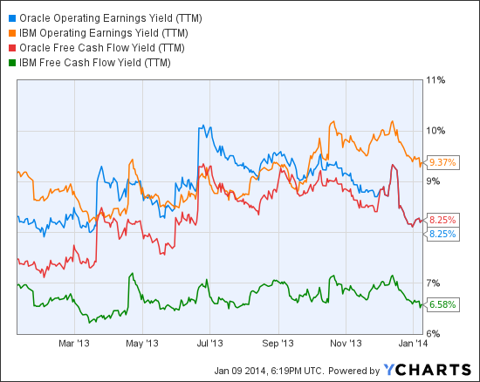 ORCL Operating Earnings Yield (TTM) data by YCharts
Carla Fried, a senior contributing editor at ycharts.com, has covered investing for more than 25 years. Her work appears in The New York Times, Bloomberg.com and Money Magazine.
Disclosure: Morningstar is an investor in YCharts.