Just over a year ago here we looked at the Standard & Poor's Sector ETFs which were underperforming relative to the SPDR S&P 500 ETF (NYSEARCA:SPY). We used this market based data (always better than government statistics and pundits) to infer that 2013 would see "higher growth and stable prices." Specifically, underperforming consumer staples and utilities told us
investors were not hiding in low risk "staples" stocks, and
investors suspected growth would raise interest rates, hurting dividend plays like utilities.
How did markets do?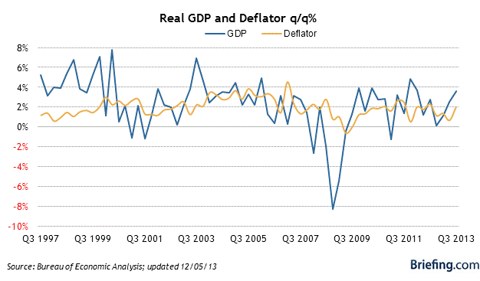 Source: Bureau of Economic Analysis, Etrade.
In a word, bingo! The slowdown that had begun in the third quarter of 2012 ended in the first quarter of 2013, and growth resumed at a faster and faster pace as the year progressed. (Growth estimates for the 4th quarter of 2013 continue to be revised upward).
At the same time inflation, measured by the broadest index, the implicit deflator, remained in the 1%-2% range which has typified this recovery.
Time for an update. What do the underperforming sectors tell us to expect for 2014?
First order of business: which sectors are underperforming? As I make clear here when considering relative performance you have to adjust each sector ETFs for the different levels of risk (as measured by beta.) When I did this, the four underperforming sectors were:
What should we make of this? The utilities are telling us to continue to expect strong growth and higher interest rates. You can see this, just as you could a year ago, by comparing utilities with the performance of iShares Long Term Bond ETF (NYSEARCA:TLT):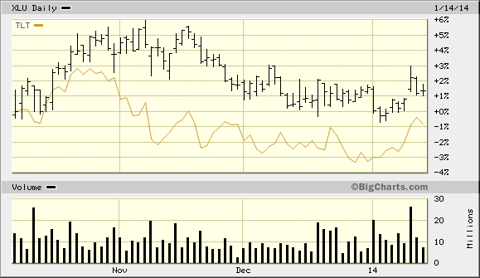 source: www.bigcharts.com
Notice bonds are performing even worse than utility stocks. Why? The latter offer a chance for dividends to grow as the economy expands. Treasury bonds do not.
The other sectors offer a mixed message. The best way to describe it is the old Wall Street Adage: it is not a stock market, it is a market of stocks.
Energy stocks are being hurt by the surge in production of oil, other petroleum liquids, and natural gas as a result of groundbreaking (no pun intended) innovations like fracking and horizontal drilling in the US and now, throughout the world. Look at the collapse in oil prices over the last few months, as shown by Goldman Sachs iPAth Oil ETN, (NYSEARCA:OIL).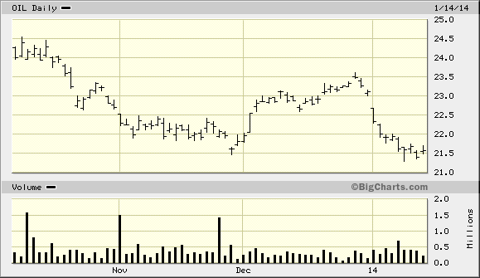 source: www.bigcharts.com
In fact, savvy analysts know that it is lower energy costs which are powering the economy forward.
Finance shares are also targets of specific factors, including the regulatory costs of Dodd-Frank. Don't forget that higher interest rates make the dividends paid by Finance shares less attractive also, just as they do with utilities above.
Finally, what about the shares of basic materials, XLB? To be honest, one would think that component companies like Monsanto (NYSE:MON), Dow Chemical (DOW), and Praxair (NYSE:PX) would be doing well if the economy's prospects for 2014 are bright. These large chemical and industrial conglomerates shouldn't be lagging, should they?
A caution flag is flying, then. Keep an eye on XLB. It might be warning of a storm to come. On the other hand, higher interest rates might be hurting these capital intensive industries, much as they are hurting XLU and XLF. It would be another arrow in the growth quiver, however, if these stocks would start to show some strength in the near future.
Disclosure: I am long IHI, XLV, XLK. I wrote this article myself, and it expresses my own opinions. I am not receiving compensation for it (other than from Seeking Alpha). I have no business relationship with any company whose stock is mentioned in this article.