Within the semiconductor eco-system, tools and equipment vendors like Applied Materials (NASDAQ:AMAT), Lam Research (NASDAQ:LRCX) ASML NV (NASDAQ:ASML) and foundries like Taiwan Semiconductor (NYSE:TSM), Advanced Semiconductors (NYSE:ASX) are more closely tied to economic cycles than IP owners like Intel (NASDAQ:INTC), Broadcom (BRCM) and Qualcomm (NASDAQ:QCOM). This is because the tool vendors are dependent on new design starts (new chips) and moving to a smaller precision node for revenues while the foundries are dependent on chip volumes. In essence, robust growth in consumer spending and capital spending drives revenues for them.

If wireless chip volumes and new chip designs drove revenues in 2003-08, netbooks and smartphones/devices are driving revenues now. In that sense, they are not tied to the fortunes of one industry/sector within the chip-intensive sectors. That is, where IC content is a significant proportion like computer hardware, networking, telecom, consumer entertainment- though the growth is typically concentrated in some specific industries at a point in time. Though other sectors like autos are seeing an increase in silicon content in their control equipment (navigational aids, dashboard controls etc), the pace of pick-up has been slow.
So if we don't expect wireless devices and the PC industry to provide the robust volume growth that it did during 2004-08, the semiconductor equipment vendors and foundries can no longer be considered growth stocks. Yes, they will grow in double digits for the next two-three fiscals but a cyclical downturn will average out the topline and bottomline growth to low single digits in this cycle (which started in September 09). This is mainly because an increase in volume leads to increased capacity, which then drives prices and incremental revenue down. So consistent growth in revenue over a 4-5 year period is quite a task in this industry.

Take a look at the ~30 US-listed semiconductor equipment and foundry stocks below. With a cumulative market-cap of ~$141B and average sales in the 2005-09 period being ~$47B, the valuations surely seem to suggest that the overall industry is expected to grow significantly from its current size. The Mcap/sales ratio is ~3. This is quite high as these stocks typically go through cyclical growth rather than sustained growth.

Top US-Listed Semiconductor Equipment and Foundry Stocks
(Click to view enlarged table)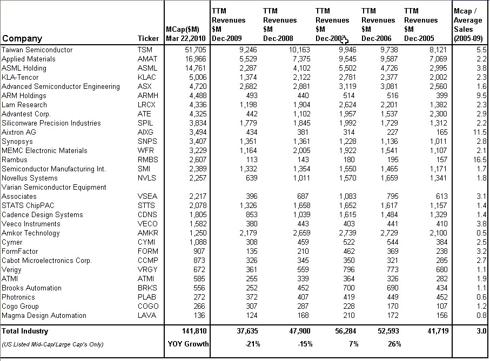 Source: Gridstone Research

Within this group, certain companies like ARM Holdings (NASDAQ:ARMH) have a higher MCap/Sales ratio thanks to its IP (intellectual property), which investors think provides a more stable stream of revenue.

Another thing to keep in mind is that increased capex spending by Fabs has more to do with fact that installed capacity has declined in 2009 for the first time in the last decade. With the expected capacity addition in 2010/11, the total chip capacity will exceed the 2008 peak capacity. (Source: Semi.Org report dt. Feb 25,2010)
Click to enlarge: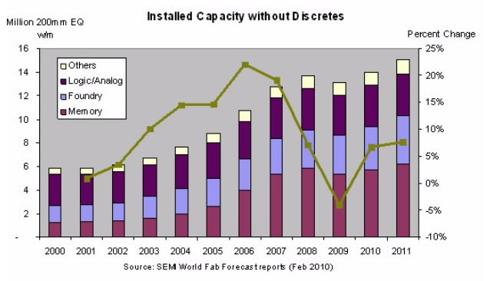 Source: Semi.Org

However compared to the previous downturn in 2001-03, the number of Fabs that have closed is smaller this time around. This is also because the capacity added until 2008 was still not as excessive as the capacity addition that happened in 2000-03, driven by the dotcom bubble.
Click to enlarge: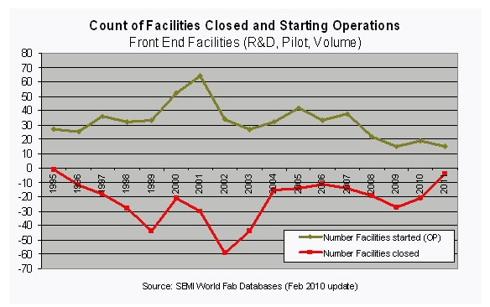 Source: Semi.Org

Therefore any increase in capacity now will probably help meet the inceased chip demand in the latter half of 2010 and 2011. This would naturally keep a check on ASP's and margins.

In summary, the cyclical upturn now gives a rosy picture as equipment vendors book more and more orders and foundries increase their Capex to make up for the 'closed' capacity in 2009. So any revenue and profit estimates for 2010 has to been seen in the context of whether these numbers can grow sustainably or will revert to the mean during the cyclical dowturn that will follow.
In my view, the market seems to be pricing the ride up the up cycle only as of now. Since this industry is a leading indicator of economic cycles, I feel that peak valuations have been reached and as a whole, the market value of this industry can only remain stable and then go down. Some individual stocks could outperform by taking marketshare and it's better to look at such stocks rather than being bullish on the industry as a whole.

Disclosure: No positions