For the better part of the last 12 months, health care stocks have been significant underachievers. Credit the uncertainty surrounding health care legislation.
Yet, at least for one day, the cloud of uncertainty has lifted. "Something" passed. Will it be meaningful, costly, desirable, well-received, repealed? Others can debate the fallout. For the time being, though, something passed.
So did removing the shroud of uncertainty help or hurt popular Health Care ETFs? Across the board, they out-hustled the S&P 500.
Popular Health Care ETFs… The Day After The House Passed "Health Care Reform"
3/22/10 % Return
Pharmaceutical HOLDRs (NYSEARCA:PPH)
0.89%
iShares DJ Healthcare (NYSEARCA:IYH)
0.72%
Healthcare Select SPDR (NYSEARCA:XLV)
0.65%
iShares Nasdaq Biotechnology (NASDAQ:IBB)
0.86%
iShares Healthcare Providers (NYSEARCA:IHF)
0.93%
iShares Medical Devices (NYSEARCA:IHI)
1.01%
State Street Biotech (NYSEARCA:XBI)
0.64%
PowerShares Biotech (NYSEARCA:PBE)
0.98%
First Trust Biotech (NYSEARCA:FBT)
0.92%
Vanguard Healthcare (NYSEARCA:VHT)
0.90%
S&P 500
0.51%
Beyond the headline gains, there was a fair amount of buying interest vis-a-vis larger-than-normal volume. Whereas buying interest on stocks as an asset class was average, volume on several major Health Care ETFs was particularly high. Vanguard Health Care (VHT) experienced 2x the normal volume of shares trading hands, while iShares DJ Healthcare (IYH) had 4x the normal trading volume.
There may have been at least one fly in the ointment, however. Health Care ETFs like Select SPDR Health Care (XLV) peaked early in the day yesterday, and essentially drifted lower throughout the trading session. No biggie… just thought skeptics would want me to point this out.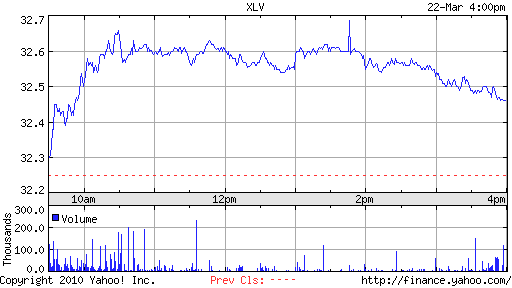 It's worth noting that I agree with those who feel that health care stocks will be surprisingly strong in the near-term; that is, if the market heads higher, several sub-segments of health care stocks will gain more… and if stocks go lower, health care stocks will not get beaten up as badly.
Personal faves have included iShares Medical Devices (IHI) and PowerShares Biotech (PBE). You can read more about the pros and cons on health care ETF investing in a recent post, "Health Care ETF Uncertainty May Bring Vibrant Rewards."
Disclosure Statement: Gary Gordon, MS, CFP is the president of Pacific Park Financial, Inc., a Registered Investment Adviser with the SEC. The company and/or its clients may hold positions in the ETFs, mutual funds and/or index funds mentioned above. The company does not receive compensation from any of the fund providers covered in this feature. Moreover, the commentary does not constitute individualized investment advice. The opinions offered herein are not personalized recommendations to buy, sell or hold securities.