By Sumit Roy
Last week's natural gas inventory draw was another record breaker. Natural gas was last trading up by 1.5 percent to $4.39/mmbtu after the Energy Information Administration reported that operators withdrew 287 billion cubic feet from storage last week, below analyst estimates that were close to 300 bcf. However, the withdrawal was the largest ever, surpassing the 285 bcf draw from December.
The withdrawal was also well above last year's draw of 148 bcf, and above the five-year average draw of 147 bcf.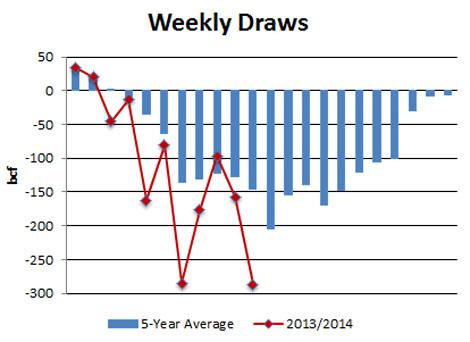 In turn, inventories now stand at 2,530 bcf, which is 638 bcf below the year-ago level and 471 bcf below the five-year average (calculated using a slightly different methodology than the EIA).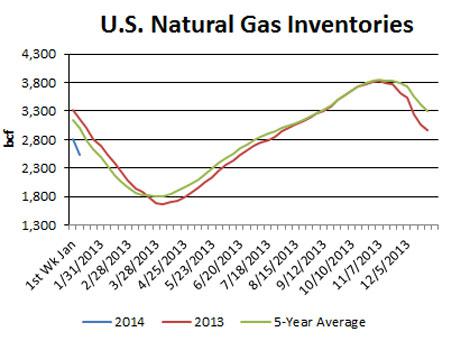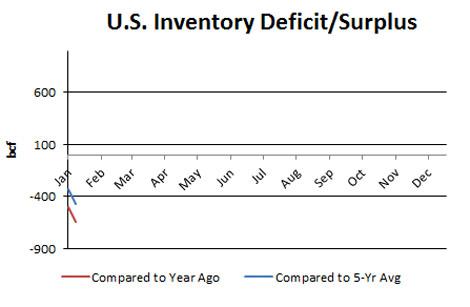 The weather last week was much colder than normal. Heating-degree days in the reporting period were the most on record going back 12 years.
According to the Edison Electric Institute, utilities generated 85,175 GWh in the week ending Jan. 11, which was 12.5 percent above the same week a year ago.
Looking forward, the NOAA's 6- to 10-day outlook calls for warmer-than-normal temperatures over the western half of the country, but more importantly, its outlook calls for colder-than-normal temperatures over the eastern half of the country-where most gas is consumed during the winter.
NOAA 6- TO 10-DAY OUTLOOK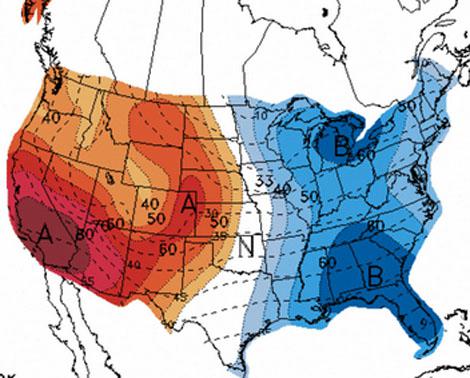 Meanwhile, the number of rigs drilling for natural gas in the U.S. fell by 15 to 357 last week.
Natural Gas Rig Count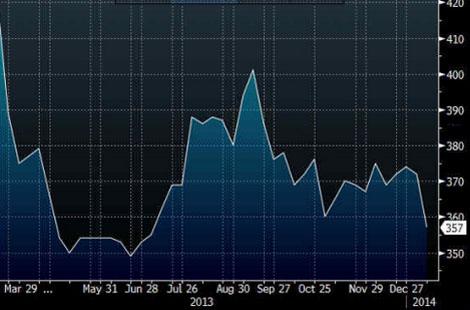 Natural Gas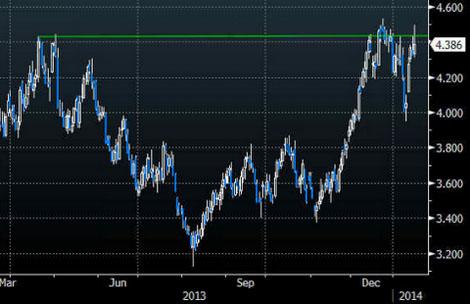 Bottom line: The latest inventory data from the EIA were bullish, as the inventory deficit against the five-year average rose from 331 to 471 bcf.
While the latest inventory withdrawal missed estimates, it was enormous by any measure. At nearly 500 bcf-the inventory deficit is substantial. However, the deficit is likely to be cut in next week's report given this week's relatively mild temperatures. But if weather forecasts are correct and another blast of cold air hits the Midwest and East Coast, the deficit will quickly resume widening in subsequent weeks.
It's becoming increasingly clear that inventories will exit the heating season at depressed levels. Last year, inventories ended winter at 1,673 bcf-142 bcf below the five-year average-and in turn, prices rallied through March to a peak of $4.44/mmbtu.
This year, with an inventory deficit much greater than last year's, prices are likely to climb significantly higher. Right now, prices are near $4.40. Assuming a deficit of 500 bcf in March, we expect prices to easily hit $5.