On Tuesday, GameStop (NYSE:GME) dropped sharply after reporting revenue growth but a big miss on earnings. The primary driver was much higher sales of consoles thanks to Xbox One and PlayStation 4 and big drop in new software sales. Since the consoles have much lower margins for GameStop, the earnings missed even with the higher sales. Clearly, missed earnings are bad for GameStop but I think the market has bigger longer term concerns about GameStop that this report brought into sharper relief. I believe that this report helps clarify winners and losers in the video game space.
Losers: GameStop, physical retail, Nintendo (OTCPK:NTDOY), video game publishers (short term)
Winners: digital distribution, Sony (SNE), Microsoft (MSFT), Amazon (AMZN), video game publishers (medium / long term)
GameStop's Software Woes
GameStop blamed lower sales of previous generation games from Xbox 360 and PS3. There are three potential reasons for GameStop's abysmal software sales.
1) Industry wide problem? Are people buying fewer games across the industry? Probably somewhat for older consoles. The folks that bought new consoles would want to buy games for their new machine. Clearly, there is some elasticity of demand in the short run. If people have a budget for their holiday shopping, new consoles took a larger share across the industry. However, I believe GameStop's numbers overstate this effect due to the other two reasons.
2) Shift to digital? People are buying fewer games at physical retailers and more digitally. All the publishers have reported rising digital sales in recent years as options for buying digital have become easier and better marketed. You can buy games on the major platforms, direct from publishers as well as through Steam. You can buy a digital code on Amazon for many games. GameStop is participating in this shift but is clearly losing market share here. They don't have the competitive advantage here. This trend will only accelerate over the coming years.
3) Physical disc competition? People are buying fewer games at GameStop and more discs at other retailers. This seems to ebb and flow over the years, but there are no shortage of places to buy physical discs. Wal-mart (WMT), Target (TGT), Best Buy (BBY), Amazon, Toys R Us (TOYS) are all major players. Christmas season can be a hit driven time and some data suggest catalog titles may have lagged this season. It is possible that these other players played the discounting game well or had better marketing pushes. Amazon in particular continues to pick up share. It is tough to know the extent of competition in physical discs, but it explains part of the underperformance.
PS4 and Xbox One are Surging, Wii U is Struggling
Microsoft and Sony sold over 3 and 4 millions units respectively of their consoles in the first seven weeks of sales. This compares very favorably to the last generation in 2005/2006 when they struggled to provide supply and sold 1.5 mil (XBox 360) and 1.7 mil (PS3) in their launch quarter. Overall, a big question was answered: will gamers flock to the new consoles or is the console market dying? Robust sales point to a healthy console market going forward.
On the other hand, the Wii U has had a year to establish itself as a contender in the next generation console wars and it clearly failed. Both Xbox One and PS4 are projected to pass Wii U in the next few months. The result is that some publishers are declining to launch their biggest franchises on the Wii or the Wii U. Nintendo still has other great products (a winning portable business and great games), but the stock has been a big loser over the past few years and will struggle to gain traction unless they can reinvigorate Wii U sales. Some have even suggested that Nintendo should sell their games on other platforms in order to reinvent themselves as an uber-publisher.
Digital Sales are the Future
Valve's Steam is on a roll. They are capturing a growing share of the computer gaming market. They were the talk of CES with 14 announced partners to build Steam Machines (basically Linux machines with a Steam user interface). These boxes could be contenders in the console war but it is very early days. Valve may be the future, but the bigger story of the present is the success of the Xbox and PS digital marketplaces. They are selling full games, DLCs and other digital goodies through Xbox Live and the PlayStation Network. These digital sales have become big businesses for EA (EA), Activision (ATVI), Ubisoft and Take-Two Interactive (TTWO). This threat to GameStop is what worried the market before Microsoft backed down and allowed used games sales for Xbox One (which was the right move). Lastly, Sony's recently announced digital platform for downloading and playing PS3 games could really hurt GameStop's used game business.
Publishers are Caught in the Transition to New Consoles
While the new consoles were a hit, existing consoles didn't get the same level of software sales. In the short term this could be bad news for earnings at the major publishers, but over the medium to long term, the success of the next generation consoles will be a huge windfall for the publishers. In particular, the lack of direct backwards compatibility will drive sales of existing games for the new platform. This will help the companies with the best franchise titles.
So, why did software sales decline? GameStop blamed it on Xbox 360 and PS3 games. The table below looks at some big titles on those platforms (and largely ignore the Nintendo systems).
1) Many big titles were down or flat year over year. These are the most helpful because they are the closest thing to "Same Store Sales" in the industry: Call of Duty, Madden, Assassin's Creed, Just Dance, Skylanders, WWE.
2) Some big titles had no reprise in 2013: Halo, Far Cry
3) THQ Bankruptcy. THQ was a medium sized publisher with a variety of titles. The marketing push behind their older titles was assuredly nil. The biggest Q4 title for them was WWE - now owned by Take-Two. Even with TTWO behind it now, this title was down over 20%.
4) Catalog titles may have underperformed. Looking at the performance of the top 10 games on the Xbox and PS platform (see table below), it appears sales are even with last year. This implies that older, catalog title sales may have lagged this quarter. This is certainly possible since these are often on sale in digital format.
5) BUT, there were some big new additions in 2013: GTA V, Battlefield 4 and two franchise titles grew in sales: FIFA Soccer, NBA 2k.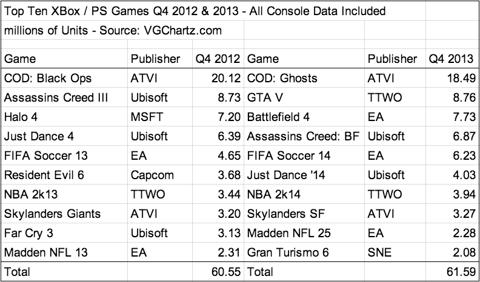 TTWO was a Winner, Ubisoft a Loser
Looking at the data over at VGChartz, you can see some winners and losers among the publishers emerge. While EA has been taking it on the chin for glitches and poor sales performance of Battlefield 4, their hits held up well year over year. ATVI did OK, but declining sales of COD is a concern. Both of these companies suffer from franchise fatigue given the push to release titles so often. Microsoft's publishing unit only had Minecraft (an eventual non-exclusive) as a follow up to Halo or Kinect Adventures so their comps look poor but it is a tiny part of their business. Ubisoft on the other hand saw large declines in both the Assassin's Creed and Just Dance franchises - an average decline of 28% between them. To add to the losses, they also had no follow up to Far Cry. Ubisoft was by far the biggest loser.
I would say that Take-Two comes out looking like a winner this quarter largely due to the continued phenomenal success of GTA V which I wrote about in December. VGChartz estimates that they sold 8.8 million copies of GTA V last quarter (30.5 mil to date) - very close to my estimate of 9 million. In addition, you can see that their next three best sellers of this year outperformed their three best sellers of last year - setting up a solid quarter for TTWO. I wrote in late December that their revenue may be close to double last year's total.
TTWO Sales data from Q4 2012 and 2013 (excluding GTA V):

Summary
GameStop is struggling with the transition to new consoles, new digital distribution and new sales competition from Amazon and others. They may have some solid years as sales of next generation consoles ramp but I expect digital to be the greatest long term existential threat. Nintendo is at risk of becoming irrelevant in the console business. Video Game publishers should perform very well as the next generation ramps up, but may have some sales challenges in the meantime.
Disclosure: I am long TTWO. I wrote this article myself, and it expresses my own opinions. I am not receiving compensation for it (other than from Seeking Alpha). I have no business relationship with any company whose stock is mentioned in this article.
Additional disclosure: I am long TTWO calls.