The leading social network site continues to trade near all-time highs despite another report that magnifies the teen issue. According to a updated demographics study from iStrategyLabs, Facebook (NASDAQ:FB) has an expanding teen issue magnified by the results of the report. Considering the thesis isn't new, investors aren't taking these studies seriously though the threat is very real and possibly unavoidable at this point.
As highlighted a couple of weeks back in How Much Is Facebook Worth As An Internet Utility, the issue isn't whether Facebook remains a viable social network, but whether it is worth the current valuation of nearly 19x revenue.
Demographics Results
The study compares the Facebook user demographics as of this month with those composed back in January 2011. These updated results magnify the teen issue with the problem expansion into the college age group that extends up to 24 year olds. The study found that an incredible 25% of users in the 13-17 age group had left the social site. Even more worrisome is the 7.5% decline in the much more important 18-24 age group. The study also found that the 55+ age group had boomed over the last three years with an 80% increase in users. In essence, growth in users over 55 years old has masked the decline in teen users.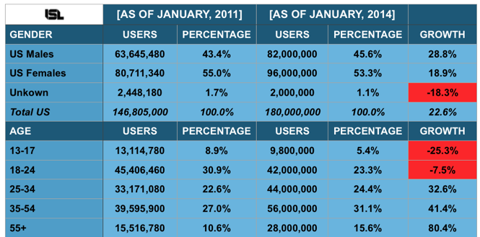 Investors can claim what they want about this study, but I don't know many Internet innovators that want to trade users that could be customers for 50 years with a group that might average 10 years at most due to age.
Facebook Numbers
The numbers directly from Facebook don't jive with the ISL study. Facebook continues to suggest that teen users haven't declined since 2011. Also, the total users listed in the latest presentation don't appear to match up completely, but it is probably close to the 199 million monthly active users, or MAU, Facebook lists for Q313.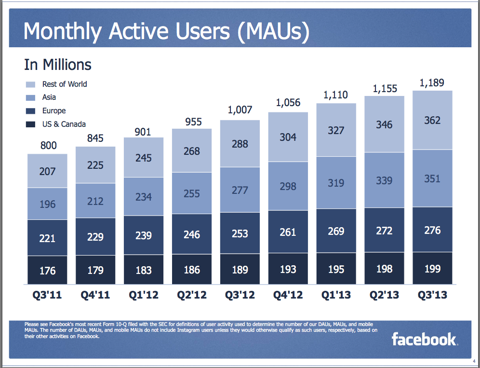 Considering all the questions regarding teens, maybe the lack of such details is a warning flag to investors. With all of the teen studies, it typically isn't clear whether the study counts as a user by logging in once a day or once a month. A teen user that was actively logged in all day back during 2010 might not count itself as a user in 2013 if it logs in infrequently.
Guess what, Facebook counts that user in the daily active user, or DAU, and MAU in its quarterly results. It might claim the lack of teenager issue due to these teens being 'active' by logging in on a monthly basis. All of the other studies suggest that the teens are considerably less active whether they log in daily or not. Another interesting point has to be whether a person posts a picture directly into Facebook or 'Likes' an item on another website without actually going into Facebook and directly interacting on the website. If a person shares this article on Facebook, it likely counts as a DAU and MAU, yet is the person really active if that's all he does?
Astronomical Valuation
Considering the real threat that teenagers are actually leaving the service, the current valuation is astronomical. Stocks like Google and Amazon.com aren't encountering these issues even after being public for over a decade now.
In the last article, it was suggested that Facebook should trade similar to an Internet utility like Yahoo! Inc. (YHOO). In that scenario, Facebook's peak revenue of around $12.5 billion (roughly 20% more than the 2014 estimate of $10.4 billion) assumes the valuation would collapse to around $50 billion. An enterprise value of 3x revenue would be reasonable for a social site losing users from the most important user group.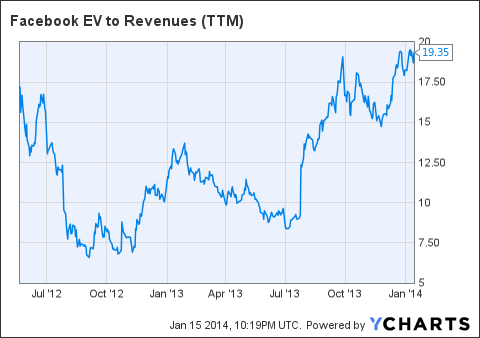 FB EV to Revenues (TTM) data by YCharts
The range of possibilities is enormous for valuing Facebook. As an example, peak revenue of $20 billion and an EV multiple of 5x revenue places the valuation at around $111 billion or roughly 25% below the current valuation. Another possibility is that revenue peaks around $12.5 billion and starts declining. If the social site starts losing users in the older age group, it could even lose the utility factor.
Conclusion
If the ISL study is accurate, Facebook now has to add a user in the 55+ group in order to offset one leaving in the under 25 groups. Regardless, the Q4 numbers to be reported on January 29 might print substantial growth so anybody thinking about shorting the stock needs to tread carefully for now. The company can continue monetizing the existing users at a higher clip.
The problem for bullish investors is that the future growth of the company is leaving. If teens are indeed ditching the site in droves, the future versions of the table will show a void of users in not only the 18-24 group, but also the 25-34 group. As an Internet utility, the best-case scenario will be for revenue growth to stall at levels above the 2014 forecasts of $10.4 billion. The worst-case scenario is for the social site to fail to even gain the utility function leaving the stock completely reliant on picture sharing Instagram going forward. Instagram is a nice social site, but it isn't going to add enough to the Facebook pie in order to justify a $141 billion market cap. If anything, a shift to Instagram further magnifies the concern with a social site remaining relevant long-term.
Disclosure: I am short FB, . I wrote this article myself, and it expresses my own opinions. I am not receiving compensation for it (other than from Seeking Alpha). I have no business relationship with any company whose stock is mentioned in this article.
Additional disclosure: The information contained herein is for informational purposes only. Nothing in this article should be taken as a solicitation to purchase or sell securities. Before buying or selling any stock you should do your own research and reach your own conclusion or consult a financial advisor. Investing includes risks, including loss of principal.