Herbalife (NYSE:HLF) plummeted in late 2012 as Bill Ackman went public with his short thesis on the stock. It fell from a high of over $70 to a low of close to $25, before rebounding as Carl Icahn (NYSE:IEP) and other famous investors bought stock and made their positions public.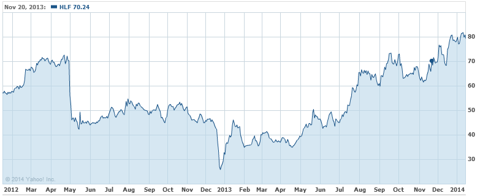 One surprising aspect of this saga is that there was no buyout bid from private equity firms in the midst of this. This is surprising because the last two times Herbalife stock had lagged company fundamentals while not in the midst of a stock market crash, a private equity conglomerate led by JH Whitney had made bids for the stock. In 2002, JH Whitney took Herbalife private, and then took it public again in 2004. And in 2007, JH Whitney made a bid for the company, although it was not accepted and the company remained public.
And there is some evidence that JH Whitney and its co-investors may have earned up to $1 billion from taking Herbalife private and then public again. A document from 2005 indicates the realized and unrealized value of JH Whitney V, the fund that took Herbalife private. It shows that fund had earned ~$800 million in profit so far, mostly unrealized, mostly driven by the top two positions. Herbalife was the top position, and the stock price proceeded to rise dramatically while JH Whitney V held on. This article talks about how Whitney garnered over $300 million, before selling its remaining stock, which proceeded to triple by late 2007.
There were numerous articles written about the possibility of a take-private, considering the large amount of cash flow Herbalife was generating and the low valuation Herbalife was trading at (ignoring the regulatory risk, which I will not take a view on here). However, recent events away from Herbalife may explain why there was no private equity bid, particularly by JH Whitney.
One possible explanation for JH Whitney "sitting out" the 2012 drop in HLF's stock price is that the former Managing Director of JH Whitney, Michael Stone, who may have been deeply involved in the highly successful Herbalife take private in 2002, had moved on by late 2012 / early 2013. (His Linkedin profile shows he was the Managing Director of JH Whitney until December 2007)
The obvious question is what could have been more interesting and/or profitable to this former Managing Director of a multi-billion dollar private equity firm than lining up hundreds of millions of dollars to bid for Herbalife, and potentially earning 20% of the profits?
The answer, or at last a partial answer, may have become apparent in the past few months, when Freestyle Capital and Ptolemy Holdings (both owned by Michael Stone, according to his linked in and other public disclosures) bought 30% of a $100 million oil company, Austex Oil (OTCPK:ATXDY), through a combination of open market purchases of stock and direct purchase of convertible preferred from the company.
Of course, this begs the question of "why". Why focus on a $30 million investment versus a potential multi hundred million dollar investment? And why a small cap oil company? While there are a number of possibilities, two seem the most likely.
1) Michael Stone appears to be investing his own capital and that of his brother, Nick Stone (also a private equity veteran). Thus, he is likely looking for the highest return possible. And
2) Austex may be one of the cheapest publicly traded oil and gas stocks in the public markets. It trades at ~1/3 of its proved reserve value and is growing 300% per year. Similar companies, like Synergy Resources (SYRG), trade at valuations 3-9x Austex's valuation. And considering Synergy and other growth E&P stocks' success, perhaps Austex would revalue in a short period of time, driving a multi-bagger of the type not available in multi-billion dollar private equity deals.
Here is a chart of Synergy's 2 year stock performance, illustrating how the market can re-price rapidly growing oil companies like Austex: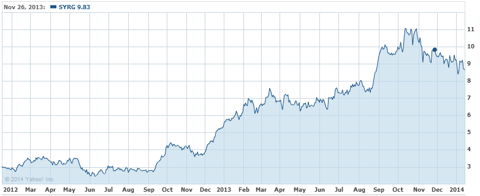 I will note Icahn Enterprises could also have made a bid, but it appears Carl Icahn wanted to "beat" Bill Ackman the "fair" way by buying stock in the open market, versus buying out Herbalife and internalizing the regulatory risk.
My takeaway from this is that, even if I'm incorrect about why exactly there was no private equity bid for Herbalife:
A) Michael Stone, as managing director of JH Whitney, helped earn his clients and co-investors as much as $1 billion on the Herbalife take-private.
B) Michael Stone, through his entities Freestyle and Ptolemy, now owns over 30% of Austex Oil. Austex is up ~20% from his cost basis, while Herbalife is up 200% from its low.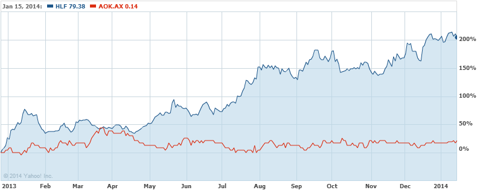 so C) Michael Stone may see upside in Austex at least on par with that of the upside Herbalife stock has achieved from its low (or perhaps from the price JH Whitney bid for the stock in 2007, $38 per share, which it is trading for more than double now).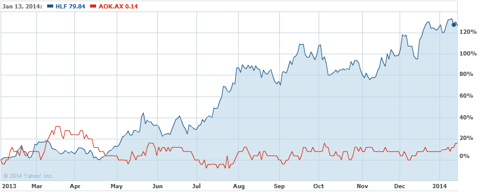 And finally, to illustrate the return potential in comparative oil and gas companies, here is a chart of Austex versus Synergy, a comparable rapidly growing oil and gas company: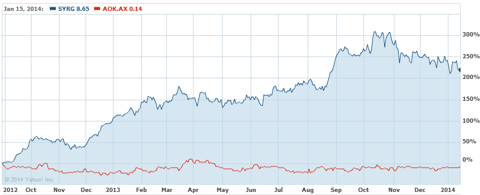 Disclaimer: Opinions expressed herein by the author are not an investment recommendation and are not meant to be relied upon in investment decisions. The author is not acting in an investment adviser capacity. This is not an investment research report. The author's opinions expressed herein address only select aspects of potential investment in securities of the companies mentioned and cannot be a substitute for comprehensive investment analysis. Any analysis presented herein is illustrative in nature, limited in scope, based on an incomplete set of information, and has limitations to its accuracy. The author recommends that potential and existing investors conduct thorough investment research of their own, including detailed review of the companies' SEC filings, and consult a qualified investment adviser. The information upon which this material is based was obtained from sources believed to be reliable, but has not been independently verified. Therefore, the author cannot guarantee its accuracy. Any opinions or estimates constitute the author's best judgment as of the date of publication, and are subject to change without notice.
Disclosure: I am long ATXDY, . I wrote this article myself, and it expresses my own opinions. I am not receiving compensation for it (other than from Seeking Alpha). I have no business relationship with any company whose stock is mentioned in this article.