When it comes to the mining sector, a company's ability to demonstrate record production on a year-over-year basis tends to bode quite well for its shareholders. In this article, I not only wanted to highlight Rio Tinto's (NYSE:RIO) recent record-breaking production in both Q4 and FY13, but also note several reasons behind my decision to remain bullish on shares of this metals and mining play, which currently yields 3.17% ($1.68).
A Look At Rio Tinto's Record Iron Ore Production
On Wednesday, January 15, Rio Tinto announced that its Western Australia iron ore mines, which provide most of the miner's profit, produced a record 66.5 million tons in Q4, which was up 3% on a quarter-over-quarter basis and brought its total 2013 output to 266 million tons. The company's increased iron ore production only illustrates how strong the demand from Chinese steelmakers actually is, especially since such shipments rose by 5% in 2013 to a new record.
One of the reasons why I think the company's record-breaking production is only the first of many records to be broken over the next 12-24 months is for the simple fact estimates are calling for the company to produce approximately 330 tons of iron ore from the Pilbara by the end of 2015. If Rio Tinto were to meet the above mentioned production-related estimates, the company output would represent an increase of 19.39% over 2013's full year production numbers.
Recent Trend Behavior
On Wednesday, shares of RIO, which currently possess a market cap of $97.89 billion, a forward P/E ratio of 9.79, and a dividend yield of 3.17% ($1.68), settled at a price of $52.99/share. Based on their closing price of $52.99/share, shares of RIO are trading 1.38% below their 20-day simple moving average, 0.12% above their 50-day simple moving average and 11.22% above their 200-day simple moving average. These numbers indicate a short-term downtrend and a mid-to-long-term uptrend for the stock which generally signals a slight selling mode for most near-term traders and considerable buying mode for many long-term investors.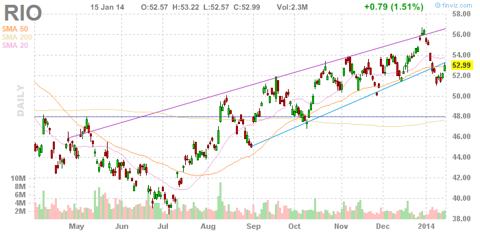 A Clear Focus on Shareholder Returns
During the company's most recent Investor Seminar, which took place in London on December 11, 2013, Rio Tinto noted a number of initiatives that are aimed at enhancing shareholder returns. These initiatives include an estimated 20% reduction in capex between 2013 and 2015, a stronger focus on debt reduction over the next 12 months, and a stronger focus on the enhancement of the company's progressive dividend over the next several years.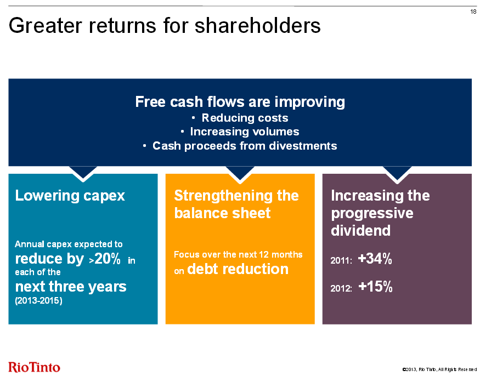 Operating Performance Will Continue To Improve
One of the things I look for when deciding on whether or not to establish a position in a particular mining play is how well the company is projected to cut both its cash-based operating costs as well as its capital expenditures over the next several years.
During its Investor Seminar, Rio Tinto noted that it expects its cash operating costs to fall 14% between 2012 and 2014 and its capital expenditures to fall 55% between 2012 and 2015; which is certainly something to consider especially if one is looking to establish a long-term position in the company's stock.
Risk Factors (Most Recent 20-F)
According to Rio Tinto's most recent 20-F, there are a number of risk factors investors should consider before establishing a position. These risk factors include but are not limited to:
#1 - Commodity prices and global demand for the Group's products are expected to remain uncertain.
#2 - Past strong demand for the Group's products in China could be affected by future developments in that country.
#3 - Increased regulations pertaining to greenhouse gas emissions could adversely affect the Group's cost of operations.
#4 - The Group's liquidity and cash flow expectations may not be realized, which would inhibit planned expenditures.
Conclusion
For those of you who may be considering a position in Rio Tinto, I strongly recommend keeping a close eye on the company's operating performance, its iron ore production and its ability to enhance shareholder value over the next 12-24 months as each of these factors could play a role in the company's long-term behavior.
Disclosure: I have no positions in any stocks mentioned, but may initiate a long position in RIO, over the next 72 hours. I wrote this article myself, and it expresses my own opinions. I am not receiving compensation for it (other than from Seeking Alpha). I have no business relationship with any company whose stock is mentioned in this article.