By David Russell
Call volume surged in Take Two Interactive Software (NASDAQ:TTWO) yesterday as bullish sentiment continued to spread in the video game space.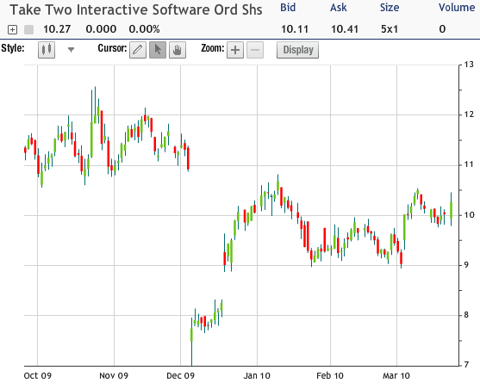 (Click to enlarge)
optionMONSTER's Heat Seeker tracking system detected heavy buying of the May 12.50 contracts, which traded 6,386 times against no open interest. Premiums ranged from $0.19 to $0.35. TTWO rose 2.50 percent to $10.27 yesterday and is up 11 percent in the past month. The stock got a boost late in the morning after it was reported that activist investor Carl Icahn increased his stake in the company to 13.7 percent, up from 12.3 percent in January.
The company's loss was narrower than expected the last time it reported results on March 3 and revenue came in 30 percent above consensus. Management also issued bullish guidance for the second quarter and full year. The stock rallied through resistance at $9.90 on the news and has been consolidating above that level since. The bullish technicals and positive options activity matches the pattern emerging in related names such as Electronic Arts (ERTS) and Activision (NASDAQ:ATVI). TTWO must climb more than 24 percent by expiration for Monday's call buyers to turn a profit.
Overall options volume in the name was 14 times greater than average yesterday, and calls accounted for 82 percent of the activity.
Disclosure: No positons