Intel (NASDAQ:INTC) reported an in-line quarter and the stock traded down 3% after hours. The disappointment reflects relatively soft guidance for Q1 2014 at revenues of $12.8 billion plus or minus $500 million versus street expectations of $12.8 billion. The market reacted negatively no doubt focusing on the lower end of guidance as the likely outcome.
I had estimated a better fourth quarter in a previous article based on Gartner's forecast of Q4 PC sales. IDC forecast slightly lower Q4 sales than Gartner and the actual seems to have been in between since PC Client Group had a decent Q4.
In total, however, Intel missed by Q4 estimate by quite a bit. The difference between my estimate and the actual is worth a quick review. The revenue difference was $0.7 billion comprising $0.2 billion Data Center, $0.1 billion million PC Client Group and $0.4 billion Other Intel Architecture ("OIA").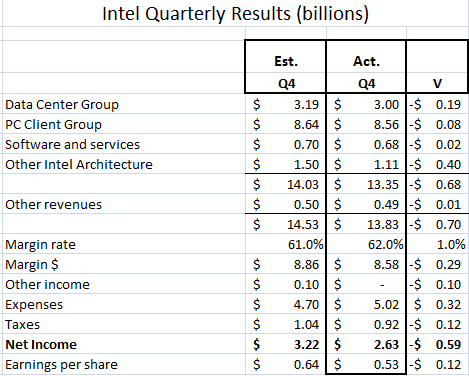 Data Center Group still showed quarter to quarter sequential growth of 3% but less than the 7% trajectory Intel had been enjoying through Q3. More interestingly OIA revenues missed my estimate by $400 million. Intel describes this segment as follows:

The Tablet Group is the one I want to focus on. I presumed (and still presume) this group includes processors supplied to the Samsung Tab 3 10.1 and the Microsoft Surface Pro tablets. Samsung has a range of Galaxy tablet versions which together sold an estimated 40 million units in 2013. The Galaxy Tab 3 10.1 with "Intel Inside" was reported as being a hot seller among the 12 million Samsung tablets sold in Q4, and guessed it might make up 2 to 3 million of the 12 million Galaxy tablets purchased by consumers. The Intel Atom processor in the Samsung Galaxy is probably a $30 part, so sales of this item in my model were $60 to $90 million. The Surface Pro 2 was also reported to be a hot seller and it sports a full Core i5 processor with a price in the $120 range. Given the buzz, I thought Microsoft might have sold 2 to 3 million of the Surface Pro version, contributing revenue of $240 to $360 million. I expected to see a bump in OIA segment revenues reflecting sales of processors to these two tablets alone. The other factor was the sale of "hybrids" which Gartner and IDC consider tablets. I did not know how Intel dealt with these form factors but guessed they would be in the OIA segment by and large.
I was and am pretty confident those estimates were not a country mile off. That suggests two things: First, that "Netbooks" have fallen off a cliff and the ones sold in Q4 by retailers like Best Buy were old inventory being cleared; and, second, that some or all of the components sold by Intel into hybrids were included in the PC Client Group results.
It also points out just how tough it is for Intel to make progress in mobile. In 2014, Intel expects to ship components for 40 million tablets and will spend $800 million on rebates or discounts to do so. The result will be that OIA revenues will remain weak through this year.
I had hoped to see some signs that Intel's efforts were bearing fruit but at this stage the fact is they are still a ways away. Accordingly, I will cut back my exposure to Intel stock substantially although I will remain long, and add to my holdings if I see a bottoming of the PC market, accelerated growth in Windows and Android tablets and hybrids with "Intel Inside" and the beginnings of revenues from Intel's initiatives in the Internet of Things.
I remain bullish on the company but I am pulling in my horns a bit.
At this point I hold calls on 110,000 Intel shares modestly hedged by a 12,000 share short position. I expect to cut that back to calls on 50,000 shares while maintaining the short.
Disclosure: I am long INTC. I wrote this article myself, and it expresses my own opinions. I am not receiving compensation for it (other than from Seeking Alpha). I have no business relationship with any company whose stock is mentioned in this article.