Colgate-Palmolive (NYSE:CL) is a consumer products company. The company manages its business in four core categories -- Oral Care, Personal Care, Pet Nutrition and Home Care. The company sells its products in 223 countries and has been in operation since 1806.
I recently wrote an article about Procter & Gamble (NYSE:PG) in which Colgate-Palmolive featured in the peer group valuation table. Right away, the company seemed quite richly priced compared to the other two so I decided to take a closer look in order to see if the higher multiple could be justified.
The Fundamentals
Colgate-Palmolive is a classic consumer staples growth company. It has grown consistently for decades and has continued to do so the last few years. It has managed to grow both its top- and bottom-line.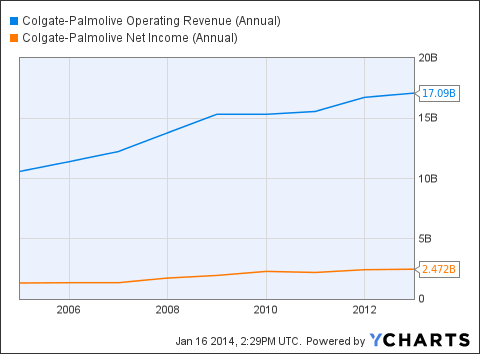 CL Operating Revenue (Annual) data by YCharts
Neither the financial crisis nor the Euro-crisis have left as much as a dent in Colgate's performance. An achievement few, if any, of its competitors can claim. Its strong ability to grow can largely be attributed to its significant presence in emerging markets. In Q3 2013, for example, 29% of sales were in Latin America. As such, the company has been well placed to capitalize on the ever growing middle class in these countries.
The company is probably best known for its Colgate toothpaste, and for good reason. The brand enjoys a number 1 market share in 146 countries and has a worldwide market share of 44.9%. But the company also sells other well-known brands such as Palmolive and Ajax, both of which command strong positions in their respective segments.
Colgate certainly has a strong base of leading brands that has driven growth for years. In order to continue this growth pattern and expand margins the company has a strategy with four key elements -- Engage to Build its Brands, Innovation for Growth, Effectiveness and Efficiency and Leading to Win.
An example of its focus on efficiency is its effort to build a truly global supply chain. Since 2004 it has reduced the number of plants globally from 78 to 54. Such measures expand gross margins which has grown from 55.2% in 2004 to 59.0% by Q3 2013.
Risk Factors
Colgate operates in a very defensive and stable business. Even so, it would not be immune to price conscious consumers in a severe recessionary environment. It will also experience constant competition from other global corporations and from private labels. Political factors such as protectionism or devaluation, like it experienced in Venezuela last year, is also a risk. This risk is however reduced by the fact that it operates in so many countries across the globe.
Valuation
I think there is little doubt that Colgate has proved itself to investors over and over again in the past. It is also well positioned to continue growing both revenue and margins. But sometimes even great companies might not be great investments if the price you have to pay is too high. I have therefore put together a table of some key metrics in order to compare Colgate to some of its main competitors.
| | | | |
| --- | --- | --- | --- |
|   | Colgate-Palmolive | Procter & Gamble | Unilever |
| Price/Sales | 3.5x | 2.8x | 1.7x |
| Price/Earnings | 26.8x | 20.3x | 17.8x |
| Yield | 2.1% | 3.0% | 3.5% |
Source: Morningstar.
On all three measures Unilever (NYSE:UL) is the cheapest and Colgate the most expensive. Colgate is priced way above the S&P 500 which trades at a P/E of 18.6x. I was quite surprised to see that the company was trading at such a premium so I decided to take a look at its own trading history. If it always had traded this high it might suggest that investors would continue paying a premium for its somewhat higher than peers growth rate. After checking the numbers in Capital IQ it turns out its average P/E over the last 10 years was 21.6x. In fact, the last time it was trading this high was way back in April 2007. I have to say the valuation looks stretched at these levels.
The Dividend
This company is a steady dividend increaser. It has hiked its dividend every year for 50 years and did so again in March 2013 when it was increased by 9.7% to $0.34. I would be quite surprised if it wasn't increased yet again in March of this year.
Analysts are predicting a five year annual EPS growth of 9.4% for Colgate. Given a current payout-ratio of 56% the company should be able to increase dividends at the same rate. One could even make the case that the relatively low payout-ratio makes room for an even higher dividend growth rate.
On the other hand, I am not comfortable with the high multiple on the company's earnings. If one assumes that the P/E will revert to its 10-year average and that the analysts are right in their EPS-forecasts we can calculate the likely total return to shareholders. Its EPS growth and current dividend yield adds up to 11.5%. Earnings will have grown by a cumulative 56.7% from $2.41 per share to $3.78 five years from now. Applying a multiple of 21.6x on those earnings gives us a share price of $81.58 or a compound annual growth rate of 4.7% from today's share price. With a 2.1% yield total shareholder return is expected to be 6.8% per year over the next five years. In short, there are better alternatives out there.
Conclusion
Colgate-Palmolive is an admirable company with strong brands, stable and high growth, global diversification and a shareholder friendly management with 50 years of dividend increases. However, these attributes are not a secret and is more than fully priced into the share price already. A great company but not at a great price. One should wait for a more opportune moment.
Disclosure: I have no positions in any stocks mentioned, and no plans to initiate any positions within the next 72 hours. I wrote this article myself, and it expresses my own opinions. I am not receiving compensation for it (other than from Seeking Alpha). I have no business relationship with any company whose stock is mentioned in this article.