Over the last couple of months, there has been numerous contributors and bloggers who have tried to paint a bleak picture of NQ Mobile (NYSE:NQ) and calling for the demise of the company.
Some even wrote articles about how their "sources" (Short sellers) were so confident in their positions that they were shorting every single share they could find. They went on to say that short sellers became so secure in their holdings that they were continuing to build on top of their current positions.
I responded to these phony claims two weeks ago, when I published my own article showing investors that short interest was dramatically decreasing in NQ Mobile, thus negating the claims that short sellers were increasing their positions.
Short Interest Update
If you are anything like me, you like to follow what investors are buying, selling and shorting. With the latest short interest figures out, investors are able to see if short sellers are increasing or decreasing their bets against companies.
Two weeks ago, we learned that short sellers heavily reduced their positions in NQ Mobile. What I find most notable about the short interest decline is that this is the first time that short interest dropped since May of 2013. It wasn't just any ordinary decline either as shorts cut their positions by almost 20%.
So what were the results of the new short interest numbers? Yup, you got it, short interest in NQ Mobile continued to decline. According to the latest short interest figures, short sellers have continued to exit their positions with just 11.68M shares sold short compared to 11.71M on December 13, 2013.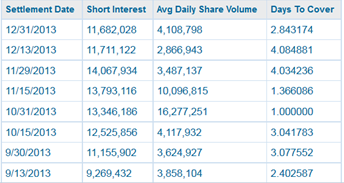 Clearly we can see that shorts have continued to reduce their bets on the company and are not shorting every single share like some people have been portraying. Below is a chart showing what is taking place with short interest over the last couple of months.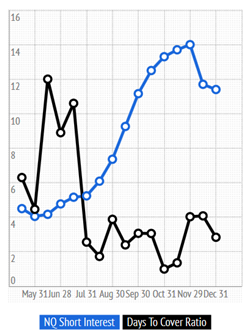 Looking at the chart above, we can see that short interest hasn't been this low since September and is at the lowest point since the Muddy Waters ("MW") attack began in October.
With multiple hedge funds meeting with the company since then, doing their due diligence and buying big stakes in the company, it looks as though shorts aren't so confident in their positions as some people first thought. As numerous funds continue to come in and purchase big stakes in the company, shorts know they are in dangerous territory as another big buyer or two could send shares soaring.
For those of you that are new to short interest, short interest is an indicator of what short sellers think about a particular stock. If short interest increases, then shorts are betting that shares will be going down. However, if short interest decreases, then shorts are betting that the price of the security will likely be going back up.
Many investors use short interest to make predictions about the direction of a particular stock and to measure the bullishness or bearishness of it.
Seeing as how short interest continues to fall and shares continue to rise at the same time it looks as though shorts are starting to make a run for the exits.
Hedge Funds Keep Buying Shares
In an amended 13G filing this week, hedge fund Altimeter Capital Management disclosed a 9.85% stake in NQ Mobile. The stake is more than a 3% increase when Altimeter disclosed a 6.3% stake in November.
| | | |
| --- | --- | --- |
| Name | Date | % of Shares |
| Toro Investment Partners | 11/12/13 | 5.0% |
| Altimeter Capital Management | 11/15/13 | 9.85% |
| ChinaRock Capital Management | 11/18/13 | 5.49% |
| Oberweis Asset Management | 11/19/13 | 5.8% |
| Morgan Stanley | 12/30/13 | 5.2% |
| Total: | | 31.34% |
It seems like every week I am adding funds to this list or increasing the number of shares that they own. Clearly big money likes what they see and are betting big on NQ Mobile.
In an article last week by MarketWatch, Oberweis who doubled his stake in NQ Mobile said he believes a clean bill of health on the company could provide fuel for a 40% jump in the stock.
When it comes to NQ Mobile, time is on the side of the bulls, said Oberweis. Some past on-target calls on allegedly fraudulent Chinese companies saw the firms come completely undone in relatively short order, he added.
So what does this mean in layman's terms? It means that it is a very encouraging sign that shares of NQ Mobile have not only held their ground but have continued to rise after allegations by Muddy Waters. The fact that management is still together and have not broken up is another positive side of it all.
"It would be arrogant to assume that I know absolutely everything, but we bet on probabilities." ... "We've done our research, and we think it is a high probability that Muddy Waters is wrong, and we've placed our bet. And there is no greater vote of confidence than placing a very large bet." - Jim Oberweis
NQ Partners up with Sprint
In other news this week, NQ Mobile announced a definitive agreement with Sprint (NYSE:S) to deliver the next generation of Sprint ID, powered by NQ Live, on all new Sprint Android-powered smartphones in the U.S. market this year.
"We look forward to working with NQ Mobile to launch Sprint Live as the next generation Sprint ID experience and to take our current offering to an entirely new level." ... "Sprint is also eager to collaborate with NQ Mobile to cultivate an NQ Live ecosystem of leading app developers, advertisers and content providers to constantly expand the consumer's experience and ability to customize their devices." - David Owens, Head of Product for Sprint
So what exactly is NQ Live? Unlike a standard wallpaper, NQ Live is an engaging mobile desktop that is changing the way consumers use their connected devices. NQ Live was first introduced in October and I expect many more announcements of this type going forward.
"Sprint is at the forefront of innovation and this is yet another example." ... "We are pleased to provide Sprint the ability to give their customers a more interactive, informative and immersive mobile experience. We will provide the expertise and platform capabilities to enhance the experience for consumers, developers and content providers." - Gavin Kim, President, International and Chief Commercial Officer for NQ Mobile
Analyst at Canaccord praised the announcement saying that NQ Mobile's agreement with Sprint is a very strong endorsement not just of the product of NQ Live but of the company overall. The firm rates shares of NQ Mobile at a BUY with a $29 price target.
NQ Mobile Is Not Playing Games With MW
MW tweeted out last week that NQ Mobile's independent committee failed to accept their offer to have Plante & Moran (A 2nd Tier Auditor) evaluate the investigation of Big Four auditor Deloitte & Touche, as well as international law firm Shearman & Sterling.
It should be noted that NQ Mobile already has PricewaterhouseCoopers "PwC" (Another Big Four Auditor) looking over their financials.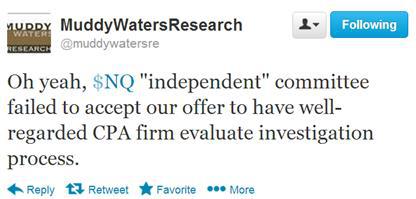 * Screenshot taken from MW Twitter account
I must give credit where credit is due. MW did a sensational job on their part when they announced their "offer" to NQ Mobile. This made a couple of things happen.
First, it put pressure back on NQ Mobile as the burden of proof shifted from the short sellers' claims of fraud, squarely back to NQ Mobile. Shifting the burden of proof is a classic case in which the opposition in this case, (Short sellers) challenge the opponent (NQ Mobile) to disprove a claim, rather than defending their own arguments.
MW knew that NQ Mobile wasn't going to accept their offer and why should they? MW slashed hundreds of millions of dollars off NQ Mobile's market capitalization. The offer MW gave is a slap in the face to not only NQ Mobile, but its business partners as well. Essentially MW does not believe that NQ Mobile's independent committee is trustworthy enough to do its job along with Deloitte & Touche.
Is it just me or does else anybody else see that MW is clearly worried here? If MW was confident that NQ was a fraud, you would think a Big Four auditor like Deloitte & Touche would be able to see it along with PwC. Instead, MW is already calling for backup.
The offer MW gave was mostly a ploy to help cover their own backs in case the audit report does come back clean (which I believe it will). Instead of being humiliated and having some bad PR come its way, MW has now put itself into a position which allows it to still question NQ Mobile no matter what takes place with the audit results.
Second, the offering made MW look like the good guys in the public eye, meanwhile NQ Mobile is left looking like it's hiding something if it didn't take the offer. However, what NQ Mobile did was brilliant in my mind. Here is the reason why.
"If a company responds to a short seller's claims by brushing them off and saying that it will continue to run its business and in turn, void any investor concerns, it generally turns out that the short seller is wrong. - Carson Block
By not responding back, NQ Mobile shows that it's not willing to play games with MW. We have seen this on multiple occasions (conference calls, etc.) where NQ Mobile has simply brushed MW off. So if Block believes what he says he does, then he's certainly wrong about NQ Mobile.
China Update
Last week, it was announced that China has lifted a 14-year-old ban on video game consoles opening up a potential very rewarding market for manufacturers like Sony, Nintendo, and Microsoft.
China first implemented the restriction of manufacturing and sales of consoles and games in 2000, citing worries over violent content. It looks like nothing is in the way now for China's billion dollar gaming industry to continue to grow.
E-commerce giant Alibaba also recently announced that it would set up a mobile gaming platform in China, venturing into a fast growing sector dominated by rival Tencent Holdings. You are probably asking yourself, so how does this impact NQ Mobile at all? Below are the reasons why.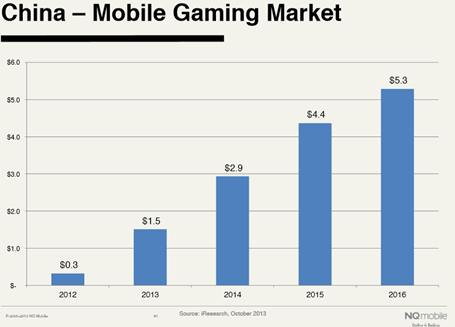 In case you weren't aware, mobile gaming is huge in China, thanks to being home to the largest number of smartphone users in the world. Just last year, mobile gaming revenue accounted for more than US $1.5 billion, or 13.5% of the overall Chinese video gaming market.
A year-and-a-half ago, NQ Mobile acquired Beijing Feiliu Jiutian Tech Co., Ltd. The company was founded in 2009 and is based in Beijing, China. As of November 30, 2012, the company became a subsidiary of NQ Mobile.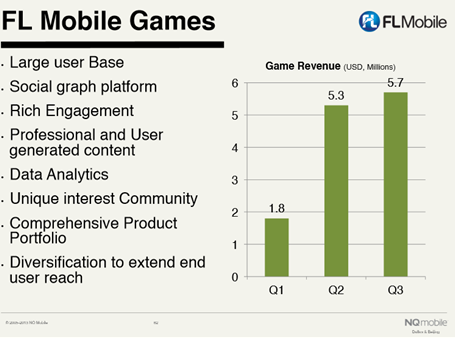 NQ Mobile later changed the name to FL Mobile. The company develops mobile applications for automotive, health care, entertainment, books, games, among other things.
Gaming has certainly taken off (+200%) for the company as they look to take a bigger presence in the gaming market. As the market continues to grow and with competition ever increasing, consolidation will take place and NQ Mobile stands to greatly benefit from it all.
NQ Mobile Is Severely Undervalued
If you're anything like me, you look for stocks that are undervalued and that are growing at a great rate. So what kind of fundamental value does NQ Mobile have right now? Let's take a look.
From a fundamental standpoint, NQ Mobile has a trailing price to earnings (P/E) ratio of 108, with quarterly revenue growth of 110%. Revenue growth that meets or exceeds the P/E Ratio is an indication of value. When you compare NQ Mobile to other growth stocks you can see just how undervalued the company is.
| | | | | |
| --- | --- | --- | --- | --- |
| | Trailing P/E | Forward P/E | PEG Ratio | 2014 Growth Estimates |
| (NYSE:QIHU) | 107.62 | 36.18 | 1.01 | 57.50 |
| (NASDAQ:BIDU) | 37.52 | 27.59 | 1.56 | 36.90% |
| (NYSE:VIPS) | 150.80 | 41.56 | 1.55 | 69.90 |
| (NASDAQ:FB) | 148.18 | 51.27 | 2.14 | 36.20% |
| (NYSE:TWTR) | N/A | N/A | N/A | 76.50 |
| (LNKD) | 985.36 | 98.09 | 2.51 | 42.20% |
| (NASDAQ:NFLX) | 277.94 | 82.62 | 8.61 | 19.40% |
| Average | 284.57 | 56.21 | 2.89 | 48.37% |
| NQ Mobile | 108.72 | 10.26 | 0.33 | 53.40% |
* Table based on Friday's closing prices
Looking at the table it becomes obvious that NQ Mobile is severely undervalued when compared to some of its peers. If NQ Mobile traded along with its peers, shares would be 3x-4x the price they are right now.
Canaccord's price target of $29 represents almost 100% upside in the stock. Meanwhile, analysts at Topeka Capital have shares with a BUY rating and a price target of $36.75, representing over 150% upside.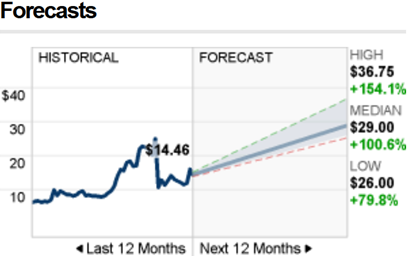 *CNNMoney NQ Mobile forecast
Conclusion
I do not expect the general market to be receptive to these fundamentals as the market unfortunately still focuses its attention on the short sellers and not much else.
However, I do expect the market to start pricing in the fundamentals of the company once the audit report is released which could come at any time now and NQ Mobile is cleared of any wrongdoing.
Investors who are able to get in now before the results come back can position themselves for huge gains over the coming months as the market starts to price back in the fundamentals of the company. Why else would hedge funds be piling into the company and buying huge stakes as of late? To make money of course!
As many of you know, we are closing in on the three month anniversary since this all began and nobody from NQ Mobile has resigned or quit. I'm not saying the company is perfect by any means, but if board members or anyone else in the company felt something fishy was going on, they would have left by now, don't you think? The fact that they haven't only reinforces my belief in the company and continues to show that short sellers really didn't understand the company in the first place.
As always, I'm providing you with my track record and other particular stocks that I recommend. The link provided will show you all of my picks, how they have fared, and where I think they will be going in the near future. I think you will find my track record to be very impressive and useful.
Disclaimer: Investors are always reminded that before making any investment, you should do your own proper due diligence on any stock mentioned in this article. Have a great day and as always, I look forward to hearing your thoughts or questions that you might have.
Disclosure: I am long NQ. I wrote this article myself, and it expresses my own opinions. I am not receiving compensation for it (other than from Seeking Alpha). I have no business relationship with any company whose stock is mentioned in this article.