Major grain prices have been fluctuating recently on the Chicago Board of Trade. Prices have been trying to recover since the WASDE Report was released on January 12, 2010, by the USDA. Some analysts feel that food commodities are bound for another increase, while others believe that food commodities are going to remain stable or decrease over time.
Between the rising global population and the increase in renewable fuels, food commodity prices, particularly grains, should increase over time. On the other hand, a dollar that is rallying and record ending stocks could keep grain prices in check.
Bear Outlook
The recent rally of the US dollar has started to push grain prices down because foreign buyers of grains can purchase grains in a cheaper currency, like the Brazilian Real. Some feel that grain prices in the US will remain relatively low in the short-term because of the stronger US dollar.
The most recent WASDE Report from March, which included a resurvey of crop production, revealed a record amount of ending stocks for wheat, according to the USDA. For the first time in 22 years, wheat's ending stocks will be over 1 billion bushels. Large ending stocks are a sign of oversupply, which will likely prevent prices from increasing until supply decreases or demand increases.
Corn and soybean planted acres could be larger than expected because of a 6 million acre decrease in winter wheat planting and 3 million acres exiting the Conservation Reserve Program. These 9 million acres of US cropland will certainly increase the amount of planted acres in 2010.
One of the largest factors in the grain market is the ongoing advancement in seed technology. Seed technology, including Genetically Modified Organisms (GMO) seed, may increase corn output by 26% over the next three years, according to Cheryl Beebe of Corn Products International (CPO). In addition, 85% of the total 2009 US corn crop was grown with GMO seeds, according to the USDA. Seed technology will continue to increase grain output, especially in foreign countries. This increase in production should increase supplies which will negatively affect grain prices.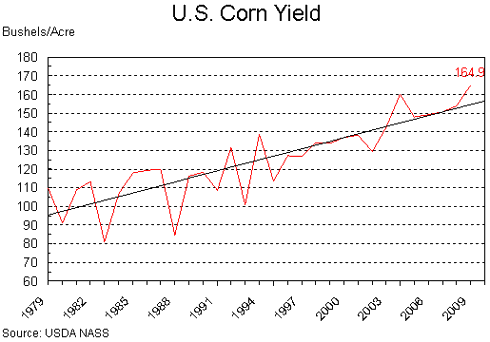 (Click to enlarge)
Bull Outlook
The global demand for grains has never been higher. Bulls of the grain market think that demand for grains will increase faster than the increases in production of grain. The global population is targeted to increase from roughly 6 billion today to over 9 billion by 2050. Crop production will need to increase by 86% by 2050 to meet the demand of 3 billion more people, according to the Global Harvest Initiative.
Although 2009/10 ending stocks were at a record amount for certain food commodities, global reserves as a percent of consumption are forecasted to decrease to 17.4% in 2010, according to Goldman Sachs. The 30 year average for reserves as a percentage of consumption is 27.7%, which includes the 2009 bumper crop. If consumption is increasing faster than production, prices will tend to increase.
The demand for food commodities for renewable fuels is also increasing. The EPA is currently considering an increase of the maximum amount of ethanol allowed in US gasoline. The current maximum is 10% and the proposal being researched by the EPA is 15%. The EPA should make a decision on the increase by June 2010. An increase in the amount of ethanol in gasoline will demand more corn to be used for ethanol production and decrease the supply of corn available for other uses.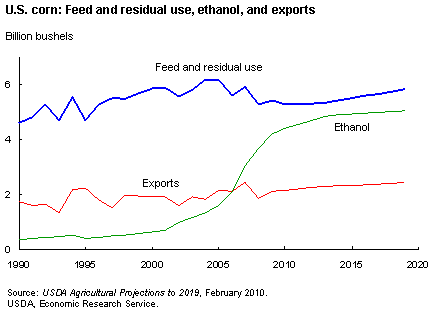 Currently an ounce of gold has more grain purchasing power than ever, according to Dale Durchholz of Agrivisor LLC. An ounce of gold will buy over 300 bushels of corn or 119 bushels of soybeans today. When grain prices peaked in the summer of 2008, an ounce of gold could only buy 116 bushels of corn. Durchholz explains:
A lot of people investing in commodities are going to start looking at how much grain prices are undervalued relative to gold and other precious metals.
Economist Dr. Marc Faber has recently agreed that food commodities are extremely undervalued. "Food commodities are at 200 year lows in real time dollars," Faber said. Since food commodities are at such a discounted price, it will be difficult for them to decreasing any further.
Farmland Values
The equation for determining farmland values is complex, and no one knows what it all exactly involves, although commodity prices are certainly one of the major aspects of determining farmland values. Commodity prices should increase in the short and long-term because of the increased demand that will consistently outpace production. Although 2009 ending stocks were at record amounts according to the USDA, consumption of these commodities is also at extremely high levels.
Since late in 2009, farmland values have started to increase from their stall during late 2008 and into 2009. Farmland values should continually increase because of rising commodity prices, decreasing supply of farmland, a growing population, increased biofuel demands, and farmland's ability to act as an inflation hedge. Land values are starting to increase again, and its proving that the opportunity is slowly closing on investing in farmland at these discounted prices.
Disclosure: No positions