How many stocks do you come across that offer you safety of principle plus a high probability chance of making a lot of money?
My guess is that you don't come across that many.
There's a reason for that. If institutional investors happened upon a stock with those types of characteristics then they would swallow up big blocks of shares until that risk-reward ratio approximated that of a typical large cap stock.
Luckily for you, most institutional investors are confined to investing in massive companies. This leaves fantastic bargains open to people like you and me.
A Niche Bargain
Here's your chance to invest in a rare profitable net net stock at a massive discount to intrinsic value.
It offers the same characteristics just mentioned above: a significant safety of principle and a high probability chance of realizing terrific returns.
Those of you who have already signed up to receive free net net stock ideas at Net Net Hunter will remember Universal Power Group (OTCPK:UPGI) from my December 27th letter. Universal Power Group is one of those under the radar, misunderstood companies that I love to look at.
The company is based in Texas and its main lines of business are batteries & accessories, portable battery powered products (jump starters & portable solar), alarm system components, and logistical services. It's been engaged in each of these power-related businesses for at least the last 6 years.
Universal Power Group is tiny, with a market capitalization of just $6.83 million US at the time of writing. Despite its nano cap status, the firm recorded sales of $92 million US for its fiscal 2012 year end, giving it a microscopic price-to-sales ratio of just 7.4%!
A price-to-sales ratio of only 7.4% should be enough for value investors to take a serious second look at the company. By this measure, it's definitely cheap.
I'm a net net stock investor, though, which means that I look at the net current assets of the company first and foremost when assessing its value. At a price-to-tangible net current assets of just 38%, Universal Power Group is the cheapest stock in my portfolio.
That fact should not be downplayed. There's a significant difference between buying a stock at 60% of NCAV and buying one at 40%. At 40% of NCAV the stock has to rise 150% before it reaches fair value. At 60% of NCAV, though, the stock only has to rise 66% before reaching fair value. It also makes the investment safer. Buying at a significant discount helps protect you from any permanent erosion of business value the firm may see in the future.
Why is Universal Power Group So Cheap?
One thing that most net nets have in common is a devastating drop in stock price corresponding to a major business problem. In the case of Universal Power Group, the firm has faced 3 major business problems in the past 4 years:
The Housing Crisis - The housing crisis started the company's downhill tumble. In 2008, the firm achieved $118 million in revenues but heavily focused on the home security market during the 2008-2010 housing crisis, the company faced major challenges. At the end of 2008, over 50% of the firm's revenue came from its Brink's Home Security division. Though the firm had started executing on its strategic initiative of diversifying its customer base and product line, it had not yet been able to buffer itself from the housing crisis.
Sales dropped from nearly $118 million in 2008, to $107 million in 2010 where the drop seemed to be slowing somewhat.
The Chinese Crisis - Compounding the mess, during 2011 the Chinese government responded to environmental concerns, and began inspection of the majority of the country's lead acid battery manufacturers. This lead to the ultimate shut-down of 70% of the country's battery production.
Sourcing costs shot up as battery supplies shrunk and the firm was forced to look for alternative suppliers both in and around China. Due to this forced sourcing shift, the firm now faces higher costs to obtain batteries, decreasing its gross margin.
A lot of this added cost comes from losing the economies of scale the firm enjoyed by placing large orders with a few long-term suppliers. Now that the firm is placing smaller orders with a larger number of suppliers, the prices it has to pay throughout its supply chain are, understandably, higher.
If this wasn't enough, the firm now also faces higher costs from commodity and labour inflation in China.
Customer Bankruptcy - During fiscal 2012, one of the firm's largest customers declared bankruptcy, leaving the firm to eat $245 thousand worth of receivables and face a sizeable drop in sales.
While Universal Power does not say which business this was, in 2011 the company also mentions a 58% ($20.1 million) drop in sales to ADT, a major US security firm and one of UPGI's largest customer in 2010. While information is scarce, it's not a leap to think that ADT was the firm that slipped into bankruptcy, significantly impacting Universal Power's business.
This cascade of major problems is largely responsible for the company's depressed stock price going into 2014 and gives investors doubt as to the long-term viability of the business. Looking at the company's income statement, it's no wonder investors think that way.
To start, revenues have tumbled from nearly $118 in 2009 to $92 million this past year, though are up slightly year over year. Both the Chinese crisis and the loss of ADT have prevented the company from showing any sort of recovery post-housing crisis. Operating margins haven't been much better due to the impact of lower gross profit and a series of legitimate one-time charges: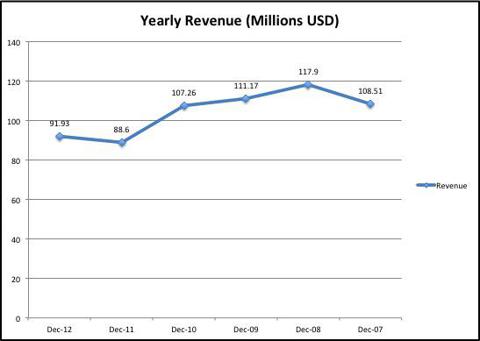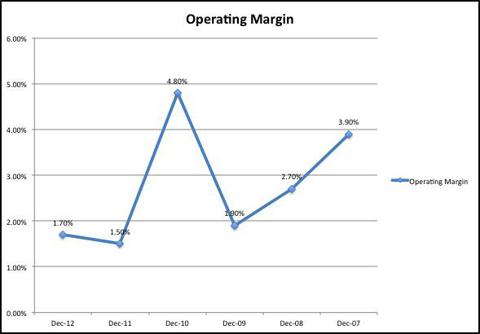 On the balance sheet, the firm's debt load also increased by 30% from December 2011 to December 2012, eventually topping out at 90% debt-to-equity in June of that year. As a guy who looks for companies with clean balance sheets, this is something I detest.
Moving forward from Each Crisis
Given the massive problems the company is dealing with and the erosion of the firm's financials, why would anybody want to buy shares?
Wayne Gretzky (Canada's greatest hockey player) used to say, you have to skate to where the puck is going to be. Crises don't last forever and they usually bring with them an unjustified amount of pessimism. For value investors, this is definitely a good thing. An extreme amount of pessimism can make for extremely depressed prices relative to value.
In the case of Universal Power Group, that price has been dropping for a number of years and is now breathtakingly cheap on a net current assets basis: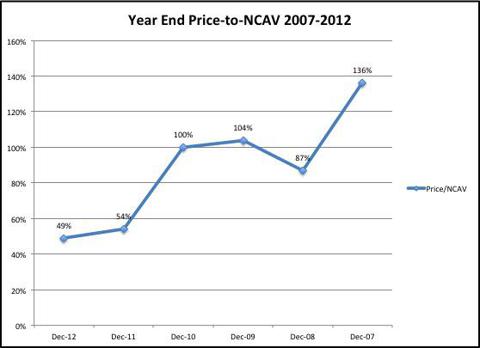 A major concern when it comes to net net stock investing is judging how stable the firm's net current assets are. If you are valuing a company based on net current asset value then you want to make sure the net current asset value is not quickly eroding.
Surprisingly, while Universal Power Group's business has been in trouble over the past 5 years, the firm's NCAV has actually increased from fiscal 2008 to the end of 2010, and only shrunk 3.8% from the end of 2010 to the end of 2012 (the last fiscal year end). As surprising as that is - book value has actually risen each and every year since the company first went public in 2006!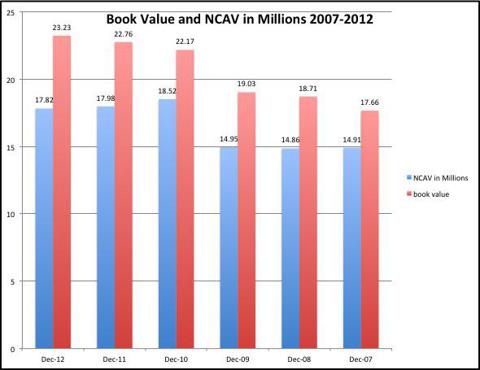 What about that debt? A 90% debt-to-equity ratio doesn't sit well with me but investors should keep two things in mind:
Despite the blip in 2011/2012, the company has been steadily reducing its debt level year over year since 2007, and…
The firm has been aggressively shrinking its debt since it peaked at 90% debt-to-equity in 2012. After two quarters, the debt-to-equity ratio now stands at an all time low of 62%.
Consistent with the trend in the company's debt figures, the firm's current ratio has also been steadily improving since the company's 2009 year end. It now stands at 2.06x, up 30% from its 2009 low.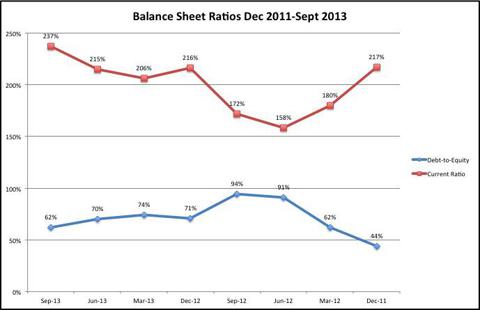 All things considered, while the company has been doing worse in terms of sales and operating margins, it has shown continual improvement on its balance sheet. The fact that the business has been improving to such a degree on a balance sheet basis despite the problems it has faced should give investors a lot of confidence in the stability of the company.
So, what will it take for the stock price to rebound?
But financial stability alone is not enough to see a rising stock price. When it comes to net net stocks, the share price tends to rise one of three ways: when management turns the company around, a significant piece of news causes new investors to rush in, or the firm is acquired.
While large, all of the company's problems are solvable which is partly what makes Universal Power group such a compelling investment. The company's inefficient supply chain is both a source of pain for management and a tremendous opportunity for intelligent investors. While currently depressing results, management can regain traction and increase profit by simply making the supply chain more efficient.
In the company's 2012 shareholder letter, this is exactly the plan that management relayed to investors. The firm is currently busy working with its new suppliers to iron out inefficiencies in its supply chain to help reduce costs.
The company is also working with suppliers to help develop products that are a better fit with the demands of its customers. This ultimately means higher margin products, and a possible increase in volume.
The company is also addressing the loss of its largest customer by focusing on deepening its current client relationships, introducing new related higher margin products through its distribution network via development or strategic acquisition, and developing its logistics and sourcing services division. Actually, all of these strategic initiatives have been in place for the last few years which has helped mitigate the effects of the firm's eroding home security business and boost margins.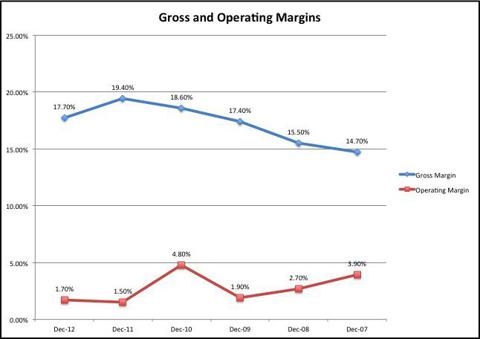 It's worth noting that, as in the case of Sangoma Tech., Universal Power Group has the ability to acquire firms with promising synergistic technologies and then leverage its existing distribution network to quickly scale sales of the acquired firm's technology.
None of these initiatives have to produce a full turnaround for the company's stock price to rise, though. In many cases, favourable business events send buyers rushing in to purchase stock, lifting a company's share price back up to its NCAV or higher. At the company's current market value, investors who are able to quietly acquire shares now could double their money fairly easily.
A corporate takeover, on the other hand, is less likely. As one of our members correctly pointed out, insider ownership is a double edged sword. On one hand, there is significant incentive for management to get things right and lead the firm out of its current mess. On the other hand, insiders may block takeover attempts by a third party.
The current CEO, Ian Edmonds, and Chairman of the Board, William Tan, together control just under half of the voting stock through their directorship in Zunicom, a shell firm that currently owns 40% of UPGI. As you can guess, insider ownership is tricky to assess with this firm. Suffice it to say investors can be sure of the fact that the current CEO owns no shares apart from options but jointly controls just under half of the voting shares in conjunction with William Tan, who directly owns less than 10% of the firm's outstanding shares through a spider web of equity interests.
This structure can easily defeat any hostile takeover attempt but may not be able to block a tender offer for a large chunk of the remaining shares by some 3rd party. As in the case of iGo Inc, it's possible that a 3rd party could see the company as a great investment opportunity so swoop in to buy a large block of shares. This would allow shareholders to sell at a tidy profit.
One Dark Spot
Saj Karsan has previously written about his concerns over possible management abuses at Universal Power Group. In 2011, Universal Power Group's board of directors decided to let shareholders vote on whether or not to allow stock option grants, granted in 2006, be repriced downwards. The rationale was that since the options were priced significantly above the company's 2011 stock price and since the firm does not have an options compensation program, repricing the options would provide management with financial incentive to perform at their best.
Saj argues that this amounts to rewarding management for poor performance - or at least disconnecting the options compensation from management performance. As such, it's unjust and unethical.
He also raises the point that Universal Power Group's CEO, Ian Edmonds, is the son in law of the Chairman of the Board, William Tan, which suggest that Ian received his position due to family relations rather than merit.
I agree with Saj's ethical assessment of the situation, but I don't think these practices will have an impact on whether the stock rises back up to reflect the firm's NCAV per share or not. It would be a far greater concern if an investor planned to hold the stock for a large number of years, since these sorts of actions will detract from the firm's long term intrinsic value as time passes. What's more important to deep value investors is whether Ian Edmonds possesses the management, strategic, and leadership skills needed to pull the business up from its current slump.
I see no evidence one way or another that leads me to conclude that Ian is more or less skilled than the average business leader. He does, however, seem to have the guiding principles that I like to see in management in terms of improving the balance sheet, taking a cautious approach towards acquisitions, and building off of the company's current product lines.
Universal Power Group: to Buy or Not to Buy?
Universal Power Group is showing strong balance sheet performance despite the problems it's facing. While the firm's revenues have shrunk over the last 5 years, this is consistent with the majority of net net stock opportunities and not something that should steer investors away from the company. A far more promising fact is what has happened to the firm's debt-to-equity levels, current ratios, and net current assets per share throughout its life as a public company.
Whether the firm will be able to pull itself out from its current slump or not remains to be seen but a completed turnaround does not have to be achieved for net net investors to do well. Ultimately, at a price of just 38% of NCAV, any decently sized bit of good news could send the stock surging, and leave deep value investors who buy in at this price with a tidy profit.
When it comes to value investing, price is king. A terrible company can turn into a spectacular investment if you can buy in at the right price -- a price far below intrinsic value. When it comes to Univesal Power, the company currently has $17.98 million in net current assets and a diluted share count of 5.094 million. Both of these figures have looked very good over the past 7 years -- the firm's net current asset value has increased over the 7 years and has remained stable since 2010 while the company's share count has seen little dilution. This makes both a solid basis from which to calculate intrinsic value. Using those figures, the minimum value that I give the company is $3.53 based on tangible net current assets alone.
The company is profitable, though. In fact, it's only had one losing year in the past 7. Benjamin Graham suggested that investor's use a range of value when judging what a company is worth. Looking at it's 2010 earnings, earnings that reflect slightly weak business conditions, the firm was able to earn $2.89 million in net income. If the firm is able to earn even half of that after these two latest crises then, using the firm's current diluted share count and the S & P 500's historic average PE ratio, the stock should be valued at $4.40 per share.
That means Universal Power Group is 61% undervalued on a NCAV basis and has to rise 160% before reaching fair value; or 69% undervalued if it can reach just half of it's 2010 profitability and would have to rise 219% before it reached fair value on an earnings basis.
So should investors buy? Yes. I did. This is just the type of bet I like - safety of principle with a high probability chance of earning significant profits.
Disclosure: I am long UPGI, . I wrote this article myself, and it expresses my own opinions. I am not receiving compensation for it (other than from Seeking Alpha). I have no business relationship with any company whose stock is mentioned in this article.