Tuesday was a whirlwind for Tesla (NASDAQ:TSLA) this week. We had bullish production guidance coupled with a "recall" story that several media outlets irresponsibly reported as if vehicles were being returned to the factory; until CEO Elon Musk appeared on CNBC's "Closing Bell" Tuesday afternoon and set the record straight.
He also looked like he hadn't slept in about a month. I love it; he's likely too busy just getting things done.

Tesla has been on a rally since then, up over 20% as it pushes back towards its highs. It's currently trading around $172 and pushing back to the territory it was in before Q3's results were announced earlier in 2013.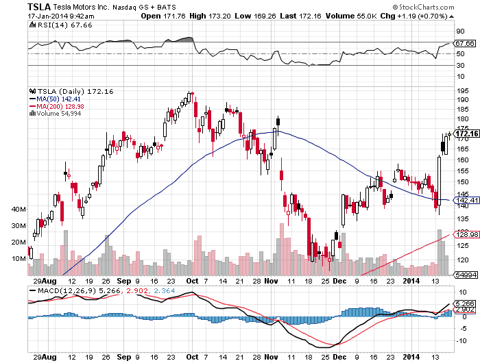 My only screw-up was unloading my $143 calls a little bit early in the rally. But, as my friend told me, "I know a guy who made a great living selling too early." And, don't get me wrong, I'm still bullish on Tesla in the long-term; the only question is going to be when I'll add, and whether it'll be stock or options (or both).
Tesla was upgraded this morning by Wedbush analyst Craig Irwin, who called for a price target of $205.00 and slapped the company with an "outperform" rating. The analyst comments were reported by StreetInsider.com here:
"We hosted investor meetings with management from Tesla and came away with further confidence in our constructive thesis," said Irwin. "Tesla's 4Q13 deliveries upside of around 1,000 units versus our prior estimate was driven primarily by increased battery availability from Panasonic, as well as a material improvement in direct-run vehicles."

"We believe the recent constraints that Panasonic's available production capacity have presented are likely to be resolved by 2H14 when shuttered capacity is likely to be re-commissioned to produce batteries for Tesla. The cost-out roadmap of a mid- to high-single-digit percent reduction in annual battery costs should support a continued tailwind for 2014 Model S gross margins," continued the analyst.

"We see increasing potential Tesla could add another Model S production line in 2014 to serve what the company describes as robust demand," he added.
In all of the valuations of Tesla, people are focused on the production and sale of vehicles. But, you have to ask - when pushing the front of a semi-emerging market (electric vehicles), what kind of price can you put on the solutions that Musk and his team are coming up with as they encounter challenge after challenge. And, furthermore, how many of these solutions will hold monetary value once Tesla is established and others start to follow in its path?
As a logical connection to Tesla solving its own production problems comes another benefit: Tesla could hold IP or patents on certain electrical car based problem that they could either license or outright provide to other electric car makers. For instance, the battery issue - if Tesla develops and engineers in house solutions for its battery, don't you think other electric vehicle makers are going to want to apply the same technology to their vehicles?
Much like what Musk is trying to do with SolarCity (SCTY) - in making an affordable and "everyday" method for storing solar power for when it's needed - not just for when it's sunny. These are big solutions to big problems that will have ripple effects within their industries, no doubt.
So, while I think our friend at Wedbush is definitely on the right track, I also think there's an even bigger picture to look at. I was skewered for this "bird's eye" view of the situation in the comments to my article, "Tesla: What Price Multiple Can You Put on True American Innovation?". I said in my last article:
There are very, very, very few companies that can honestly command such a wicked valuation. Most companies valued like this are in the social media sector, where the world's smartest people are sitting around in a room somewhere trying to figure out ways to get you to click on ads.

Tesla, on the other hand, is about to introduce a paradigm shift to one of the most prestigious, long-standing industries in the history of U.S. manufacturing. Slight difference.
Then, a bunch of people in the comments told me how stupid I was for throwing the numbers out the window and taking a "zen like" approach to my analysis of Tesla.
But, in an industry like this, with a product like this, a lot of forward thinking and perspective are necessary - especially if you want to buy into a stock that does trade at a multiple like Tesla's.
As Tesla continues to innovate, they continue to build these quiet possibilities for potential additional revenue - all happening in the background as a byproduct of the business of developing and selling their vehicles.
I remain long-term bullish on Tesla. Best of luck to all investors.
Disclosure: I have no positions in any stocks mentioned, and no plans to initiate any positions within the next 72 hours. I wrote this article myself, and it expresses my own opinions. I am not receiving compensation for it (other than from Seeking Alpha). I have no business relationship with any company whose stock is mentioned in this article.