Box Ships Inc. (NYSE:TEU) is an international shipping company based in Greece that was formed in 2011 by parent company Paragon Shipping (PRGN). It specializes in the shipment of containers. Currently it operates a fleet of 9 vessels with average age of 8.8 years and total carrying capacity of 43,924 twenty-foot equivalent units - TEU's.
Box Ships has really fallen on hard times lately, as has most of the shipping industry. In fact, since their IPO in 2011 shares of TEU have dived over 73%. The company has had multiple share offerings since it's IPO, adding roughly 10 million shares of common stock and preferred stock. Also, in November Box Ships cut its dividend in half. This drove out many of those investors who were simply holding on to shares for the yield.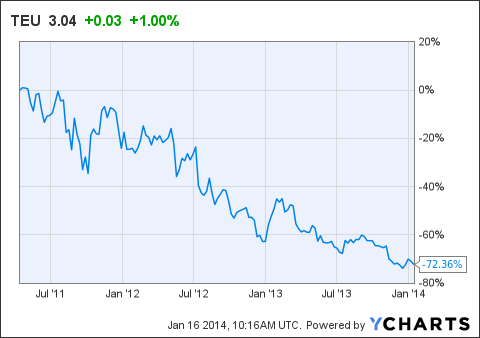 It's been a painful first 2 years for investors in TEU. While this all may look discouraging, I believe it offers new investors a great opportunity to play a turnaround in the dry bulk shipping industry. The overall shipping industry has been slammed the past five years. This began with the market collapse of 2008 in the U.S., which was followed by a tremendous slowdown in the global economy and trade. Also, there were issues specific to the industry that added to this downward pressure - oversupply to the operators resulting in record low shipping rates, increased competition, and tiny profits. Basically we had a global economy in recession with an oversupply of shipping vessels which combined to have a drastic affect on most companies involved. In this environment or reduced rates and demand, shipping companies are not willing to lease their ships unless they can make money.
However, despite coming into existence during the worst period possible (looking at the chart below) Box Ships has been making money during this time. In fact, better than most. They've had one of the highest operating margins in the industry over the past 2 years, which currently sits at about 34%. They've posted a net profit for 10 straight quarters.
Recently, the shipping industry has shown signs of a turnaround. Looking at a 5-year chart of both the Baltic Dry Index and the Guggenheim Shipping ETF (NYSEARCA:SEA), you'll notice that both are in an upward trend, well above their lows from back in 2012.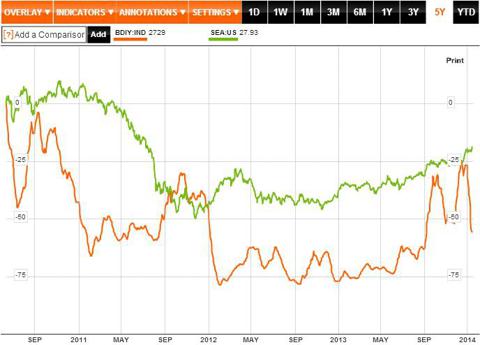 Morgan Stanley shipping analyst Fotis Giannakoulis recently said that the shipping industry is in the beginning of a two year rally. He sees the demand growth for ships finally outpacing the supply growth in 2014 as well as 2015, for the first time in over 5 years. Fotis is also one of the four analysts who covers TEU. Unfortunately, he just downgraded his rating of Box Ships to "underweight" with a price target of $2.50. Overall average price target is $3.67 with 1 sell and 3 holds, representing a 21% upside from current share price.
The Dividend Is Safe Now
Despite the recent dividend cut, shares still yield almost 8% annually, paying out $0.24 in dividends per share every year. With a total float of around 25 million shares, this comes out to $6 million in dividend payments. Preferred shares pay out $1.2 million in dividends annually, for a total of about $7.2 million. Free cash flow came in at $32 million in 2012 and I estimate that it will be at $18 million for 2013 once the final quarter's numbers are released in February. As you can see, TEU is generating enough cash to meet all its commitment to shareholders.
During the company's November earnings call, President and CEO Michael Bodouroglou acknowledged that the dividend cut was both significant and unfortunate. Box Ships is a company that really wants to reward shareholders, and the tone of this call reflected the management's disappointment in not being able to do that so far. He attributed the cut to the company wanting to maintain and improve it's financial position as several of their ships are coming off time charters soon, and they currently only have a 48% fixed rate coverage for 2014, and 20% for 2015. So rather than pay out the previous dividend at unsustainable rates, it made the cut to ensure that while they seek out leases for their fleet in the next 2 years they can still pay somewhat of a nice dividend. Bodouroglou also offered this statement, which bodes well for the future of the dividend:
"The company remains committed to its policy of paying excess cash flow after debt service in the form of a dividend despite very challenging times. As a result, the board of directors will be evaluating at regular intervals market conditions to determine a potential increase in the dividend to prior levels as we find employment for our vessels that are coming off charter in the coming months."
Financials
Looking at TEU's financials you'll see they are undervalued right now. EPS over the past 12 months is $0.47 - adjusted for nonrecurring items they are $0.82 - so shares are currently trading with a PE ratio of less than 6.5 - much cheaper than the current "shipping" industry average of 11, and the overall "transportation" sector trades at a P/E of 28.
The price/book ratio is a bit misleading for Box Ships. You'll see that shares currently trade at a P/B of 0.3 - extremely low for any company. But this $9.50 in book value per share is equated using prices paid for their inventory of ships (minus depreciation). The real value of these ships is found in the market prices being paid today, which are substantially less that what Box Ships paid for their fleet. While Box Ships values their fleet inventory at around $390 million, the reality is that it is much less.
I estimate their fleet of 9 ships, aged 8.8 years on average, to be worth about $225 million at current market prices. Heck, new ships of equivalent size can be bought for around $40 million, giving the fleet of 9 ships a value of $360 million if they were brand new, which they aren't. So using my estimate and adding in current and other assets, I calculate book value to be around $3.25 per share. This is where you see the current share prices hovering around, and that's because I believe the market is valuing TEU using a similar approach as me, and has priced TEU as if they were headed toward bankruptcy.
Long term debt has been on the decline since incorporating in 2011, which is a key factor I look for when looking at a potential value play. After beginning with around $200 million in long term debt, TEU hasn't taken on any more, and the level currently stands at less than $160 million, giving the company a 40% debt-to-capitalization ratio - fairly moderate and less than their industry peers which average 52%.
Conclusion
The bottom line here is that an investment in TEU is a bet on a few things happening:
1. The overall global economy continues to improve and rates continue to rise, bringing the shipping industry along with it.
2. Demand for shipping grows faster than supply over the next 2 years.
3. Box Ships finds more employment for its ships within the next couple of quarters.
The third point is the most important - if Box Ships doesn't get the charters which expire in 2014 replaced in a hurry, they will start burning through a lot of cash quickly.
Obviously I think there are better companies to own in the shipping industry that are safer plays than Box Ships. A few of these are Navios Maritime (NYSE:NM), Seanergy (NASDAQ:SHIP), Safebulkers (NYSE:SB) and DryShips (NASDAQ:DRYS). But if you're the type of investor who's looking for a high yield you won't find it in those companies. Also, if you are looking for a beaten up, oversold, and undervalued company to play the shipping turnaround - Box Ships should be on your radar. You'd be hard pressed to find a better company to go "bottom feeding" with. I believe the recent dividend cut was the right move, and that we have finally reached the point where there is little downside in shares of TEU. Shares are currently yielding over 7%, a lot less than they've historically paid but still it helps to get paid a bit while you wait on the turnaround in share price.
For the brave investor who can take on some risk, I recommend starting a small position in TEU at any dips back under $3.00. Personally, I'll be looking to the company's next earnings release in February to see how it's outlook for 2014 and 2015 has improved before making any real investment decision. If fixed revenue days have improved and TEU has entered into new lease charters at improved rates, then I'll be starting a position in common shares of Box Ships, Inc. Also worth noting - if you are simply looking for yield and a safer investment, noted income investing expert and fellow SA contributor Kraken recommends the series C preferred shares, yielding 9.5%.
Disclosure: I am long NM, . I wrote this article myself, and it expresses my own opinions. I am not receiving compensation for it (other than from Seeking Alpha). I have no business relationship with any company whose stock is mentioned in this article.