Over the past month we have had an awful lot of news from the transportation stocks, and this week we have gotten news that was not so rosy. CSX (NYSE:CSX) did surprise us with their quarterly report, as the weakness there seems to be real. Today's news from United Parcel Service (NYSE:UPS) did not surprise us at all, as we have previously speculated that this quarter would be a mess for both them and FedEx (NYSE:FDX) after they botched the holiday shipping season.
With the improving economy we think it is still wise to be long the transportation stocks, but no longer by blindly investing in them across the board. It appears that now it is a stock pickers' market in the transportation sector and that a name such as Union Pacific (NYSE:UNP) should be at the top of one's list to buy. Yes it is a boring name, but more importantly it is a company which has proven that it can operate in a myriad of economic conditions in a successful manner and that is one management team that has their act together.
Chart of the Day:
Transports have outperformed the Dow Jones Industrials quite strongly since September of last year. We think that the industrial stocks will be able to close that gap in the coming months before the transports get another opportunity to outperform.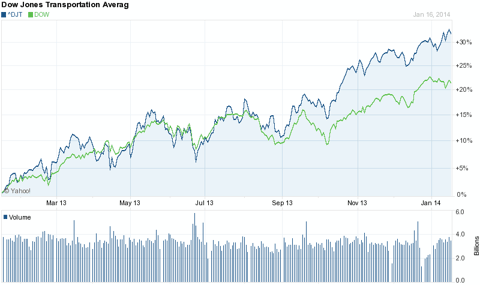 Source: Yahoo Finance
We have economic news today and it is as follows:
Housing Starts (8:30 a.m. EST): Est: 986k Act: 999k
Building Permits (8:30 a.m. EST): Est: 1000k Act: 986k
Industrial Production (9:15 a.m. EST): Est: 0.3% Act: 0.3%
Capacity Utilization (9:15 a.m. EST): Est: 79.1% Act: 79.2%
Mich Sentiment (9:55 a.m. EST): Est: 83.0 Act: 80.4
JOLTS - Job Openings (10:00 a.m. EST): Est: N/A Act: 4.001 M
Asian markets finished lower today:
All Ordinaries -- down 0.06%
Shanghai Composite -- down 0.93%
Nikkei 225 -- down 0.08%
NZSE 50 -- down 0.56%
Seoul Composite -- down 0.66%
In Europe, markets are trading higher this morning:
CAC 40 -- up 0.02%
DAX -- up 0.16%
FTSE 100 -- up 0.09%
OSE -- up 0.46%
Commentary
We came under fire after expressing our belief that both UPS and FedEx would have problems arise after their holiday shipping issues were reported on. Those comments created a lot of discussion among our readers about how little or how much the reports of shipments arriving after their promised delivery dates really meant. Many simply believed that it was a non-story that the media were injecting with a shot of sensationalism and that it would quickly blow over.
We did not buy into that and today UPS confirmed our thinking that it would impact the bottom line. Our guess is that this might even carryover to FedEx and be the Christmas that both shippers remember and craft future plans around.
After the large run-up in the last quarter of 2013 we think that names such as UPS will see underperformance in the early parts of 2014.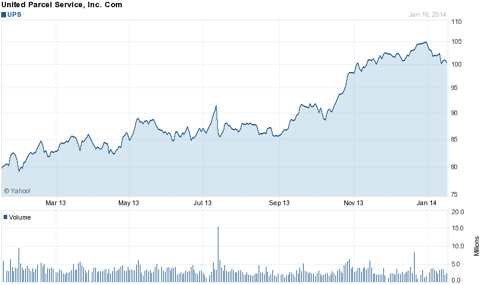 Source: Yahoo Finance
Now to be sure, there were record packages shipped later in the season which is a good thing as it means that more consumers were utilizing express services (although a good portion of these were probably via online retailers who get pricing discounts). The problem is that more workers than expected were required later in the year and the man hours simply were not budgeted, thus allowing labor expenses to get out of hand in a big way.
Long story short, UPS expects to report EPS of $1.25 for the fourth quarter versus the $1.43 that Wall Street analysts expected. That is a sizeable miss and unless FedEx did something entirely different to manage their workflow and logistics, then we would expect their expenses to have risen higher than expected as well.
Looking at the railroad names we still like Union Pacific as our top pick in the sector. We are a little concerned with CSX after their latest results showed pricing weakness and the possibility that coal is beginning to take a toll on their results. Also of importance for readers who are heavily invested in the sector and may own more than one railroad stock is the quarterly results due out from Norfolk Southern (NYSE:NSC) next week. Norfolk Southern operates in the same geographical area as CSX with a lot of overlap and we are curious as to how that overlap will play out in the numbers. Will the weakness in Appalachia and the coal industry also show up in Norfolk Southern's numbers in some way?
Union Pacific is one of the few names we would not sell when trying to lower exposure to the transportation sector. It pays a decent dividend, has a diversified business base (customer and geographically) and very capable management team.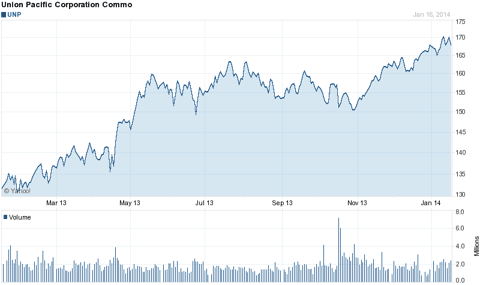 Source: Yahoo Finance
Right now it appears that we are due for a correction of sorts from the transportation stocks. Although we do not necessarily see this done via the sector declining we do see underperformance over the next few months in relation to the industrial names. It is important to note that it is likely the transports rise at a slower rate than industrial names or simply trend sideways. How it happens is of less importance to us than if it happens as we think the trade now is to be short the transports and long the industrials. As we dislike being short anything, we would achieve this via selling exposure that was already owned in the transportation names to buy exposure to the industrial names.
Disclosure: I have no positions in any stocks mentioned, and no plans to initiate any positions within the next 72 hours. I wrote this article myself, and it expresses my own opinions. I am not receiving compensation for it (other than from Seeking Alpha). I have no business relationship with any company whose stock is mentioned in this article.