Monday was the first day of the 2014 Detroit auto show, and two of the biggest stories include General Motors' (NYSE:GM) Car of the Year award for the Corvette, and the redesign of Ford's (NYSE:F) classic F-150 truck. GM's Corvette win is another sign American car design is on its way back after decades of losing ground to foreign manufacturers. And the F-150, the best selling vehicle in the U.S. for the last 30 years, has a new design that will boost fuel efficiency to nearly 30 MPG on the highway. The secret of both cars' success? Aluminum.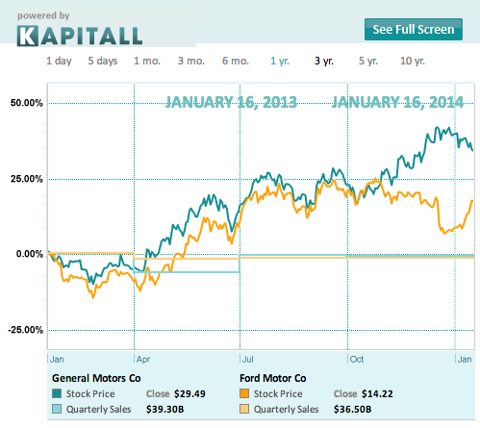 (Click to enlarge. Sourced from Zacks Investment Research.)
In the past, the price of aluminum was a barrier to use in anything other than luxury models, but as Ford CEO Alan Mulally (who passed up a lucrative job switch to Microsoft) explained, a historic drop in the price of aluminum will make it "the next material for the automobile industry." In fact, the new F-150 is just the first effort Ford is making to switch its entire fleet of trucks and SUVs, including the Expedition and Lincoln Navigator to aluminum construction in the near future. Other car manufacturers are getting into aluminum as well as global fuel economy laws go into effect.
Increasing car sales to an automobile hungry China, growing demand for aluminum in airplanes and consumer goods (like aluminum wrap and beverage cans), and higher aluminum demand in commercial building and construction are all good news for the global economy. But is it good news for the companies that mine and refine aluminum? Like many commodity prices, aluminum prices fell during the world economic crises in 2008 and 2009 and recovered by 2011 to a high of $2,667.42 (USD/MT). Since then the metal has lost 35% of its value, closing in December 2013 of $1,739.81.
Companies like Alcoa (NYSE:AA), Rio Tinto (NYSE:RIO) and BHP Billiton (NYSE:BHP) with "upstream" mining and refining operations have taken a hit for the last two years. Rusal, a Russian company and the world's largest producer of aluminum, has limited its production in response to low prices, as has Alcoa, which will curtail its production by 11% by mid-2014. Still, the world aluminum glut may not unwind for several more years, which has lead industry leaders to diversify their operations from "value-add operations" more independent of raw materials prices. These industry leaders are retooling for "downstream" businesses that make aluminum products for other industries -- like automotive and aerospace.
Alcoa's particular case was further eroded when it announced a $384 million settlement in a bribery and corruption scandal. The result was a catastrophically negative earnings season with reported earning of negative $2.19 per share, and the stock priced dropped to under $10 per share, on its way south as many analysts predict a tough year for the former Dow bellwether.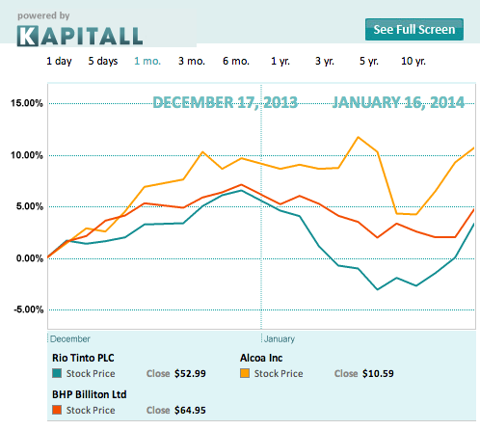 (Click to enlarge. Sourced from Zacks Investment Research.)
Though analysts like Christopher Salerno argue that the very long term prospects of Alcoa are good, there may be better news for breakout sectors that use aluminium, or are involved in an associated process that will benefit from its low cost and subsequent increased use. In the first place, companies that use aluminum like Boeing (NYSE:BA), United Technologies (NYSE:UTX) and Lockheed Martin (NYSE:LMT) in aerospace, and automobile manufacturers like Ford and GM are benefitting in two directions: from continued depression in aluminum prices and an uptick in global demand as the Great Recession recedes into history.
Commercial builders, who used 2.13 billion pounds of aluminum in 2009, can expect a bottom-line benefit from continued weakness in aluminum, along with companies like Ball (NYSE:BLL) that make the aluminum containers for thousands of commodities. In addition, companies that perform associated operations like PPG Industries (NYSE:PPG) and RPM International (NYSE:RPM), which make industrial coatings and cladding materials, respectively, stand to benefit from the projected growth of aluminum associated industries in 2014.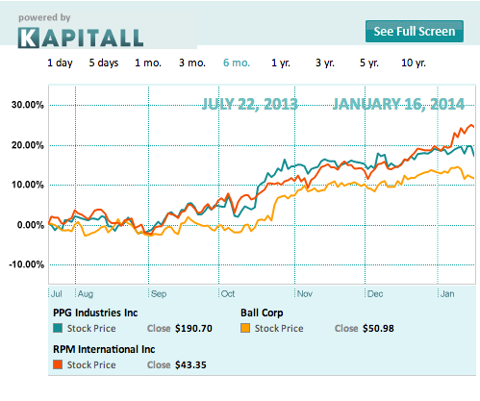 (Click to enlarge. Sourced from Zacks Investment Research.)
From a contrarian standpoint, 2014 might be a good place to find bargains by picking up undervalued shares of miners and refiners like Alcoa, Rio Tinto and BHP Billiton. If a global economic rebound is in the cards, and if the industry-wide effort to scale back production decreases current supply, the margins of these companies could reach highs they haven't seen in 10 years. If they have also taken their moment of weakness as an opportunity to reexamine their cost structures and build up their cash positions, 2014 could be the year you wish you'd bought the aluminum dogs. But the immediate winners will be the car makers who see a bright future in shiny aluminum.
Disclosure: I have no positions in any stocks mentioned, and no plans to initiate any positions within the next 72 hours.
Business relationship disclosure: Kapitall is a team of analysts. This article was written by Will Kenton, one of our writers. We did not receive compensation for this article (other than from Seeking Alpha), and we have no business relationship with any company whose stock is mentioned in this article.