I could get into the numbers behind the movement in both GameStop (NYSE:GME) and Electronic Arts (NASDAQ:EA) stock over the last year - but more importantly, you need to understand the underlying driving force behind both companies. There's plenty of QA out there on both companies, so I'm going to avoid getting into that in this article.
GameStop will likely not make it to 2020. Electronic Arts is going to continue to thrive.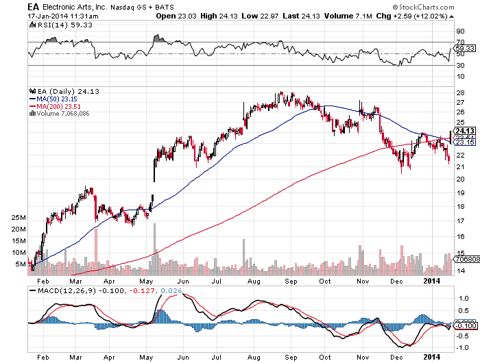 Excellent analysis of EA's numbers by SA Contributor Valuentum here.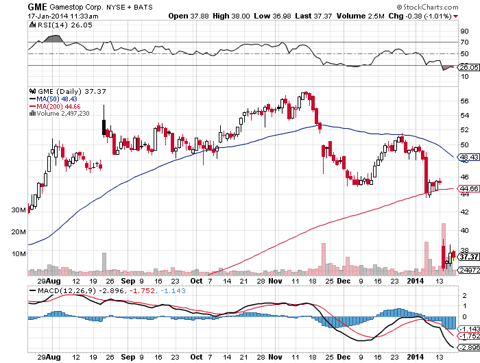 Excellent analysis of GameStop's numbers by SA Contributor J. Mintzmyer here.
Onto the bigger issues at hand here and the "common sense" approach to investing in these companies.
Simply put: GameStop is failing because it is failing to evolve.
In an age where most gaming consoles will be able to stream games and download them, GameStop has a dying model. Not only are physical retailers getting clipped by companies that sell online, but even more so will the hit be felt in the media industry.
Streaming media is a no brainer - it gets you the media you want, when you want it, for the same price. Items like clothing, which require a physical presence to try on, etc., will eventually fade out as well, just not as quickly as media. The death of the media retail store is a direct byproduct of the online buying trend - think Blockbuster Video. Media is the early adopters of the coming streaming revolution. I plan on covering this in depth in a future article that details the coming death of the shopping mall.
Anyway, GameStop isn't an online or tech company, it's simply a retailer - and therein lies its Achilles heel. GameStop competes with companies like Amazon (NASDAQ:AMZN) for sales of consoles and video games - like the ones manufactured by Electronic Arts.
Recently, GameStop tanked on news that its holiday sales weren't nearly what analysts and the company had expected. This correlates with the increased number of online shoppers and sector-wide pullback in physical retail this year.
From NASDAQ.com:
Shares of GameStop Corp. plunged roughly 20% yesterday on lowered earnings outlook as demand for Microsoft Corp. 's Xbox 360 and Sony Corp. 's PlayStation 3 software was soft during the holiday period. This resulted in a 22.5% drop in the videogame retailer's new software category sales.
But don't read it like that.
It wasn't that people weren't buying the new Xbox or PlayStation:

It was that they weren't buying them at GameStop (or, according to yesterday's news, at Best Buy either).
And, if you think the promise of continued major Xbox and PlayStation sales could offer a bump to companies like GameStop, you're wrong - step back and unfocus your eyes a bit - catch the bigger picture. As the noose around physical retail continues to tighten, companies like GameStop are going to start to feel the heat more and more.
Additionally, let's factor in that online streaming of games has yet to even hit companies like GameStop, but 2014 looks to be the year that it could start:
One of the defining features of both next-gen consoles is their ability to stream live gameplay. Although Sony has had issues with several elements of the PlayStation 4 launch, Twitch and Ustream have been running smoothly right out of the box. This isn't going to be the case for the Xbox One, however. Microsoft's latest post on the Xbox Wire states that "[Twitch streaming] won't be available right away" but the team will be looking to "deliver it during the first part of 2014." Instead, Xbox Live Gold members will be limited to viewing broadcasts until Xbox One streaming is ready for primetime.
So, GameStop has a rough road ahead from a strategy perspective. On the other hand, we have video game developer Electronic Arts.
Simply put : EA re-evolves every year.
While Microsoft competes with Sony and GameStop competes with companies like Amazon - EA is the company that they're both trying to sell in the process.
EA is a software company that is evolving. As a matter of fact, its sports line of video games has one of the greatest business models in history - they update every year and re-sell new versions of their software. And, as any loyal sports gamer (the FIFA series, for me) will tell you, I'm loyal to EA and I update every year. This loyalty helps EA fuel billions in recurring revenues each year.
EA thrives on retail competition - even online versus physical - everyone is pushing to the front of the line to sell EA's product. Aside from the recurring Madden, FIFA, NHL, NCAA and NBA lines that the company has, they also develop franchises like Battlefield and Need for Speed. EA's games consistently rank at the top of the list; above other developers like Take Two and Activision. EA's product is superior, and will continue to sell.
So, no matter what side of the console coin you happen to be on, chances are you're going to be running games by EA.
And the onset of new consoles means the onset of a new cycle of video games for EA to develop. EA is a company with future value that's going to be around for many years to come. I would consider EA a safe vehicle for investing in the 5-10 year term. On the other side of the coin, I'd be wary of throwing my money at GameStop, unless the company can evolve considerably in the coming year.
Best of luck to all investors.
Disclosure: I have no positions in any stocks mentioned, and no plans to initiate any positions within the next 72 hours. I wrote this article myself, and it expresses my own opinions. I am not receiving compensation for it (other than from Seeking Alpha). I have no business relationship with any company whose stock is mentioned in this article.