Continuing our analysis of "The Dirty Dozen" (the biggest 12 stocks in the Nasdaq 100 (NDX), making up 52% of the index's capitalization), Microsoft (NASDAQ:MSFT) which makes up 5.4% weighting is reporting on 1/23 after the close. Yes 12 stocks is all it takes to make up more than half of the Nasdaq 100.
Fundamentals: Microsoft announcements were in full force at CES ranging from laptops to tablets. Which lines up nicely with the essential party line…"yes tablets are taking off - but PCs are still important". The important part of that line is that with Windows 8.1 and a growing array of devices, Microsoft is squarely in the tablet and PC markets.
This quarter, we expect Xbox to bring some gifts to the balance sheet. Noting that Bill Duff (CFO Operating Systems) of Microsoft said in an interview with John DiFucci on January 7th, "We launched Xbox One in the fall, and we feel great about the product and great about our sales results thus far. ". We also see slow growth for Windows Phone, and continued strong growth in licensing and the online services businesses.
With $4B in cash at the end of last quarter, it will be interesting to see how the markets and earnings have treated the rest of the balance sheet.
Estimize thinks Microsoft will do only slightly better than the Wall Street consensus with EPS at .69 vs. .067 and revenues of 23,619 vs. 23,494. That lines up nicely with the average target price coming in at $37.51.
The chart has room for a price in $37.51 range if not a little higher so long as the market likes what they hear. Last quarter, Microsoft called out a few keys to their future that will be important to get some insight into.
Progress toward these longer term goals is important for the heavy institutional ownership base, which is why they are important to keep track of. When these investors increase/decrease their positions the stock price can truly be affected. We want to see progress against these to support a higher stock price the reporting structure put in place at the begining of this fiscal year will still likely give a few retail investors a bit of confusion, but most of the ownership is institutional and they will be ready to quickly analyze the numbers.
As noted above Xbox One will likely beat expectations and will be reported in the Consumer Hardware segment. We see this as a reason to look toward a positive price movement. We will be looking for continued growth in Office/Office 365 (which will now be broken out into Licensing and other for both consumer and commercial) as well as Server/PC growth which is captured in the Commercial Licensing segment. These should be continued stable growth which means more cash in the bank and more recurring revenue to build on next quarter.
Technically, the monthly bar chart shows the pattern since the '00 peak as a massive consolidation of the ballistic rally into that Tech Bubble peak/reversal period. The only Elliott Wave impulsive patterns are the crash from the peak to '01, and the crash of lesser degree (but still 59%) during '08. None of the other up or down trends maintain the guidelines of Elliott Wave Theory, so have to be considered as corrective moves within the larger pattern of ongoing consolidation off the '00 peak. The blue vectors in the top and bottom panes, show the divergence between higher highs in price and lower highs in stochastics since early '12, confirming that the rise off those price lows is still within the larger consolidation, and not a new rally to jump onto at this point.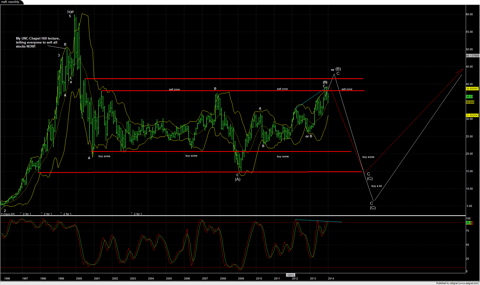 Note the (Fibonacci number) 13-year consolidation, mostly contained within the bold, red, horizontal bands, and where prices have just been rejected from. We don't create these reversal points, the crowd's behavior does. We simply connect the dots. CLEARLY, the 40 +/-2 zone is important to the crowd, and breaking 34.50 should be considered an ominous harbinger for the next couple years, with a probable retest of 21 +/-2, and possible retest of 16 +/-1.
Very short term, if Microsoft is going to make another run at the upper bold, red line (approx. 41.50), which would represent the highest price since the July '07 failing bounce/reversal point, it must do it in the next few days/week, as once the daily stochastics rollover, joining the already crossed-down weekly and monthly, there will be too much technical weight to overcome, as the 39 level now represents 2 standard deviations above the 200 daily moving average, and 41 now represents 3 standard deviations. Statistically, that zone is known as "nose-bleed" territory, and prices typically run away from it before they bleed out.
There are always things that could go against our analysis. We see risks coming from the windows phone business being looked on poorly by investors. We also see a potential of growth slowing in the Office 365/Azure businesses (due to Google & Amazon growth). The last headwind being a continued lack of growth in the Bing business. Of those headwinds we see Google and Amazon continuing to strengthen their positions which are affecting all of those businesses. If there is a lack of growth in these areas, the price will likely decline towards the $34.50 support mentioned earlier.
The earnings will be reported after the bell on 1/23 and we will of course be watching to see how this one stacks up against our views. We maintain a long position for the $39-$41 range at which point we'll happily exit or further protect our position.
Disclosure: I am long MSFT, . I wrote this article myself, and it expresses my own opinions. I am not receiving compensation for it (other than from Seeking Alpha). I have no business relationship with any company whose stock is mentioned in this article.