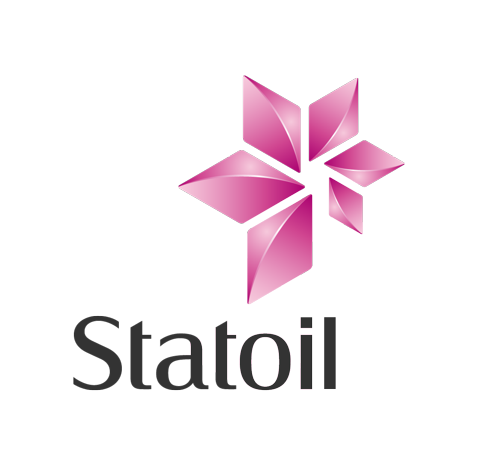 Perhaps you were thinking Exxon (NYSE:XOM), BP (NYSE:BP) or Chevron (NYSE:CVX)? Nope: Statoil (NYSE:STO) discovered more oil and gas in 2013 than did any other company. You can view a list of their main discoveries here. But this is actually nothing new. According to data compiled by IHS Global and Statoil, this is the 3rd year in a row STO has led the industry in finding oil and gas. While Statoil might not be the flashiest oil company, and its majority ownership by the country of Norway is seen as a negative by many investors, the company's exploration success bodes well for why I own the shares: stable long-term dividend income.
Statoil: Leading the Exploration Industry For 3rd Year Running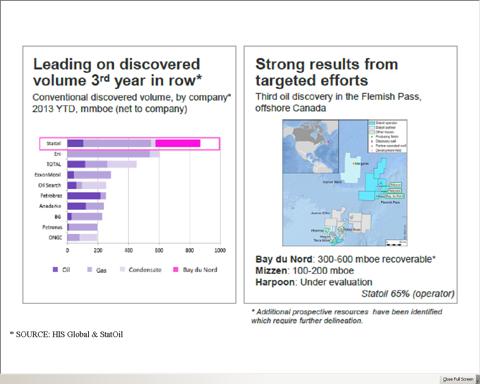 The graphics above were taken from Statoil's October 30, 2013, Q3 presentation and depicts YTD volumes. The company made additional discoveries in Q4 including Snilehorn and another 2-3Tcf (360-540 million boe) from Tanzania. Two of its biggest discoveries put Statoil on the Forbes' 10 Biggest Oil and Gas Discoveries of 2013:
Statoil is the operator of the Tanzania wells and has a 65% interest. Exxon Mobil holds the remaining 35%. Statoil plans to drill 9 to 12 exploration and appraisal wells in Tanzania by early 2015. STO and BG (NYSE:BG), which has also made significant gas finds in Tanzania, have submitted proposals to build an onshore LNG facility to serve the Asian markets.
Bay du Nord was the largest oil discovery in the world in 2013.
Optimizing The Portfolio
But of course there is more to running an oil company than exploration alone: quarterly earnings, production growth and optimizing the portfolio are three that come to mind. On the portfolio optimization front, STO gets high marks. The company realized ~$17 billion (US$) in proceeds from divestments from 2010 through 2013. STO will use the proceeds to pay down debt and focus cap-ex on the most economic opportunities and toward developing its biggest discoveries. By slimming down the portfolio STO has strengthened its balance sheet and reduced cap-ex exposure by ~$7 billion. In addition, STO reduced its net debt to capital employed from 21% in the second quarter to 17% at the end of Q3.
Earnings
As for growth in earnings and production, the company has been less impressive. From the Q3 earnings report we can see that earnings were down 31% in the first 9 months of 2013 as compared to 2012. Q3 earnings were impacted by non-recurring refinery impairment losses and to provisions related to a redetermination process. Adjusted earnings were actually slightly above the same quarter of last year. Consensus EPS for 2014 are $2.54. That puts the forward PE ratio at 10.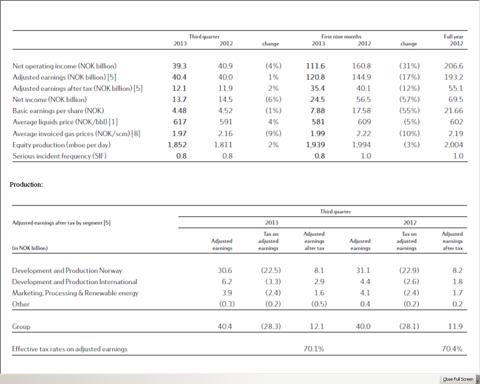 A bright spot in Q3's earnings was STO's international operations. International adjusted earnings were 6.2 billion NOK versus 4.4 billion NOK in the year earlier quarter. International production increased by 13% in US onshore, Angola and Brazil. Over the last several years Statoil has secured excellent positions in the Bakken, Marcellus, Eagle Ford and the US Gulf of Mexico.
With all the asset sales and discontinued operations, year-over-year production analysis is quite difficult. According to the company, after adjusting for divestments and discontinued operations, production was up 6% in Q3. Going forward, asset sales appear to be mostly in the rear view mirror. It has a ambitious plan to grow production to 2.5 million boe/day by 2020 compared to 1.94 million boe/day in the first nine months of 2013. Production growth is likely to be lumpy as large projects come online.
Summary and Conclusion
Statoil has established itself as one of the premier oil and gas explorers in the world. The country now has a bevy of oil and gas projects to exploit. Although the company will surely face some challenges in the road to its aggressive 2020 production growth target, it certainly has the portfolio, projects and proven management skills to reach that goal. The company has a plethora of discoveries it could monetize by taking on partners. However, with a debt to capital ratio of only 17% at the end of Q3, the company can afford to consider partnerships from a position of strength as opposed to necessity.
The government of Norway holds a majority of Statoil shares (67%). This hurts valuation due to the lack of independence and the relatively high tax rate there. However, there are positive indications the newly elected government may loosen control over the company.
I am hoping the company will quit the once yearly dividend and go to a quarterly payout like most other oil companies. The company is considering making the change. That should smooth out the swoon the stock normally takes post the ex-div date (mid-May, payout in June) and soft trading until the next year rolls around. The dividend has averaged ~4% for years now, after the 15% ADR withholding tax. Last year the ADR payout was $1.14 per share ($0.97 after withholding).
The bottom line is this: Statoil is ATTRACTIVE for long term income-oriented investors. STO can compete with anybody out there when it comes to finding oil and gas. It is a world class energy company.
Mkt Cap: $79.5 billion
P/E ((ttm)) = 12
EPS ((ttm)) = $2.09
Div (Yield) = $0.97 (3.9%)
NOTE: Div (Yield) Based on last ADR payout - 15% withholding and yesterday's closing price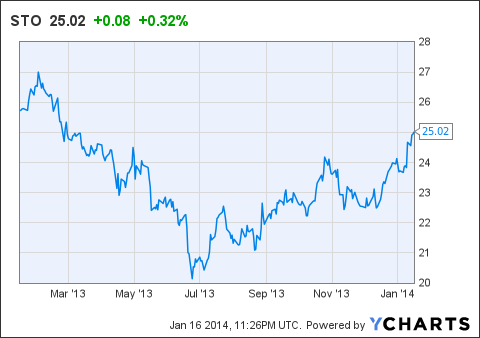 Disclosure: I am long STO, XOM. I wrote this article myself, and it expresses my own opinions. I am not receiving compensation for it (other than from Seeking Alpha). I have no business relationship with any company whose stock is mentioned in this article.
Additional disclosure: I am an engineer, not a CFA. The information and data presented in this article was obtained from company documents and/or sources believed to be reliable, but has not been independently verified. Therefore, the author cannot guarantee its accuracy. Please do your own research and contact a qualified investment advisor. I am not responsible for investment decisions you make. Thanks for reading and good luck!