By Brandon Matthews
Click images to enlarge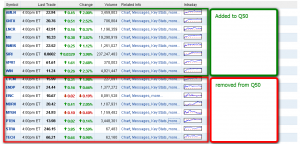 As we reported Monday, shares of Sirius XM Radio (Nasdaq: SIRI) began to rise sharply as volume spiked to over 237 million shares on no news…at least no new news. There was news coming out of Detroit that suggests that March will be an exceptional month on the automotive front, with news of a 13 million unit SAAR rate being confirmed. Despite this being positive for Sirius XM, this news was reported last week, so there is no surprise there.
There was also the fact that Sirius XM had been added to the Nasdaq Q-50 Monday. A comparison of Sirius XM to the other seven additions revealed that Sirius XM was the only company to see a dramatic spike in volume, and SIRI shares also recognized the highest daily percentage gain of all the additions. A check of those companies being removed revealed no exceptional price or volume moves.
As I eluded to in the article, this leads me to believe that news of the Nasdaq's approval of Sirius XM's continued listing is being leaked. I have since studied the trading patterns of several other companies that had received non-compliance letters and subsequent approvals by the Nasdaq Hearings Panel. In each instance, companies that were due to receive a notice of delisting had sold off in advance of the notice, which honestly comes as no surprise.
The surprising aspect was in the case of the Hearings Panel approval of companies that had received a stay, based on a plan of regaining compliance. I discovered many instances in which the company receiving the approval realized large volume and price increases, not on the news, but days ahead of the news. Let's use a recent case as an example.
Aastrom BioSciences (Nasdaq: ASTM) received its official notice that it had received a stay which allowed it to remain listed on December 8, 2009, and promptly issued a press release the following day. The stock showed little reaction. However, on December 2, 2009 (six days before the official release), ASTM shares soared 30% on nearly ten times its normal daily trading volume.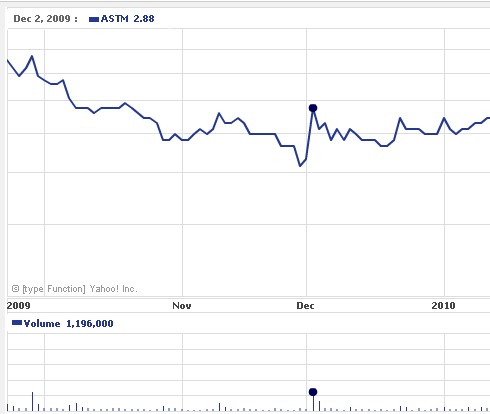 Another example can be found with Southwest Water Corporation (Nasdaq: SWWC) which began a substantial climb three weeks prior to its official announcement that it had been issued a stay. During the three weeks prior, SWWC shares climbed steadily from a low of $4.68 to a high of $5.83 on the news.
There has been no announcement that the Hearings Panel has heard Sirius XM's appeal, much less set a date for that matter. That does not mean that discussions are not occurring which may reflect a positive outcome for Sirius XM among the panel members, which may be overheard or rumored through the halls and within the inner circles.
It seems that the longer the decision takes to be finalized, the better it is for companies like Sirius XM. Short sellers will be looking to cover ahead of the news, knowing the press release may come at anytime.
Author's disclosure: Long SIRI