Genesco (NYSE:GCO) is an interesting footwear and ball cap apparel retail company that has some market share divisions in Journeys and Lids. The company has grown revenue for every year for ten straight years, and we believe that more revenue growth as well as margin expansion is very possible over the next five years. Two of the main reasons that we like this name is the company's expansion of two, new and innovative divisions of their Lids and Journeys' brands - Locker Room/Clubhouse and Schuh as well as more potential store expansion to continue to add more top-line growth.
As we will show in this article, the upside potential seems strong moving forward. We will uncover industry trends, catalysts, price the company, and investigate risks.
Current Oxen Thesis
Business Overview
Genesco is the parent company of the Journeys Group, Schuh Group, Lids Sports Group, and Johnston & Murphy. The company operates retail stores in the USA, Canada, UK, and Republic of Ireland with 2455 retail stores as well as e-commerce offering. The company also operates a wholesale business through Johnston & Murphy as well as licenses footwear under the Dockers brand.
Industry Trends
The footwear and ball cap industry are not overly complex as an industry, but there are certain trends to be aware of that can be important for certain companies. For example, the popular snapback growth of trends in hats was a big winner for Lids in 2011-2013, but that trend is dying down. The company is seeing a lack of trends in casual footwear currently that is hurting sales.
Here are some of the important trends to understand:
- Running shoes continue to dominate the athletic shoe scene as the most popular shoe brand, holding about 35% of the market share.
- Expectations are that sales will continue to grow for the athletic shoe industry with projected 6% growth CAGR over the next three years versus 8% growth that has happened the three previous years.
- Retail, in general, is expected to be cautious again in 2014 as consumers still have not seen significant wage hikes as well as have been hurt by tax increases and sequester cuts. Expectations are that the industry will continue to have sluggish growth, but there will be improvement from 2013.
- There are 9.3M skateboarders in the USA, and the international skate scene continues to grow. Journeys is one of the leading skate-oriented places to by skate shoes.
One of benefits of Journeys is that they have put themselves into a niche of skate, action sports, and indie/punk/rock style. That style has maintained wild popularity since skateboarding picked up in the mid-90s, and this industry niche seems to remain strong as far as shoes while other companies within that focus more directly on shirts/pants like Billabong and Pacific Sunwear (NASDAQ:PSUN) have struggled.
Main Catalyst
Obviously with a retail/apparel store company, the catalysts to growth are less exciting than that of tech or medical companies. Yet, what we have found over the years is that the companies that do well in apparel grow consistently, build out from their core divisions rather than acquiring lots of random parts and have a loyal consumer base. For Genesco, the company has done a great job of taking two things that are very simple, hats and shoes and been able to build a very healthy business with strong prospects and loyal customer base.
Moving over the next several years, one of the most intriguing parts of the company's business is the growth of the Locker Room and Clubhouse initiative for the LIDS Group. Locker Room expands on the LIDS name to offer more than just headwear with apparel, accessories, and more. Clubhouse is an interesting team specific store that only features retail for either a professional or university team exclusively. The company has identified these two initiatives as the main drivers of growth over the next several years for GCO.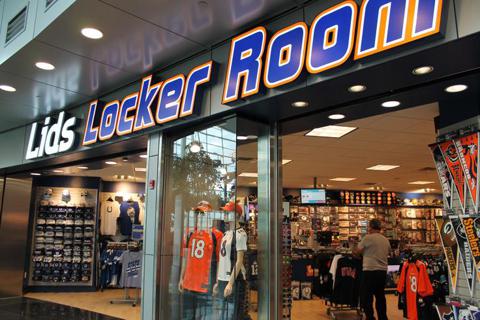 One of the most interesting initiatives that the company is taking on is a partnership with Macy's (NYSE:M) to do Locker Room by Lids inside of Macy's department stores. For Macy's, the company gets access to the growing popularity of sports like the NFL and NBA with gear right in the store without having to take on expensive licenses for the gear. The company piloted in 26 Macy's stores in key markets and saw very positive results. The company will add another 175 stores next year. Additionally, the Locker Room by Lids is available on Macys.com as well. Each store averaged about 500-100 square foot. We think this idea is something that has some definite potential.
As we discussed in industry trends, the attention to sports and sports teams continues to grow each year, and the apparel that accompanies it is a big part of that relationship. Macy's obviously realizes this, and the company believes that in the future they can even build kiosks within stores that will allow customers to order from an online inventory and have things shipped directly if their favorite team is not included in the in-store inventory. The benefit to LIDS is that they get a lot more eyes on their apparel, and the integration of the kiosk helps as well. Yet, one snag is that we do believe that foot traffic in stores is going to continue to be a problem moving forward. This may be one reason for this push as some clients only visits department stores and do not visit the mall portions.
How much growth can this offer to the company? In the latest quarter, the company noted that the comps at Locker Room and Clubhouse stores outpaced hat stores by a considerable margin and were up double digits year/year. The company appears to want to push the Locker Room/Clubhouse idea a lot. They acquired seven new stores in Canada that are in the Locker Room style. Locker Room/Clubhouse account for 20% of the revenue mix currently for LIDS. The company has noted that the Locker Room sees a wider array of customers, was strong for gift buying (as that is easier than hats given tough sizing), and is a place they want to attack. With the growing success of the NFL and recent success of NBA and NHL as well as college football, we believe that the Locker Room business will be a big part of the future. In the price analysis section, we will quantify this a bit more.
New concepts are a big part of Genesco's success that has helped the company grow consistently and see 75% in stock gains in the past three years. GCO acquired Schuh in 2011, and we believe that the next several years could be very bright here, as the company has really started to make some in-roads here that will lead to more growth. When they acquired Schuh, the company had 76 stores throughout Ireland and the UK area. Now, the company is up to 95 stores, and the company is looking to add another 13. So far, though, the results have been so-so. Comp sales are generally flat, but the company's continued expansion, rebound of the British economy, and some new efficiency plans should both raise revenues and margins.
Here is the company's CEO Robert Dennis talking about new distribution plans:
To support Schuh's growth, we are investing in a new 245,000 square-foot distribution center in Scotland to ensure that we have the infrastructure in place to support our plans. We are also adding a mini-warehouse in Central England. This will allow us to extend the cutoff time for next-day delivery on Internet and store customer orders from 5 p.m. to 10 p.m. and provide the platform from which we can further refine our service model, including in-store pickup options and potentially same-day deliveries, given its centralized location. This mini DC will have approximately 20 million people within a 2-hour drive time radius. Based on the results of this test, we could expand this mini-warehouse concept to another 5 or 6 new locations that would extend the same-day service offering to essentially the entire U.K. population. And the learning from this effort should also help us with our U.S. plans.
What we like is that the company is using this distribution model as a test ground, and they believe it can increase delivery time as well as increase inefficiencies from running larger warehouses that have to travel further. This plan is one that could definitely help improve the bottom line and help the company achieve the 9-9.5% goal for operating margin they have for 2018.
Additionally, the British economy has been pretty stagnant for the past several years, and GCO was able to buy low during the Recession (a smart move). This year, the economy in Great Britain is expected to rise around 2.5% - 3% in 2014 followed by potentially 3% in 2015 as it gets back on track. The growth will be the fastest rate in seven years, and household consumption will be one of the main drivers. Retail is expected to follow GDP. In Ireland, GDP is expected to grow at just under 2%. The return of consumer income and growth will be a big boost to Schuh.
Additionally, the company is expanding its Journey Kidz test to the European market with Schuh Kidz, which the company has opened a handful of stores and wants to develop further. Journeys Kidz has done quite well, and the company does a great job with testing products, making changes, and getting into solid niche trends that many various income levels and styles appeal to.
Secondary Catalyst
One of the company's main initiatives is to improve margins. They have a goal of operating margin in 2018 of 9-9.5%. The company is currently operating around 6% and has not seen higher than 8.8% in the past ten years, so this would be a major development for the company. The company though reduced their five-year target from 9.5% to 9-9.5% in the last quarterly report as margins dropped in FY14 rather than improving. What does the company plan to do to improve margins?
Part of the negative we see is that the company has not been terribly specific about how they want to get to this. The company has put a lot of chips in developing Locker Room/Clubhouse LIDS as well as kid version of Journeys and Schuh. So, a natural peeling back of operating expenses from developing so many new stores and new ideas would help, but with store expansion to stay consistent at 4-5% growth that seems challenging.
One place that the company seems to note is a drag is inventory, having too much or too much of the wrong products. Two things that will help that is a natural acceleration of the economy as well as better distribution centers. Overall, though, the company has not been terribly specific. If we look at the trending items for them, we can have a better idea of how they might do.
Clubhouse and Locker Rooms are both the two main components of LIDS that they see expansion. The company has not shared margin plans, but they did mention some initiatives. Year-round team specific stores are often underserved in a lot of markets. Another trend is the growth of online retail. The company continues to see growing online sales, and they do expect this to help with improving margins. For example, they are just now getting LIDS entire inventory online in the 1H of 2014, and that should improve sales as well as improve margins. The company also believes the kiosk idea before can help, and we can see that as out of market fans exist more and more today. The company notes that a store only carries about 10% of SKUs, so they are missing out on a lot of potential sales. The revolution of the Internet will be beneficial. Finally, the company is pushing in-store pickups in Journeys that will help cut down on costs and improve efficiencies as well.
Overall, there are a lot of moving parts here, but the company has a long way to go and this year's breaking of the upward trend in margins does make us a bit more skeptical.
Pricing/Valuation
In our pricing model, we came up with a $90 price target for the next twelve months. Therefore, we believe the company is a Buy with the market potentially not valuing some of these initiatives as strongly as they should. That can be seen in the 12.4 future PE, 1.2 PEG, and 0.6 price/sales ratio. Industry average P/E is 25, so the company is definitely a discounted peer. That is because of recent troubles this year with growing comps, but we believe that is more a cyclical weak spot.
Revenue - From 2014 to 2018, we are anticipating the company being able to grow revenue in the 6-8% range for most years. The company is coming off some weak comps for 2013 as well as a fairly weak period for retail since 2008. The company, during that time, has expanded stores, added new underserved concepts, and has some very enticing plans in place. The company is forecasting 3-4% average comps per year with 4-5% store growth for around 8% CAGR growth. We do not quite believe in that mark, given the company's lack of success over the last several years in growing revenue at high rates. Yet, the company has grown every year for ten plus years.
Gross/operating margins - We covered margins, but we do see these growing. We are fairly confident in the company being able to grow margins. From a weak comps perspective, the company has room to improve easily. Yet, we also see that the company will be able to make some improvements in business areas to see improvements here.
Taxes - The company has been in the 35-39% tax rate for most years, and we used a 38% rate in our model to remain conservative.
Shares - They are expecting to be at 23.6M by year's end in shares outstanding. The company hinted at more share buybacks over the next few years with a lot of FCF generation expected, but the company has nothing specific on the books at this point for that, so we will use that projected number.
CapEx/Depreciation - The company noted they would have about $500M of capital expenditures through 2018FY for share expansion and major investments into e-commerce. We went with a consistent $100M for that reason.
All in all, when we use this data to price out the company for a five-year valuation, we come up with $90. The company's current price of $71 is just much too low for what is possible for GCO. On a five-year projection, a $71 price tag means that the company will have around $260M in operating income in 2018FY, which is four years away in reality. With a $3.9B sales level expected by the company, this would put operating margins at about 6.7%, which is below historical levels and also much under the company's expectations. We believe that this price tag is really just too bearish for the future, and that can be seen by the fact that the PEG is only 1.2.
Risk/Variance
Overall, the most important risk or variance to our claim would be potential fashion trends developing against GCO as well as the company not being able to execute well on their Locker Room concept. The company has had such a historical history of success with the Journeys line and hats are sort of a fashion staple that this seems unlikely. The other big risk is the margin side of things. While we priced margins moving at about 500 basis points per year, this will require top-notch execution, and this would be the biggest risk to our model.
Conclusion
In conclusion, we believe opportunity is ripe for Genesco. The company has fascinating and strong concepts that attack underserved markets and underserved areas, and the company has plans to expand the bottom line as well. Overall, we believe that GCO is a forgotten, uninteresting name that is actually quite intriguing. We like using the markets lack of interest in retail as a way to attack solid names with lots of potential.
Disclosure
The analysts contributing to this report do not hold shares of this stock. The EPS and revenue forecasts are estimate opinions and are not factually accurate. They are based off of what we believe to be reliable information. Additionally, the analysts contributing to this report certify that the views expressed herein accurately reflect the analyst's personal views as to the subject securities and issuers. The Oxen Group certifies that no part of the analyst's compensation was, is, or will be, directly or indirectly, related to the specific recommendation or views. This report is based on data obtained from sources we believe to be reliable, but is not guaranteed as to accuracy and does not purport to be complete. Because of individual objectives, the report should not be construed as advice designed to meet the particular investment needs of any investor. The article is an opinion and should be used for informational purposes. Seek financial advice from a registered advisor before taking on any investments.
Disclosure: I have no positions in any stocks mentioned, and no plans to initiate any positions within the next 72 hours.
Business relationship disclosure: I have no business relationship with any company whose stock is mentioned in this article. The Oxen Group is a team of analysts. This article was written by David Ristau, one of our writers. We did not receive compensation for this article (other than from Seeking Alpha), and we have no business relationship with any company whose stock is mentioned in this article.