I have been delighted over the past six months by the performance of Himax Technologies (NASDAQ:HIMX), the semiconductor-maker which is producing liquid crystal displays for the new Google (NASDAQ:GOOG) Glass device. Initial consumer interest in the wearable computing technology is reported to be high, and the stock has more than doubled for my subscribers on the strength of anticipated demand.
Himax is making the liquid crystal displays for the new Google product.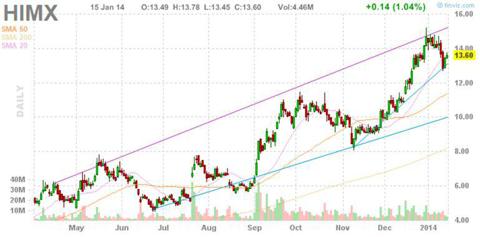 But there's a lot more to Google Glass and other wearable technology that investors should consider. Take a look at this rough drawing from engadget and you'll see what I mean.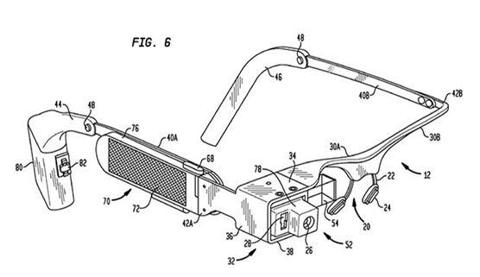 It turns out that motion-sensor technology is crucial to Google Glass and to most other wearable technologies on the market or on the drawing board. In fact motion sensors or "Microelectromechanical systems" are the very heart of the electronic wave of the future.
You'll see the abbreviation "MEMS" often, as mobile devices of every kind become part of our world. Right now I'm focusing on InvenSense (NYSE:INVN) which is among just a few leaders of the pack in terms of technology, innovation, and customer diversification but not in terms of its stock price.
The Heart of the "Internet of Things"
It's a phrase overused so often that it seems to have lost meaning. But investors may ignore the coming "Internet of Things" at their peril. I'm not talking about the clichéd Internet-based appliances like refrigerators that supposedly track your food consumption and future needs; I want you to think about the galaxy of devices that will require situational awareness in the future.
The "Internet of Things" was the persistent theme at the recent consumer electronic show (CES) in Las Vegas. The term refers to a not-so distant future where every conceivable item from glasses, watches, kitchen devices, home security and cars are being connected to the Internet, all with a measure of situational awareness.
InvenSense did some of the visualization of this phenomenon in their latest earnings report.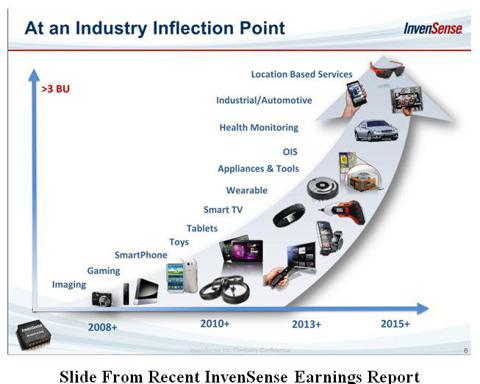 The abbreviation OIS in the graphic above is short for "optical image stabilization", an InvenSense MEM product, which will become increasingly important to cameras; especially the miniature ones mounted on portable and wearable devices. InvenSense has also bought its way into the business of MEM microphones which, like every other MEM device, consume very little power because of their extremely tiny size.
Considering the company's acknowledged expertise and it's exponentially growing market, I was surprised to see that InvenSense had not grown as quickly or achieved as high a valuation as Himax.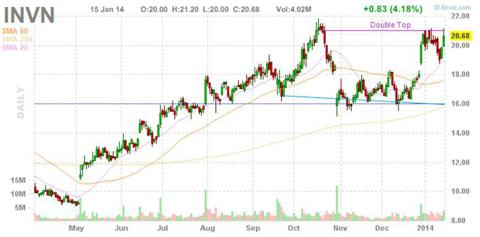 The stock's rise was broken last year when the firm gave earnings guidance for the coming quarter that some considered disappointing.
But was the picture really that bad? InvenSense reported net revenue was a record $70.9 million, an increase of 28% from the second quarter of fiscal 2013 and up 27% sequentially from the first fiscal quarter of fiscal year 2014. Income for the quarter was $13.6 million, compared to $10.3 million in the previous quarter, representing quarter-over quarter growth of about 32%.
It is important to note that this company's growth is not based on what some may see as 'pie-in-the-sky' visions of the future. InvenSense sees the largest part of its income growth coming from increasing adoption of tablets and smartphones, hardly a speculative basis for a business.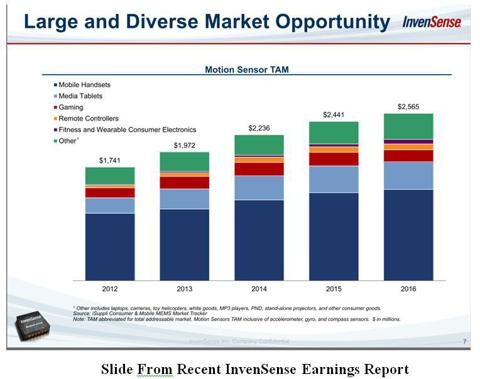 InvenSense clearly has a much more diverse product opportunity than Himax, selling more than tiny LCD displays, but offering instead wearable devices, audio, optical image stabilization (OIS), navigation, and motion-tracking solutions.
Some investors are concerned because InvenSense is a major supplier for Samsung (OTC:SSNGY) and its Galaxy line of products as well as the Samsung Smartwatch. But it is important to note that InvenSense products have become a standard portion of Android-based phone systems worldwide. Other high-profile customers include LG (OTC:LGEIY) and Sony (NYSE:SNE). Corporate executives have hinted in their last conference call that more major customers may come on board, sparking speculation that Apple (NASDAQ:AAPL) (which already uses some InvenSense devices) may come to the company for motion sensors.
But this may be a narrow view. Consider the number of customers InvenSense supplies already.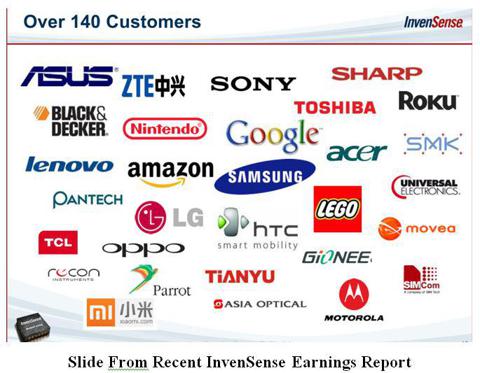 InvenSense's CEO sees the company's revenues from each mobile device sold worldwide more than doubling in the future.
That translates into combined annual revenue growth projected at 24% continuing through 2016.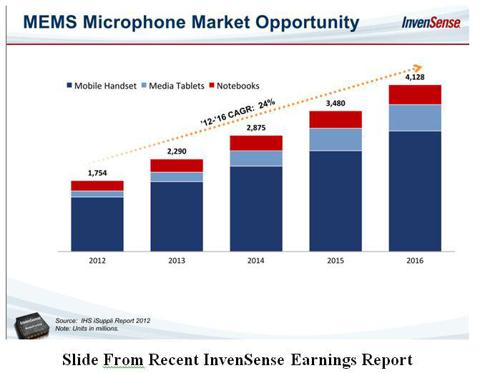 Summary
With so much potential including the Apple opportunity, continuing growth into China and still-unimagined uses like a central role in the commercial drone industry, I see nothing but opportunity in the future for this company. As its expertise and penetration with MEMS continues to grow, I believe we're looking at an inflection point for this semiconductor pioneer.
But, just in case you dismiss InvenSense as just another semiconductor and software company, let me remind you that this company is opening a new frontier by integrating nano-scale machines with semiconductor technologies that were cutting edge a decade ago. This is a company building the micro-machines that will drive innovation at Consumer Electronics Shows for years to come as the Internet of Things becomes a reality. Best of all it is currently selling cheaply with a PEG of only 1.63 and a market cap of $1.71 billion.
I think InvenSense has a very long way to run in the next two years. The company reports earnings on January 20th.
Action to Take: Buy at $21.50 or less. Target: $28.00. Sell-stop: $17.50
Disclosure: I have no positions in any stocks mentioned, and no plans to initiate any positions within the next 72 hours. I wrote this article myself, and it expresses my own opinions. I am not receiving compensation for it (other than from Seeking Alpha). I have no business relationship with any company whose stock is mentioned in this article.