The World Bank raised its global economic growth outlook for 2014 to 3.2% from 3.0%, when it last published its forecast in June 2013. The forecast for the US remains unchanged at 2.8%.
The economic reports in the US have indeed improved recently, but there are still some pockets of news that many investors find troublesome. Take unemployment, for example. Last Friday the Labor Department reported a small payroll gain of 74,000. Even so, the unemployment rate showed a greater than warranted drop to 6.7%. Since the economy is not adding many jobs, the dip in the rate is mostly due to people leaving the work force. In other words, it is the employment ratio and the labor participation rate that drive the unemployment rate decrease. Investors are not all that worried about one bad monthly payroll number and shouldn't be anyway. However, a stubbornly low employment ratio is a different story.
Still, the recent worry about a low employment ratio is probably overdone. Take a look at the chart that plots the employment ratio and GDP growth. The shaded areas indicate recessions.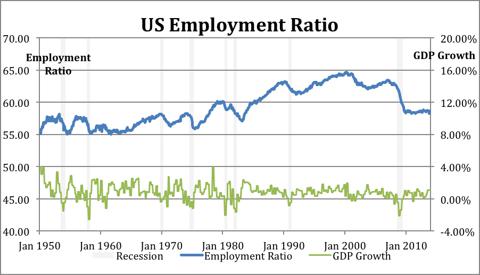 Data: Federal Reserve Bank of St. Louis
Since 1950 the US economy has endured eight recessions. During all of these recessions the employment ratio dropped, the last recession being no different except that the drop after the Great Recession of 2008/09 was much larger than during any previous recession.
Moreover, the employment ratio normally drops before a recession, which is mostly due to technical factors in that a recession is officially declared after the economy has shrunk by two quarters in a row. But most of the times there is a decline in economic activity that drags down the GDP growth rate and also the employment rate months before the economy is officially in a recession.
The chart also shows that the employment ratio tends to hit a low point up to twelve months after a recession has ended. It then rebounds to its pre-recession level within an average of 36 months of the recession's end. This time it is different. The employment ratio did not even bounce as much as it did after the recession in 1957/58, when it took more than eight years to regain its pre-recession levels. Currently we are in the 5th year of economic growth and total GDP has surpassed its previous record high. Yet, the employment ratio stays stubbornly low.
This is not good news for people who have left the labor force and given up on looking for work, but it does not seem to be all that bad for overall economic growth. History shows that GDP can grow nicely even if the employment ratio stays low. As a matter of fact, as I noted above, yes, a decline in the employment ratio precedes a recession and serves thus as a leading indicator. But the reverse does not hold true! Instead, the employment ratio lags as an indicator for an economic rebound. It only turns around after the economy has already regained its footing.
The bottom line is that the employment ratio worries investors unduly. History suggests that its stubbornly low level will most likely not curtail economic growth on its own. This analysis leads me to conclude that economic growth in the near future will support current stock levels despite pockets of weakness in indicators like the employment ratio. So, stay the course with your investments, and don't panic over a few bad economic numbers here and there. For now, big changes in your portfolio are not really warranted.
DISCLOSURE: Nosara Financial Planning, Inc. ("NFP") and some of its clients hold positions in exchange traded funds (ETFs). At the time of publishing NFP had no direct position in any security mentioned in this article. No information accessed through this website or through NFP's website constitutes investment, financial, legal, tax or other advice nor is to be relied on in making an investment or other decision.
Disclosure: I have no positions in any stocks mentioned, and no plans to initiate any positions within the next 72 hours. I wrote this article myself, and it expresses my own opinions. I am not receiving compensation for it. I have no business relationship with any company whose stock is mentioned in this article.