Equity markets trended higher on Tuesday as major indexes finished the day up nearly 1%. The Dow finished up more than 100 points to put the benchmark at a fresh 17-month high, as component Caterpillar (NYSE:CAT) soared higher by over 4%. This continues a remarkable rally that has seen the index move higher in 10 of the last 12 sessions. "The recent uptick has been more a function of less bad news rather than a lot of good news," said Dean Barber, president at Barber Financial Group in an article for CNN Money.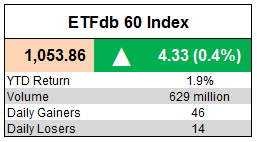 The ETFdb 60 Index, a benchmark measuring the performance of asset classes available through ETFs, added 4.33 points, or 0.4%, in its second consecutive winning session. Winners outnumbered losers by more than three-to-one.
One of the biggest losers was PowerShares DB Agriculture Fund (NYSEARCA:DBA), which sank 1.3% in Tuesday trading. DBA fell after an extremely weak day from sugar, which sunk more than 7% after news of increased sugar output in one of the main growing regions of Brazil. In addition, sugar output is slated to increase by 14% in India, as late rains have improved cane yields in many of the largest growing regions of the country further depressing prices.
Click to enlarge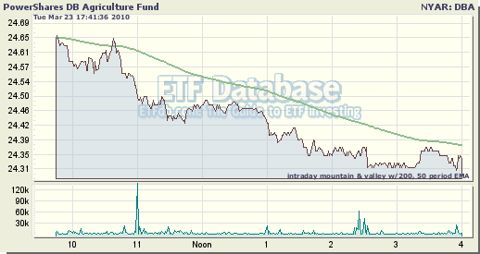 Among the biggest gainers was iShares MSCI Pacific Ex-Japan Index Fund (NYSEARCA:EPP), which finished the day up 1.4% after strong showings in Australia and Singapore. Singapore shares were higher after The Monetary Authority of Singapore said that it was leaning towards tightening a bit in April in order to curb inflation, suggesting that the island nation is well on the path to recovery. Meanwhile in Australia, materials firms were up as BHP Billition (NYSE:BHP) finished the day higher by 2%. BHP is the largest component of EPP, making up nearly 10% of the fund.
Click to enlarge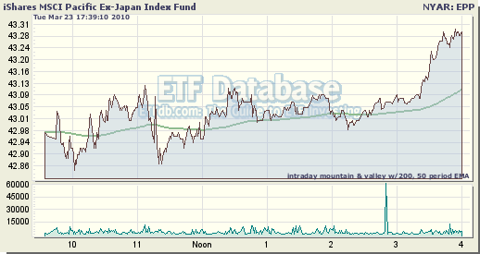 Disclosure: No positions at time of writing.