By Dee Gill
Fast revenue growth can make up for a multitude of earnings inadequacies, as any investor with an Amazon.com (NASDAQ:AMZN) fortune already knows. If sales are revving and the long-term story is good, investors often will forgive a company's early inability to make a lot of money. So perhaps it's understandable if the folks at SodaStream International (NASDAQ:SODA) underestimated the importance of its bottom-line number during the recent holiday selling season. Its share price fell 25% on an earnings miss despite great revenue growth.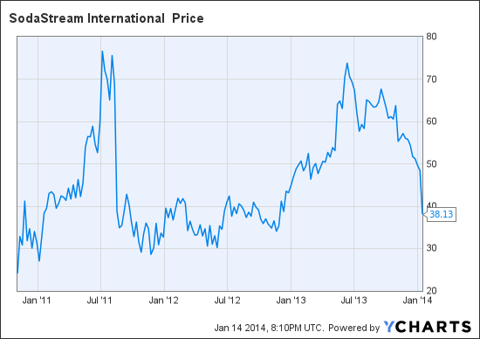 SodaStream, which sells in-home carbonated drinks makers and the ingredients they require, apparently sold a lot of inventory last month at sale prices. On Monday, the company announced that its 2013 earnings likely would be some 23% lower than its previous guidance. The new forecast implied fourth-quarter earnings per share of about 1 cent, compared to market forecasts of 64 cents. The company blamed higher costs and unfavorable currency exchange rates as well as lower selling prices.
The discounts helped keep SodaStream revenues rising at a brisk clip. Its revenue revision was marginal; a new forecast of $562 million, or about 29% higher than the previous year. Maintaining that revenue estimate was important because the SodaStream investment theme revolves around expectations homemade soda is a growing, sustainable trend in America. SodaStream, as the only major company in the business here, should theoretically profit exponentially from it. Any sign that demand for machines is less than expected, like a very weak revenue number, would be particularly alarming to investors. The CEO stated in Monday's announcement that the company still planned to meet long-term goals; presumably, his much-touted goal of $1 billion in annual revenues for the company by 2016.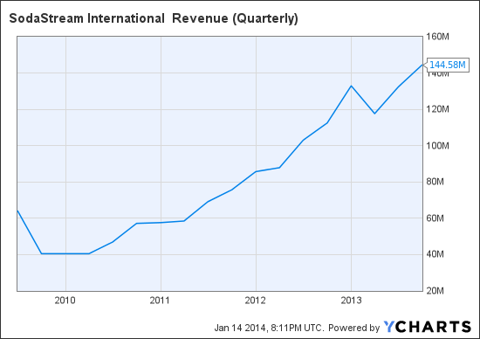 Of course, demand for SodaStream products apparently was weak last month, or there would have been no need for discounting. There's a good chance that SodaStream's actual results in February will show U.S. sales were particularly weak, as they were in the third quarter. Slow U.S. sales in particular are dangerous to shareholders, as YCharts explained when SodaStream reported worrisome third-quarter results.
Amazon has made egregious earnings misses before too, but saw its share price rise anyway because revenue growth remained strong. But SodaStream's story is not nearly as convincing as Amazon's. Amazon has a dominant position in a hard-to-enter, well-established, multibillion-dollar market. Amazon could turn more profits today if it gave up great revenue growth. SodaStream's is a vulnerable position in a tiny market with questionable demand trends.
Disclosure: None.