After several years of transitioning a primarily growth oriented portfolio towards a more conservatively positioned total return/income dominated structure, I've come to the conclusion that there is no magic income construction recipe for all investors. Since those desiring income today can find securities with nominal debt yields all the way up to 20% leveraged ETN products, the variety and complexity of security offerings provides vast flexibility for everyone's yield needs, but with varying degrees of risk.
The Multifarious Nature Of Risk
While I like to include various kinds of strategic thought as part of my overall income portfolio, including the likes of modern portfolio theory (MPT), dividend growth investing, bond laddering, and somewhat benchmark off S&P total return, I don't subscribe primarily to any one strategy. At the end of the day, I attempt to grow capital while at the same time increasing portfolio cash flow.
Admittedly, I'm more active and aggressive than the average income investor, sometimes trading around positions, or utilizing covered calls to draw or enhance income. Still, I feel the most critical aspect of an income portfolio, whether you subscribe to dividend growth, some other strategy, or invest in a more ad hoc manner, is risk management.
Risk for the income investor cannot be blanketly defined. Instead it is something that is typically determined in reverse by an investor's goals. For the dividend growth investor, it is generally encapsulated by the thought that a specific security's payout or overall portfolio income ceases to rise by a certain amount. For the total return investor, it may be that a portfolio's total gain lags a relevant benchmark. For the income investor preoccupied with capital preservation, risk may be defined by forward realized or paper loss of capital.
At the end of the day, all income investors must manage risk commensurate with how one personally chooses to define it. Thus different investors may view the inherent risk of securities in different ways.
For example, the total return investor may currently look at companies like Coke (NYSE:KO), Procter & Gamble (NYSE:PG), and Johnson & Johnson (NYSE:JNJ) and see companies trading at a high teens/near 20 earnings multiples, with growth rates in the mid- to upper-single-digits, and yields all in the 3% range. Great companies, but perhaps not the kind of companies that will post robust total return at current pricing. Thus, they may be considered fully valued and moderately risky.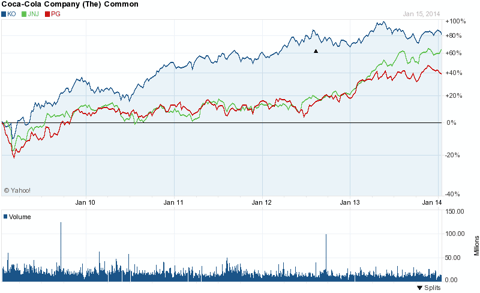 Dividend growth investors may see the valuation on the three as somewhat high, but given their respective payout histories and propensity to keep the income stream flowing, the companies are seen as low risk additions or holds within a pure dividend growth portfolio. Capital preservationists may balk at the idea of the volatility of the stocks altogether and see the three as possessing high risk.
Establishing Portfolio Tiers
Given this diverse perspective on income security analysis, I think investors should visualize, formulate, and establish a personal hierarchy of risk for their income portfolios. As explained in our example above, depending on individual point of view, one might see a low, moderate, or high level of risk in any given investment.
By categorizing levels of risk assumed in a portfolio, one should be able to sleep better at night, as the overall risk of one's holdings can be gauged. While I think it can be difficult to play offense with income holdings, proper risk management practices are your portfolio's best defense.
Below I'm going to offer perspective on how I presently view risk with my current and prospective income holdings. I will also offer an opposing view on how a devil's advocate might view my tiers.
1) Low Risk Tier: Cash investments as well individual investment grade or near investment grade bonds with short duration; closed-end funds employing a covered call strategy.
Alternate View: One should always be fully invested in the market, never holding cash. Bonds pose moderate to high risk due to the potential for a rising rate environment and because they do not keep up with inflation.
2) Moderate Risk Tier: Dividend growth stocks and other equities with inflated P/Es that pose elevated downside capital loss potential, high yield bond funds that could get smacked in a rising rate environment, equity REITs with sound valuations.
Alternate View: Dividend growth stocks are a low risk as long as income continues to rise. Junk debt of any kind is high risk; bond yields will decrease going forward making bonds a low risk play. REITs are a high risk as they will get pummelled in a rising rate environment; REITs are oversold making them a low risk
3) High Risk Tier: Business development companies, mortgage REITs (mREITs), dividend stocks with lofty valuations not showing dividend growth characteristics, any bond with long duration, 2-3X levered ETF products.
Alternate View: The economy is solid enough that BDCs should not be perceived as high risk. mREITs will prosper in a rising rate climate as spreads widen, further they are trading below book. Dividend stocks are seeing rational multiple expansion due to improving growth prospects. Long bonds are hardly a risky proposition, long rates will moderate and move lower going forward.
Tier Evaluation
While we can discuss my general market observations, I think it is more important for you to have your own inclinations and develop your own portfolio risk tier structure. While no one is a crystal ball holding risk management magician, the making of intelligent, informed judgment calls certainly trumps spontaneous guesswork.
Undoubtedly, there will be sectors, situations, and specific stocks where you may be unsure of the risk you are taking. Such has been the case with one of my holdings, Target (NYSE:TGT), over the past several weeks. While I initially purchased the stock several years ago as a total return idea possessing substantial near-term dividend growth prospects, the stock has been an utter disappointment. The company's foray into Canada has been lackluster and now the widely covered data breach is being talked about in the media as much as New Jersey's "Bridgegate."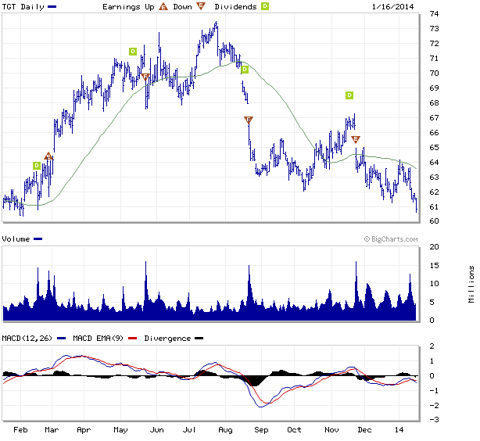 While I once considered the stock a moderate risk, the near-term issues at the company have prompted me to reassess the situation. Though it's obvious Target has taken a hit near-term, I've begun to wonder what the long-term impact will be. Thus I've shifted this holding from tier 2, moderate risk, to tier 3, high risk. While I'm simply sitting on shares at the moment, I've considered a number of options, including both adding to the position as well as eliminating it, plus a number of options strategies. Though I'm trying to maintain a long-term view towards the company, I clearly have little clarity as to what the long-term view is at this point.
Meanwhile, other stocks that become expendable to some income investors may spell opportunity for others. Pitney Bowes (NYSE:PBI), for example, which had been considered a high risk dividend growth company for some time, dropped its dividend by 50% last year and was consequently abandoned by even the most liberal of DGers. Yet for total return investors who stepped in to buy the company's weakness a year ago, the stock has been a double. Same stock, two different visions.
Conclusion
While risk will be viewed differently by each individual income investor, independent risk comprehension and assessment is an intrinsic part of portfolio management. By compartmentalizing and analyzing the relative perceived risks you take with your income portfolio, you achieve a bird's eye view of the overall profile of your holdings. By engaging in ongoing risk management practices, you may not avoid every pitfall in the market, but you stand a much better chance of sidestepping them.
Disclosure: I am long JNJ, TGT. I wrote this article myself, and it expresses my own opinions. I am not receiving compensation for it (other than from Seeking Alpha). I have no business relationship with any company whose stock is mentioned in this article.
Additional disclosure: Disclaimer: The above should not be considered or construed as individualized or specific investment advice. Do your own research and consult a professional, if necessary, before making investment decisions.