National Fuel Gas (NYSE:NFG) is an often-overlooked diversified utility in the sweet spot of shale natural gas development. NFG is a mid-cap utility with assets in gas distribution in western New York, large acreage in the Marcellus shale gas field, natural gas storage, and oil development in California. NFG's E&P segment is known as Seneca Resources. NFG has gained about 45% since my write-up in Jan 2013, and the stock is up 24% since an SA update in Sept 2013 - but share prices are not done yet.
NFG has several operating units as outlined above. The most important is the Exploration and Production segment, which generated 57% of FY September 2013 adjusted EBITDA. Below is a breakdown of each segment's contribution during FY2013, from their latest investor's presentation: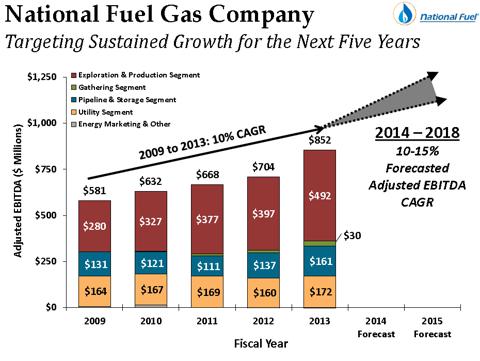 Since FY2009, while EDITDA has grown at a rate of 10% CAGR for the company as a whole, the Exploration and Production segment has grown by an average of 15%. E&P includes both oil from California and gas from Appalachia, but the largest growth potential is from the Marcellus. Management anticipates Marcellus production to expand from 100.7 Bcfe in FY2013 to between 158 and 196 Bcfe in FY2015, driving overall EBITDA annual growth by 10% to 15% over the next four years.
Seneca Resources has increased proven natural gas reserves from 700 Bcfe at the end of FY2019 to 1,300 Bcfe FY2013 while oil reserves have declined slightly from 45 to 41 Mmbl. Production growth from the Marcellus increased from 16.5Bcfe to over 100 Bcfe while oil production has remained about flat. Management believes production growth can be maintained in the 15% to 25% range.
Production and reserve growth is generated from their sizable holdings of 800,000 acres in the Marcellus shale, with 745,000 acres in the fairway in Pennsylvania. Importantly, NFG owns 97% of its 720,000-acre Western Development Area without lease or royalty intrusions. In the 20,000-acre Eastern Development Area, the average royalty is 18% to 20% and the rights are mostly leased with the first large lease expiration not until 2018. The Western Area has 1,700 to 2,000 drilling locations derisked while the Eastern Area has 225 locations remaining, with 30% of these locations in prolific Lycoming County.
Seneca Resources has one of the lowest costs for finding and developing their production growth. Below is a graph from their investor's presentation outlining breakeven production costs for NFG and its peers: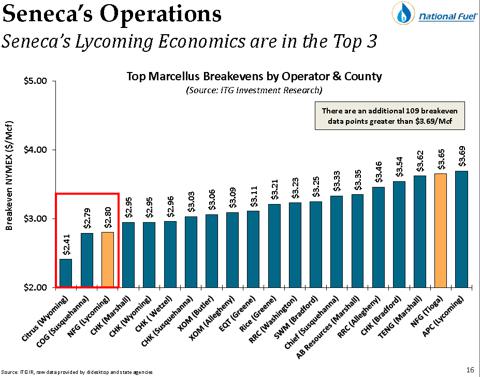 In addition to their Marcellus and California assets, Seneca Resources is beginning to develop net 14,000 acres in the Mississippi Lime with five evaluation wells scheduled this year. This development is expected to add to Seneca's oil production over time.
NFG has a growing infrastructure business in the Marcellus area with gathering pipelines, distribution pipelines, and interstate-connected pipelines along with storage facilities. Revenue increases attributed to recent expansion projects in the Midstream Segment have increase from $4 million in FY2011 to $60 million last year. As additional projects come on-line post 2015, EBITDA should continue to expand above the $161 million generated in FY 2013. NFG currently operates 2800 miles of transmission pipelines and 73 Bcf of storage capacity in four locations.
Below is a map outlining NFG's two major pipeline networks, (Empire Gas (in red) and National Fuel Gas Supply Corp (in blue) and its interconnection with major gas transmission pipelines: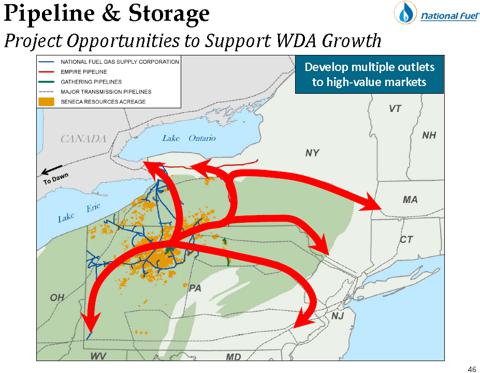 Below is an outline of the various pipeline additions the Midstream Segment has recently added or anticipates coming on stream by 2016: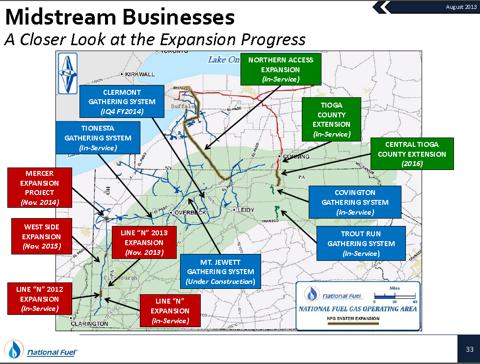 NFG recently reported a joint project with the Tennessee Gas Pipeline unit of Kinder Morgan Energy Partners (NYSE:KMP) to build a pipeline path from the Marcellus to TransCanada's (NYSE:TRP) pipeline going into Canada at Niagara Falls.
The third major operating unit is the regulated gas distribution utility in far-western NY and northwestern PA. Combined, these utilities serve 735,000 customers. The NY utilities commission is allowing a 9.1% ROE on rate-based assets. The PA commissioners and NFG are battling rate calculations and lawsuits going back to the end of 2007 remain unresolved.
Mr. Mario Gabelli's money management and mutual funds firms have been a shareholder for a long time. NFG represents 5.5% of his utility fund assets (MUTF:GABUX) and combined his mutual funds and GAMCO Investors own 9.95% of NFG outstanding shares. Gabelli is known for buying value and has a propriety method of analyzing value known as Private Market Value. According to both a Barron interview of last Jan and comments in the most recent GABUX report (pdf), NFG valuation still provides some upside.
NFG investors are getting multiple times the acreage per dollar of Enterprise Value than its peers. This undervaluation is a significant source of the current discounted value of NFG. Below is a tablet outlining acres per EV for NFG and its Marcellus peers, from a presentation last Nov: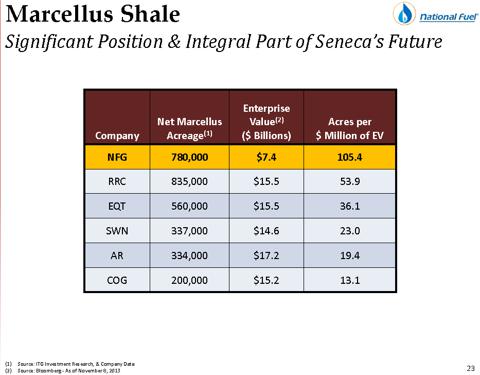 Gabelli believes if natural gas pricing can be sustained above $4.50, NFG could be worth about $100 a share. On a PE basis along, NFG's PE of 23 lies between natural gas E&P Cabot (NYSE:COG) at 38 and Chesapeake Energy (NYSE:CHK) at 18. Based on comparable asset sales, Gabelli believes the Marcellus portion of Seneca could be worth about $41 a share and a midstream MLP could be worth about $25 to $30 (15x EBITDA). In addition, the oil portion of Seneca could be worth $12 a share (5x EBITDA), and the gathering assets could be worth $5 a share (15x EBITDA). The value of the gas utility could be around $1350 per customer, based on the purchase of 660,000 customers neighboring Peoples Natural Gas paid for EQT's local gas utility. With 735,000 customers, NFG gas utility could be worth around $995 million, or about $12 a share. Combined, this would total a sum of parts valuation of $100, or about 40% higher than today's price.
Another way to look at the current market valuation is: Investors are paying for the Marcellus and midstream assets, and getting the gatherings assets, the oil assets and the gas utility free.
NFG has paid a dividend for the past 111 years, and increased the dividend for the annually for the past 43 years. The current yield of 2.1% is a bit shy of other natural gas utilities.
NFG offers a dividend reinvestment and direct stock purchase plan. The minimum initial direct stock purchase is $1,000 and there are not fees for reinvestment. More information can be found here.
Author's Note: Please review important disclaimer in author's profile.
Disclosure: I am long NFG, KMP, . I wrote this article myself, and it expresses my own opinions. I am not receiving compensation for it (other than from Seeking Alpha). I have no business relationship with any company whose stock is mentioned in this article.