By Carla Fried
Investing in stocks deemed to have a deep competitive edge -- dubbed a wide moat -- seems to have its investing charms. As covered recently at YCharts, the index that is the underpinning for the Market Vectors Wide Moat Index ETF (NYSEARCA:MOAT) has beat the overall market over the long-term.
The index is reconstituted quarterly to own the 20 stocks that Morningstar (NASDAQ:MORN) has deemed to have wide moats and that trade at the most compelling valuations, according to Morningstar's proprietary fair value analysis. (Full disclosure: Morningstar is an investor in YCharts.)
Plugging this quarter's portfolio into yet another value rating system, YCharts' own, using the YCharts Watchlist function allows for some interesting slicing and dicing to get a more in-depth take on the relative value of each holding. YCharts' proprietary Value Score assigns each stock a score between 1 and 10. During the highly volatile 2000-2010 stretch YCharts found that companies with the highest value score of 10 greatly outperformed those with the lowest value scores.
Two stocks in the Market Vectors Wide Moat ETF earn a Value Score of 10 from YCharts: Eli Lilly (NYSE:LLY) and Exelon (NYSE:EXC). Western Union (NYSE:WU) and Weight Watchers International (NYSE:WTW) are close behind with scores of 9.
Exelon earns its wide moat given that it is the biggest nuclear power generator in the U.S., a form of energy delivery that isn't fast or easy to build. Exelon is in the Wide Moat index value-wise because as energy prices, such as natural gas prices, have softened the past few years it has put pressure on earnings. Let's just say that Exelon shareholders didn't ride the market in 2013: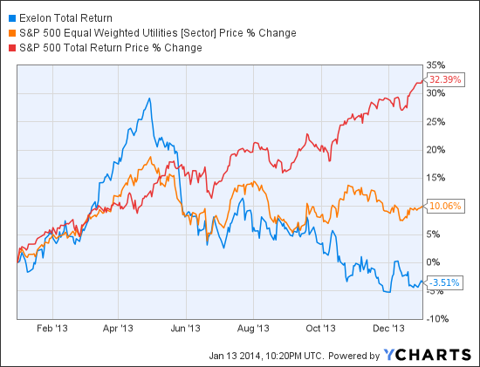 EXC Total Return Price data by YCharts
If you've owned the stock on the way down you're not exactly a happy camper. But if you're looking for a potential value play to rotate some of your profit taking into, Exelon might be worth some further investment research. The bad news is pretty much baked into expectations. As recently as March 2012 Morningstar had a $54 fair value for the stock that was then decreased to the current $42 per share in December 2012, in anticipation of the dividend cut among other issues. Morningstar has not budged on the fair value since.
Right now the stock trades about 35% below that fair value estimate, representing one of the steepest discounts in the Wide Moat universe. There's no guarantee the discount tightens anytime soon. Then again, you're currently getting paid a 4.5% dividend yield that is on par with what popular junky bank loans pay these days: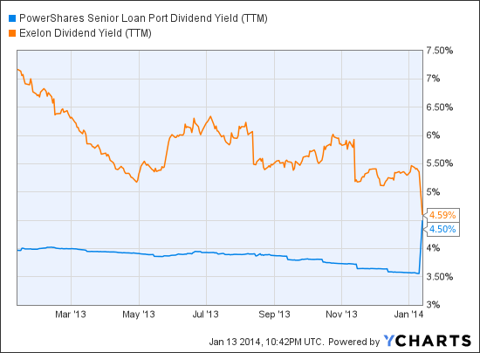 BKLN Dividend Yield (TTM) data by YCharts
Yes, there's the matter of the dividend cut. But with the payout ratio now below 100% and free cash flow rising from the dead, it seems reasonable that the current dividend level can be maintained for at least the next year or so.
Eli Lilly trades at less than a 5% discount to Morningstar's $55 fair value estimate. (At the time the Market Vectors ETF was reconstituted last month the discount was 10%.) Eli Lilly's 10 Value Score from YCharts is slightly better than the strong 9 score for Pfizer (NYSE:PFE), and well ahead of the 7s for Novartis (NYSE:NVS) and Johnson & Johnson (NYSE:JNJ) as well as the 6 for Merck (NYSE:MRK).
Lilly has what is considered the steepest patent cliff of all and has not been feeling the investor love; Lilly's stock returned just 7% in 2013. But that's the opportunity: After peaking at near 15, the trailing PE ratio, and the cash-adjusted PE ratio, are not flashing expensive: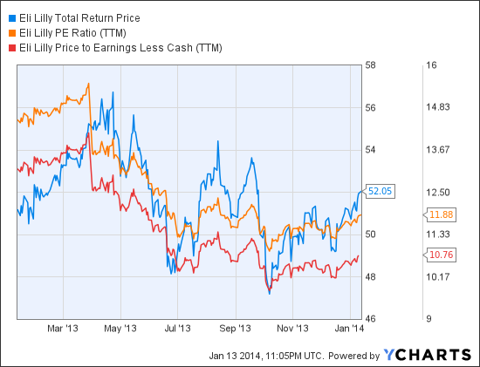 LLY Total Return Price data by YCharts
Meanwhile there's a 3.7% dividend yield. For the record, that's about what a Lilly bond maturing in 2025 yields to maturity. Unfortunately, the bond comparison is apt, as Lilly has not increased its dividend since 2009. But at a 45% payout ratio there's nothing to suggest it needs to cut it either.
As both Lilly and Exelon make clear, you're not going to find solid value from a company executing on all cylinders in this market. That said, if you're patient -- and consider a nice yield decent recompense for said patience -- what you can find are wide moat companies in down cycles where plenty of the bad news seems to have been baked into the current price and valuation.
Carla Fried, a senior contributing editor at ycharts.com, has covered investing for more than 25 years. Her work appears in The New York Times, Bloomberg.com and Money Magazine.
Disclosure: Morningstar is an investor in YCharts.