In the last few days I have written several articles looking at Alcoa (NYSE:AA) as it heads into 2014. My first article was earlier this year and I stated my case for opening a starter position in the company ahead of its earnings. Then, on January 10, I wrote a second article explaining why I was adding to my position on the earnings dip.
It was a rocky day two weeks ago when Alcoa reported. The announcement was overshadowed by an early-morning disclosure of an SEC settlement. Alcoa posted earnings after the bell on Thursday two weeks ago. They announced an EPS of $0.04 excluding items, off of analyst estimates of $0.06/share. Revenue beat, coming in at $5.59 billion vs. $5.34 billion in estimates. Year over year, however, revenue was still off from $5.90 billion.
As analysts go back through Alcoa's earnings, they are starting to find out that there were some signs of promise underneath the surface. The company's cash flow continues to increase, its year-over-year EPS estimate has grown sequentially, and worldwide aluminum demand is showing an inkling of potentially beating estimates.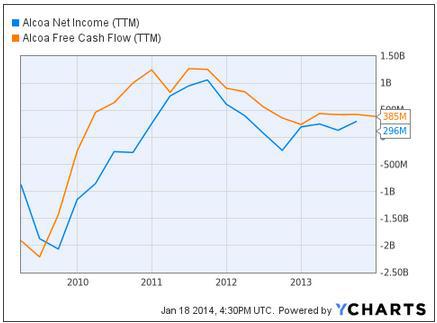 Alcoa traded up 12% in the week following the company's earnings, so the outlook on the company has clearly shifted to "forward thinking". You can see the earnings miss hit on the 10th, followed by a parabolic looking run up to close the week at $11.36.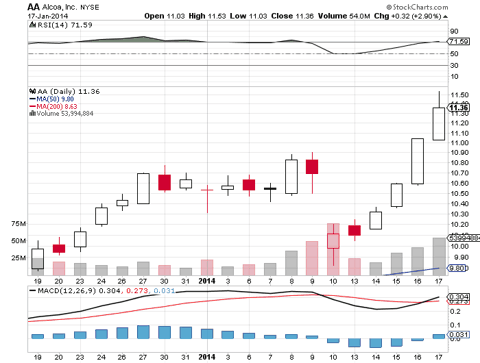 In the last week, Alcoa declared its dividend - yielding a pedestrian 1% annually - of $0.03/share. It was also announced subsequent to my last article that the company was cutting smelting capacity. SA contributor Trefis pointed out:
Alcoa's has announced that it is permanently closing down the remaining two potlines at its Massena East aluminum smelter in New York because they are not competitive anymore. This facility has three potlines, one of which has already been permanently shuttered in August last year. [1]

The latest shutdown will reduce Alcoa's smelting capacity by 84,000 tonnes, in addition to the huge capacity already lying idle due to lack of demand and an unfavorable pricing environment. The company had announced a review of 460,000 tonnes of smelting capacity last year and the East Massena shutdown is a part of that.

The shutdown will also help Alcoa reach its stated goal of lowering its position on the global aluminum cost curve to the 38th percentile by 2016. While there will be an impact on the company's sales figures, the net profit may get a slight boost due to a greater reduction in expenses relative to the decrease in revenues
Seeking Alpha also pointed out that Alcoa is also getting other "analyst" help:
Even Jim Cramer is now on board, saying that an improving global economy means that when inventories are finally worked off and new, lower-cost facilities are in place, "the amount of money that will be made off of a slight increase in sales could be shocking."
Strength that the company showed by posting new 52-week highs after an earnings report that failed to impress shows that there is significant bullish sentiment behind Alcoa. The market knows that Alcoa's growth is based on the cyclical nature of metal pricing. In addition, the general sentiment last week's Detroit auto show was one where Ford's new F-150 - chock full of aluminum - seemed to impress.
I'll remain long Alcoa here - holding and hopeful about the year to come.
Disclosure: I am long AA, . I wrote this article myself, and it expresses my own opinions. I am not receiving compensation for it (other than from Seeking Alpha). I have no business relationship with any company whose stock is mentioned in this article.